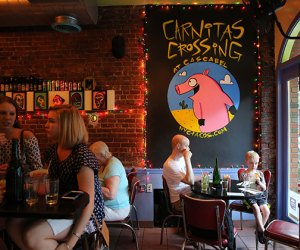 Family-Friendly Restaurants Near NYC's Metropolitan Museum of Art
Whether you live in NYC or are just visiting, the Metropolitan Museum of Art is probably on your list of places to explore with kids. In addition to its engaging exhibits, the Met is known for its top-notch family programs and drop-in art-making opportunities for all ages.
Of course, all that walking, looking and sketching makes you tired and hungry. While the Met is located on the kid-friendly Upper East Side, many of the nearby restaurants are better suited to date night than a casual family meal. That's why we've rounded up a dozen spots within walking distance of the Metropolitan Museum of Art that welcome families.
Bocado Restaurant and Wine Bar
1293 Lexington Avenue, at 87th Street
This homey neighborhood spot serves family-friendly eats in generous portions. Visit for breakfast favorites before your trip to the Met and you'll be greeted with fluffy pancakes, impressive Belgian waffles, and oh-so-sweet Nutella crepes. Lunch brings a variety of burgers and sandwiches, and a full coffee-house menu keeps mom and dad going no matter the time of the day. If you close down the museum, Bocado has you covered with reasonably-priced dinner entrees and a generous selection of pastas.
Caffe Grazie
26 East 84th Street, between Fifth and Madison Avenues
Located just a block from the museum, this casual spot serves a variety of salads, paninis, pastas, and pizzas, but is best known for its Italian version of a Japanese Bento Box. For $18, you get a soup or salad, a sandwich, and a dessert. Mini paninis are available a la carte, and the signature sweet is Italian s'mores made with Nutella.
Candle Cafe
1307 Third Avenue, between 74th and 75th Streets
Candle Cafe's mission is to serve the freshest, farm-to-table, vegan cuisine to its customers. The menu changes as regularly as the produce, but what remains consistent is a commitment to sustainable cooking and eco-friendly practices. Kid-friendly items include seitan skewers, truffle fries, and chips and guac. There's also an entire menu dedicated to gluten-free options.
RELATED: When to Get in for Free at Nearly Every NYC Museum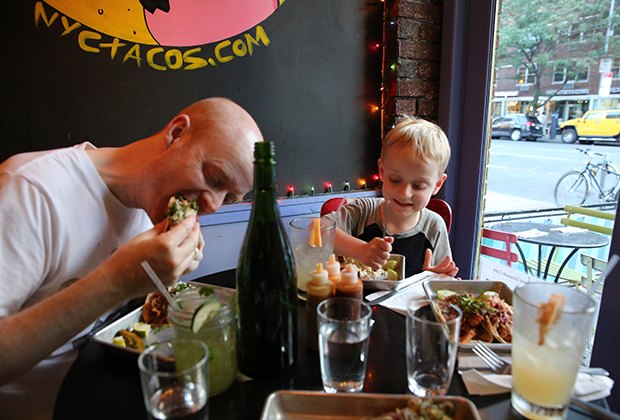 Tacos at the colorful Cascabel Taqueria East win over any age group. Photo by Shira Kronzon.
Cascabel Taqueria East
1538 Second Avenue, at 80th Street
You'll find traditional Mexican fare at this funky and colorful eatery. During the day, the spot's quite family-friendly and even has high chairs. Tacos are the main dish here, which are great for little hands. Get your shells stuffed with fish, shrimp, chicken, beef, chorizo, and more.
Eli's Table
1413 Third Avenue, between 80th and 81st Streets
Part of the famous Eli Zabar family of establishments, this low-key eatery offers table service with wine in the evenings and a classic New York brunch on weekends. The brunch menu includes hearty dishes with a Jewish flavor, including matzo ball soup and cheese blintzes with applesauce and sour cream. There's plenty of smoked fish on the menu, but also pancakes, granola, and a full kids' menu for the less adventurous.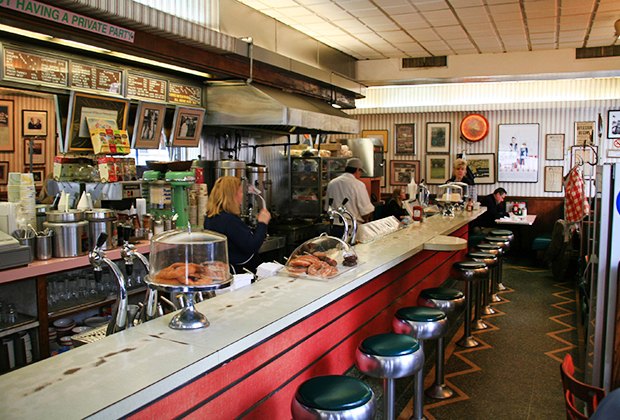 Kids will dig Lexington's Candy Shop's retro style. Photo by Tanenhaus via Flickr.
Lexington Candy Shop
1226 Lexington Avenue, at 83rd Street
We've raved about this old-fashioned soda fountain luncheonette in the past. The decent diner food isn't special, but that's not why you come. The main attractions are the old-school vibe and decor, the window display of vintage Coca-Cola bottles and memorabilia, and authentic egg creams, malts, milk shakes, and ice cream sodas. There are no public restrooms, so make sure you use the facilities at the museum.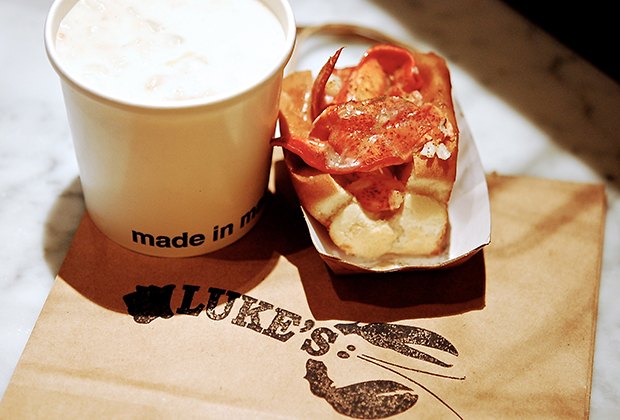 Luke's Lobster, founded in NYC by a native Mainer, serves the perfect lobstah roll and chowder. Photo courtesy of the restaurant.
Luke's Lobster
242 East 81st Street, between Second and Third Avenues
Promising lobster straight from the waters of Maine, the Upper East Side outpost of this small East Coast chain serves seafood only including crab and shrimp rolls, kettle chips, clam chowder and, of course, lobster. Dishes are fresh and chilled atop a lightly buttered roll. If the kids turn up their noses, bribe them with sea salt caramel brownie bites for dessert.
RELATED: NYC Family-Friendly Restaurant Guide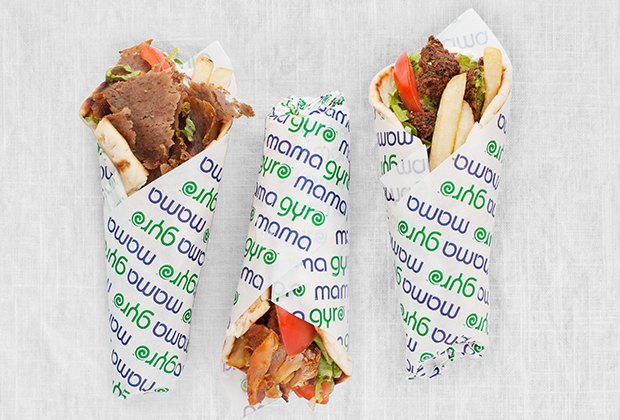 It's hard to beat the Mama Gyro with its signature french fries, falafel, and hummus. Photo courtesy of the restaurant.
Mama Gyro
1113 Lexington Avenue, between 77th and 78th Streets
A visit to this family-owned spot will make you feel as if you've stumbled upon homemade eats straight from mom's kitchen. The menu includes plenty of fresh Mediterranean fare, all made from organic ingredients and sold at a price that won't break the bank—nothing on the menu is more than $10. Come for one of the namesake gyros, stick to a collection of tasty dips (think hummus, tzatziki, and more), or fill up on sides (sweet potato fries, lemon zest basmati rice, spinach quinoa). Don't forget to finish with a homemade dessert.
Le Pain Quotidien
1131 Madison Avenue, between 84th and 85th Streets
There always seems to be a mom with a stroller relaxing on the bench outside the Upper East Side location of this international chain. With communal tables, ample stroller parking, fresh baked goods, and large plates perfect for sharing, Le Pain Quotidien is a great choice for large parties. The menu is full of traditional but down-to-earth European fare: tartines (open-face sandwiches), pastries such as pain au chocolat and brioche, salads, soups, and a tasty cheese plate. Skip dessert and indulge in the super-rich Belgian hot chocolate instead.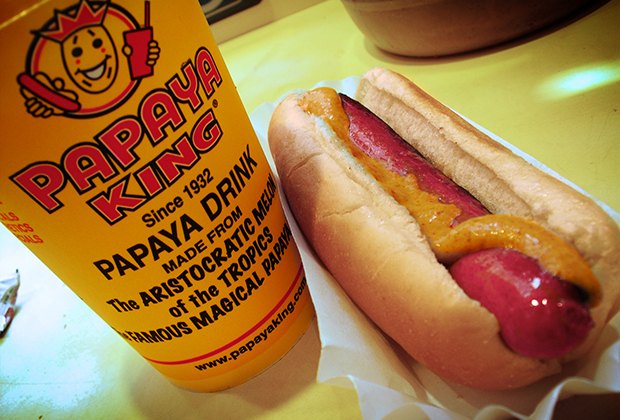 The dogs at Papaya King are the stuff of NYC legends. Photo by Kerry Alaric Cheeseboro (KAC Food).
Papaya King
179 East 86th Street, at Third Avenue
The most informal restaurant in our roundup—there aren't even tables and chairs, just a counter—this iconic spot has been serving hot dogs and papaya juice since 1932. The classic combos come with sauerkraut, onions, chili and more. There are also smoothies, tropical drinks and breakfasts like scrambled eggs and sausage, along with quintessential New York staples such as curly fries and knishes. It won't be the healthiest meal your kids ever eat, but you probably won't have to yell at them to clean their plates.
And for dessert...
Lady M Cake Boutique
41 East 78th Street, at Madison Avenue
For a truly over-the-top confection, head to the elegant Lady M Cake Boutique, where you can indulge in an impeccably crafted mille crepe cake in inventive flavors such as green tea, coconut, citrus, and, of course, chocolate. If you want something a bit smaller, opt for an éclair, meringue shell, or berry tart. If it's chilly outside, order a rich hot chocolate, one of the best in the city.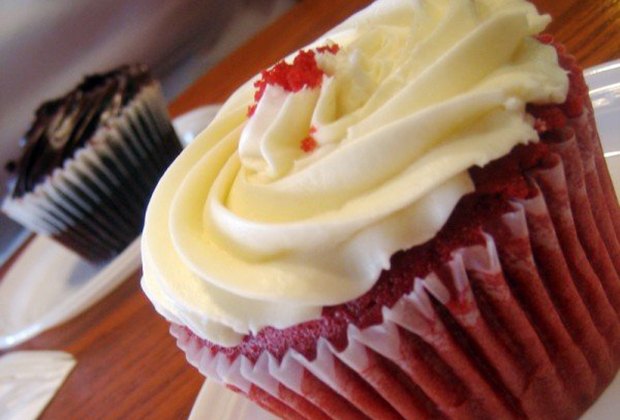 The cupcakes are a highlight at Two Little Red Hens but so are the homemade pies. Photo by Peter Burka via Flickr.
Two Little Red Hens
1652 Second Avenue, at 86th Street
Classic, homey, American desserts are the order of the day at this bakery. Moist cakes with fluffy, delicious frosting are available for special order, too. Cupcakes come in mini and regular sizes, suiting every sweet tooth. If you're craving a pie, visit on the weekend, when there are specialty options such as key lime, chocolate mousse, and coconut cream in addition to the usual lineup of homemade berry pies.
If you don't want to leave for lunch, the Metropolitan Museum houses multiple dining options, ranging from the casual cafeteria to various cafes and bars spread throughout its wings, and a members dining room.
This article first published in November 2011 but has since been updated.
Top image: Cascabel Taqueria East. Photo by Shira Kronzon.