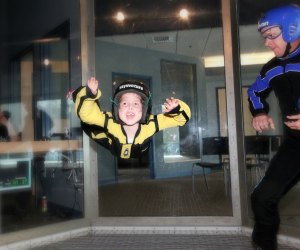 Skydiving and Surfing Under One Roof in Nashua
Here in chilly Boston, we're grateful for the inside playgrounds and indoor water parks that allow kids to replicate outdoor fun all year long. But when you really want to take four-seasons adventure to the next level, point the family cruiser toward the Granite State: At SkyVenture, located just over the New Hampshire border (and less than an hour from Boston), kids as young as preschool-age can "fly," surf and slide under one roof—in a single, glorious afternoon. We got the scoop from parents and kids who've made the trip.
Planning Your Visit
Less than an hour from Boston, SkyVenture is a realistic day trip for families or birthday party groups...or just a motley crew of kids and parents who have scored a random day off from school or sports. What makes it even more easy, according to parents, is that all of the attractions are housed in a single facility. Kids can skydive, scale a rock wall, try to surf or boogie board, and zip down a waterslide. (And yes, there are changing rooms where kids can switch their apparel and gear in between activities).
The big, window-filled facility is bright, airy, and clean. Best of all, there's a tropical theme—with real palm trees!—that can make a trip there on a bleak winter day feel like a real escape.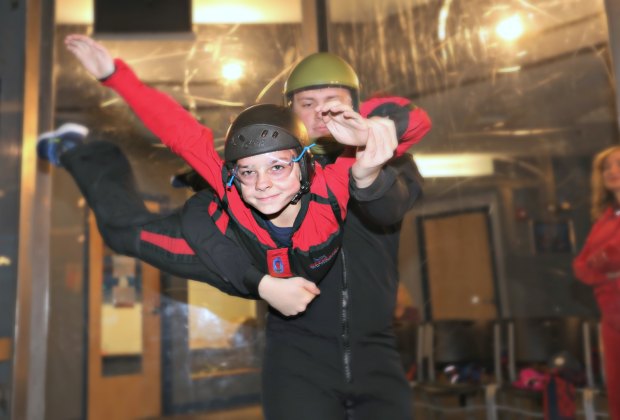 "Skydiving" in the indoor wind tunnel feels like floating, not falling. Photo courtesy of SkyVenture
Skydiving (ages 3 and up)
Less diving than floating, SkyVenture's "skydiving" feature is suitable for kids as young as 3. Visitors are given a special wind suit and a safety helmet and goggles, after which they enter a state-of-the-art vertical wind tunnel. The constant, controlled air gust allows them to float above a trampoline floor with ease (with an assistant in arm's reach the entire time.) The whole experience, from suiting up to taking your turn (which is 2-4 minutes), lasts less than hour. You can pay $10 extra to go a little higher in the tunnel—which big kids report is "totally worth it" (of course).
Sound terrifying? According to veteran SkyVenture flyers, indoor skydiving is just a "cool" feeling. People ranging in age from 3 to 90 have done it, according to SkyVenture management.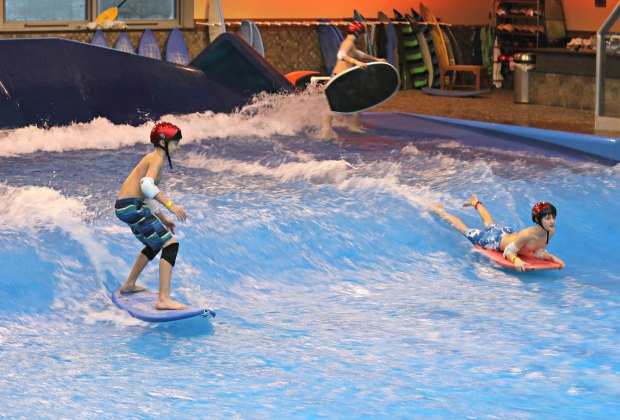 Kids can ride on their bellies or try to stand on a real surfboard.
Surfing (ages 5 and up)
Who knew? SkyVenture's "Surf's Up" feature is the largest indoor surfing facility in North America. Its "SurfStream" wave machine offers up to seven different wave types for all skill levels to enjoy. Riders can choose to boogie board or surf on perfectly cushy, controlled waves, on real surfboards that sport a fin.
SkyVenture management says that children as young as 5 have successfully navigated the waves. Surfers (or boarders) are taken in small groups for 15-minute sessions, which are overseen by helpful staff members at all times.
Climbing Wall and Waterslide (ages 3-4 and up)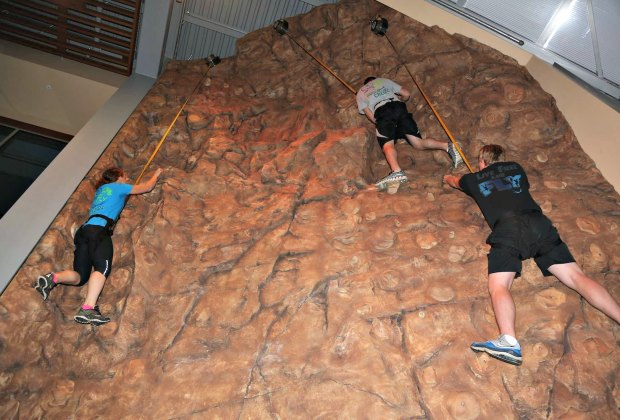 The climbing wall has a realistic texture.
Though less of a draw than skydiving and surfing, SkyVenture's waterslide (for kids 4 and up) and climbing wall (for kids 3 and up) are great activities to round out a visit to Nashua. The "Fishpipe" waterslide is a unique rotating barrel shape—sliders, who can ride solo or in groups of 2 or 3, actually stay in the bottom of the barrel while it rotates around them. They end up slipping and sliding frontwards, backwards, and sideways—likely giggling the entire time. The 24-foot climbing wall, which features realistic textured rock rather than colored holds, has beginner, immediate, and expert faces—one more feature to tire kids out before the ride home.
Insider Tips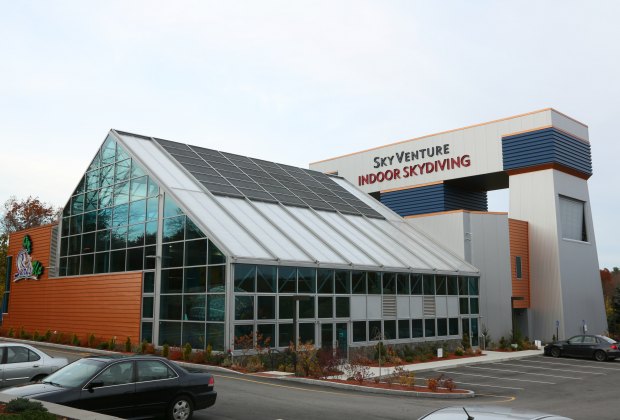 Call ahead to reserve a spot before making the trip. On busy weekend or school vacation days, you may have to wait an hour or more to get a spot to skydive or surf.
Bring bathing suits and towels if you plan to surf or boogie board. There are towels to rent if you forget, as well as lockers and changing rooms for free use.
No outside food or drinks are allowed at SkyVenture, but the on-site Oasis Cafe, thankfully central to the attractions, offers kid-friendly breakfast and lunch fare as well as free WiFi.
Admission is comparable to other water parks—which is to say, not cheap. It's $105 to fly, surf, slide, and climb; $100 to fly, surf, and slide; or just $90 to just fly and surf. But check out Groupon before you purchase tickets—there are lots of SkyVenture deals to be had there.
All photos courtesy of SkyVenture