Surf Lessons for Kids near Boston, Cape Cod, Martha's Vineyard, and Nantucket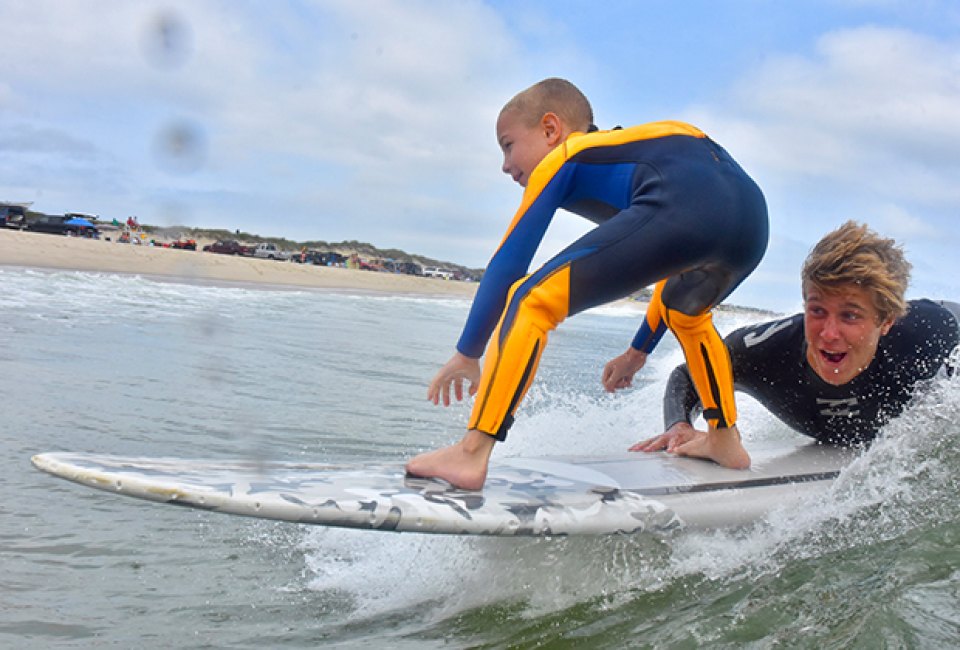 7/27/17
- By
Kelley Heyworth
Think surfing, and palm trees and Pacific ripcurls might spring to mind. But make no mistake: With its expansive beaches and booming waves, the greater Boston area has a rich surfing history of its own. And as the sport rides a wave of popularity—participation has jumped 40 percent since 2004, according to a recent report by the Surf Industry Manufacturers Association—local surf schools are meeting the demand. From the North Shore to the South Shore, and the Cape to the Islands, there are plenty of camps and clinics that are teaching kids under 12 how to hang ten.
You might ask (as I did when my oldest son started begging for lessons last summer): Why surfing? Sure, it's cool. But I've found it also teaches confidence, strength, and an increased appreciation (and respect for) the power of the ocean. Research suggests I'm not imagining things. "Studies indicate that hydrostatic pressure and water activities support improved muscle strength, balance and coordination, improve focus and attention, and can allow a child to have a better toleration of touch and temperature," Kimberly Williams, Ph.D, a New York pediatric neuropsychologist, recently told Good magazine. If your child is game, check out these surf schools' summer and fall offerings for kids. Note: All surf schools have boards and wetsuits to rent, and some include gear with lesson or camp fees. Be sure to call ahead and check on availability and pricing.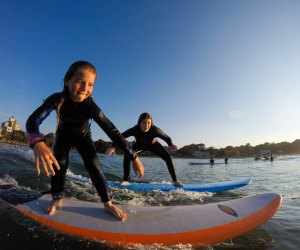 Surfari has taught children as young as 4 to ride the waves. Photo courtesy of Surfari
Surfari - Gloucester
Off of Good Harbor Beach, CPR-certified instructors offer hourly lessons designed to teach surfing skills, knowledge, and etiquette. They offer lessons year-round (!) but May through October is primetime, so make reservations in advance. Individual lessons for kids of all ages range from $62 (4-6 kids) to $95 (private), but they also have popular three-day-long kids' camps (best for ages 9 and up) which are held on early evenings throughout the summer.
978-283-SURF
Northeast Surfing - Hull
With instructors certified by the National Surf School Instructors Association (NSSIA), Northeast's calling card is high-quality instruction. Based on Nantasket Beach, lessons focus on catching waves but also touch on surfing etiquette, tidal patterns, and even marine biology. They offer morning and afternoon Surf Academy camps each week for $269 per child (discounts for siblings).
781-242-0239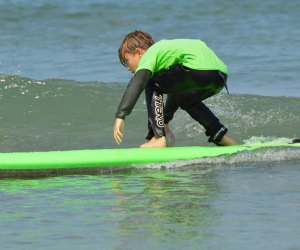 A triumphant pupil catches a swell on Nantasket. Photo courtesy of Northeast Surfing
Ocean House - Nahant
Kids ages 7 and up can do a "one-day-fun-day" ($69) or week-long session ($299) of morning surf camp at Long Beach, where First-Aid-trained and CPR-certified instructors guide their young pupils in everything from judging the "anatomy" of a wave to controlling the board. Lessons run from $55 (small group) to $85 (private).
​781-593-1020
East Coast Hui - Scituate/Hull
Longtime instructor Bobby Fenton offers surf and stand-up paddleboarding lessons for kids, as well as week-long surf camps for kids ages 7 to 17 all summer long. He operates out of both Nantasket and Eqypt Beaches. Lessons run from $40 (3-4 kids) to $60 (one-on-one). A single camp week is $295, and discounts are available for multi-week sessions and additional siblings.
617-548-7988
Levitate - Marshfield
The brand that brings surf and skate festivals also offers a popular camp on Rexhame Beach for kids ages 7 and up. For $315 for four hours per day, the week-long camp includes surfing as well as paddleboarding, skim boarding, marine biology, and beach games. They also run lessons for $45 to $65 per hour.
info@levitatebrand.com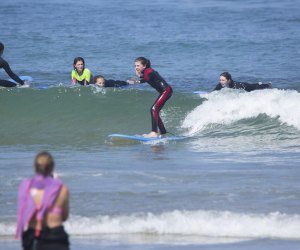 Sacred Surf School offers camps and lessons on Marconi Beach. Photo courtesy of Sacred Surf School
Sacred Surf School - Wellfleet
Sacred Surf instructors teach for a four-hour window each day at Marconi Beach (two hours as the tide goes in, two hours as it goes out). They judge readiness for surf lessons on an individual basis, and have taught children as young as 4. They currently offer a three-day kids camp ($400), private lessons ($45 for hour), and an "Ocean Classroom" for small groups ($100 for two hours)
508-514-1555
Sugar Surf Cape Cod - Wellfleet
Founded by Cape native Katy Weeks, Sugar Surf boasts an all-female staff, but they teach both girls and boys ages 5 and up. Lessons are held on White Crest and Marconi Beaches. Ninety-minute group lessons are $65 per person and private sessions are $85.
508-240-4166
Fun Seekers - Wellfleet
Though based in Wellfleet, Fun Seekers' instructors travel to different beaches around the Cape in order to catch the best of the shifting wave breaks. They charge $70 for private instruction for an hour, and per-student costs decrease if you bring friends to join. A two-hour lesson to get started is recommended. They also teach kids stand-up paddleboarding and kiteboarding, if you have a child who's interest in trying out various water sports.
774-722-0764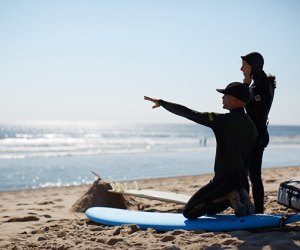 A big part of learning how to surf is understanding wave patterns. Photo courtesy of Cape Side Surf School
Cape Side Surf School - Wellfleet
​Private lessons for kids run $75 per hour, and group lessons start at $40 per person at this Marconi Beach-based school, which also runs birthday parties and family outings. Founder Ryan Garcia was born in New England but has traveled the world surfing, so has plenty of experience in various types of water conditions (and some great stories).
978-771-3840
​Cape Cod Surf Camp - Orleans
Lots of Cape parents love signing their ocean lovers (ages 9 and up) for a four-day weekly clinic, which includes all equipment, snacks, water, and instruction for $450. For children younger than 9, the school recommends private lessons. Locations vary between Orleans and Wellfleet beaches, depending on conditions.
774-316-2456
6K6 Surf - Martha's Vineyard
6K6 has been teaching Vineyard visitors and residents how to surf since 2003. They offer lessons for capable swimmers of all ages, and charge $100 for a 90-minute private session or $70 per person for a group of 3 or more (they can accommodate up to 16 students at once). Locations are flexible and variable, ranging from busy beaches like South Beach to private beaches across the island.
917-607-2842

Instructors set kids up for success at Cisco. Photo courtesy of Nantucket Surf School
Nantucket Surf School - Nantucket
Since 1999, Gary "Kona" Kohner has operated a surf school at Cisco Beach, where you can find his cheerful, energetic crew and stocked gear van parked daily in the summertime. Older kids (typically 12 and up, though they'll make exceptions) can sign up for a one-week morning surf camp ($500), and younger children can learn via group or private lessons ($60 to $85).
508-560-1020
ACK Surf School - Nantucket
Based on Nobadeer Beach, ACK teaches kids 5 and up. They run everyday from 9 to 5 in the summer months, and pride themselves on personal connections with students. Private lessons are $70 per hour and group lessons are $50 per hour.
508-246-7872
Click Here to Sign Up!