Your Guide to Pop-Up Gardens and Parks in Philadelphia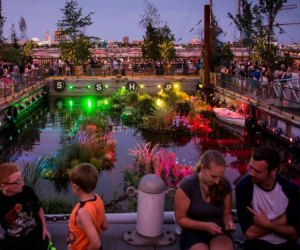 Since 2011, Philadelphia Horticultural Society (PHS) Pop Up Gardens sites have been transforming under-used or vacant city spaces into exciting urban oases. In the last three to four years in particular, PHS's model has inspired pop-up gardens, parklets, and other awesome uses of urban outdoor space that are fun for the whole family, to spring up throughout the city (and now even in the suburbs). While most of these parks have beer gardens as a lure, there is also a lot of great family-friendly programming involved. Visiting one of these gardens is a great excuse to get out and relax with the whole family, no matter what age you or your kids may be. This round-up includes the most family-friendly, semi-permanent pop-ups for the summer.
Favorites We Can't Wait to Try Again:
Spruce Street Harbor Park
This annual oasis in the city is a must visit. With the adorable jumbo games (like giant Jenga and Connect 4), a Boardwalk and Arcade that is full of fun for all ages, splashing fountains, and a Franklin Fountain outpost (typically boasting shorter lines than you'll find at their Market Street location), this is a place you could spend all day with the family, including nap time in the cozy hammocks (if you have a big group coming down, you can reserve hammocks in two parts of this urban oasis). Weekends also feature craft show pop-ups with local artists from Art Star, and a cinema series every second Sunday.
Dates: Open May 10 through September 29, 2019, starting at 11 AM daily
Eakins Oval
A favorite for our family, The Oval returns to the Benjamin Franklin Parkway for a summer of outdoor fun on July 20 at 5 PM. With 8-acres of space at their disposal, expect food, musical performances, movies, and games (including mini-golf). Events are scheduled to run Wednesday through Saturday, and will vary by week.
Dates: July 20-August 20, 2019
RiverRink Summerfest
Featuring Philly's only outdoor roller skating rink, this garden includes amazing views of the river, a space to play a round of mini-golf (9-holes), and delicious eats. New this summer, experience thrill rides with a rotating selection of true boardwalk amusements including a ferris wheel, a swinging Pirate ship, and the "Typhoon" a rainbow-style spinner. These rides will light up the night beginning June 18 and will rotate regularly until the season closes. It's definitely worth the trip!
Dates: Open May 10 through Labor Day, September 4, 2019
PHS Pop-up on South Street and University City
Known for creating an amazing relaxed vHibe that both kids and adults can't get enough of, the PHS gardens promise more family-friendly events. You can also feel pretty good about spending money with the PHS pop-ups. Proceeds from the pop-ups support PHS programs, including City Harvest, a network of community gardeners who raise fresh food for more than 1,200 families in need each week during growing seasons. This season's events include Brewsday Tuesday (with live music) and rotating chefs on Thursdays.
Dates: Open now through September 30, 2019
Parks on Tap
This pop-up is taking place for a second year with 20 stops in 20 parks, and featuring outdoor lounge seating, games, and food trucks. Planned stops include Shofuso Japanese House & Garden, Gorgas Park, and FDR Park.
Dates: Parks on Tap runs now through October 1, 2019 each stop is open from Wednesdays-Sundays.
Photo credit- Matt Stanley courtesy of Spruce Street Harbor Park.
Originally published 2017.