The Academy of Natural Sciences in Philadelphia: A Parent's Review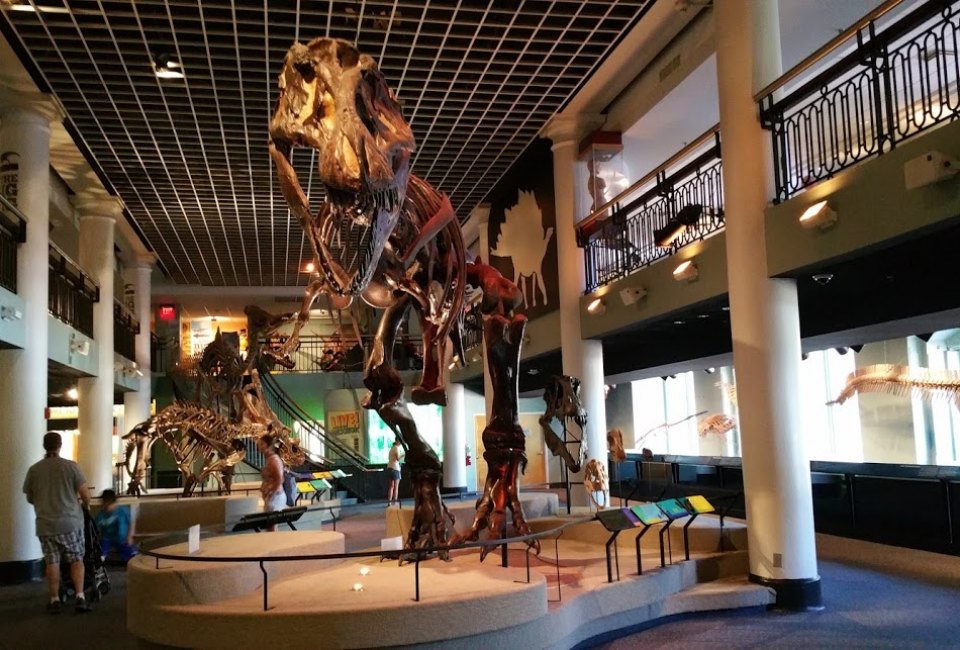 9/15/15
- By
Maureen Rayburn
The Philadelphia area is a hub for the arts and sciences for kids and grown-ups alike. Not only do the city's museums provide a great opportunity for educational fun, they also provide relief from inclement weather during any season. The Academy of Natural Sciences is one such venue. I brought my family for a visit during one of the hottest months of the year, and it was certainly worth the drive from the suburbs.
Upon entering The Academy of Natural Sciences, visitors are greeted by an airy lobby with direct access to several exhibits, as well as the gift shop. After walking for a couple of blocks from the parking garage, my 3-year-old was more interested in ice cream and a cold drink when we arrived. Luckily, down a short flight of stairs, there are restrooms and a cafeteria with reasonably priced treats available. There are also elevators available, and everything appeared to be fully accessible to those who may not be comfortable walking up and down the numerous staircases.
After snacking for a few moments, the kids were mostly interested in checking out the dinosaurs that they spotted on the way into the building. Younger children may be skittish about approaching the animatronic dinosaurs, but children of all ages seem to love the huge fossil and dinosaur bone displays. On the second level, kids can gear up for The Big Dig, where they uncover fossil replicas from the sand with real chisels and other tools. Older kids might be disappointed that the fossils are built into the display, but my little ones were delighted by the whole discovery process.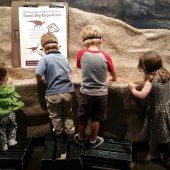 After playing archaeologists, the kids moved on to the look at the 37 natural wildlife dioramas that are housed on the second and third floors. At first glance, it seems that younger children may not be interested in these displays, since they aren't interactive, but my 3-year-old and 1-year-old were fascinated by the exotic animals featured in each window. This is an excellent opportunity for even the tiniest explorers to see the many different species that exist on the planet.
Without a doubt, the clear favorite with my family was the Outside In exhibit. This is an area designed especially for 3–8-year-olds, where they can investigate a forest, visit the seashore, see and touch live animals, and more. My little ones really liked the giant chalkboard and the magnifying machine. The cozy book nook is a great spot to curl up and enjoy nature books and quiet activities, but for kids who want a little more action, there are some fun, creepy-crawly critters to touch and see. If bugs and lizards don't quite fit the bill, turtles and fish might be more appealing to some children.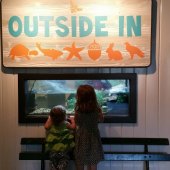 Next, the Butterflies! exhibit is a fun way for kids and parents to see colorful butterflies in a lush, tropical setting. Many of them are truly breathtaking, and each butterfly is just a little bit different. Kids are guaranteed to enjoy these fluttering creatures, but curious toddlers should not be allowed to roam free. Visitors must not touch the butterflies, but little hands may be too eager to trust without supervision.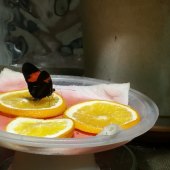 All in all, The Academy of Natural Sciences is an excellent spot for families to spend a day having fun and learning about the natural world. However, be prepared for tired-out youngsters after enjoying the museum for a few hours. Many parents might prefer to plan more than one visit in order to fully take advantage of what it has to offer.
Places featured in this article:
---
The Academy of Natural Sciences
Sign up for the Mommy Poppins Newsletter today!