5 Train Rides to Take with your Preschooler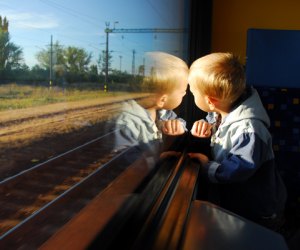 Living in Connecticut, with kids, chances are you've taken a train ride or two. Whether you rode on Percy at Essex Steam Train and Riverboat's Day Out With Thomas or the Naugatuck Railroad's Northern Lights Limited, there are plenty of incredibly sweet themed and scenic railroad experiences across the state.
But, have you ever hopped on a Metro North train on a Tuesday? Chances are, while you may have made the rounds of the seasonal train excursions, you might not have considered the trains running through Fairfield County every hour on the hour. In off-peak hours, you might spend an average of $7 or less on a round trip ticket between Milford and Greenwich. And your kids will LOVE the impromtu ride on the shiny silver choo-choo. We've rounded up some kid-friendly stops off Metro North to turn an everyday train ride into a full-fledged adventure for your preschooler. And make sure to check out the new Hartford line and our suggestions on where to visit at each stop.
1. Once landing in the picturesque town of New Canaan, you may want to start at the New Canaan Toy Store on Park Ave., just across from the Metro North station. This is the original mom-and-pop toy store, claiming to be the oldest in New England. Afterwards, your kids won't want to miss a visit to New Canaan's penny candy store Mackenzie's, a neighborhood landmark since 1980.
2. Hop on the Waterbury line and head to downtown Seymour. Nestled in the heart of Seymour's historic antique district is Tea with Tracy, an adorable tea room serving over 210 flavors of Tea to go with their made-from-scratch desserts, like their Swedish brownies and scones. After, check out Tickled Pink, a charming downtown gift shop, and grab a cupcake from Wildflour Confections, a boutique bakery offering over 150 flavors of cupcakes.
3. Downtown Fairfield offers no shortage of wonderful restaurants and some pretty great shopping. From the train station, walk down to Heritage Square to Hands on Pottery, which offers monthly Mommy and Me workshops and welcomes walk-ins during open studio hours (Tuesday-Sunday.) Or, only a short distance from the station, the Fairfield Public Library offers daily drop-in story times and a wonderful children's library to spend the morning perusing. Hungry? Head for lunch at the Firehouse Deli or Catch a Healthy Habit. Sweet tooth? Grab dessert at Saugatuck Sweets.
4. Touch a shark, watch a seal show, see otters, jellyfish, frogs, giant halibut and tiny seahorses—all just steps from the South Norwalk Station. Metro North and the Maritime Aquarium have put together a package to include your round trip train ride, admission to the aquarium and a ticket to an IMAX movie. After, grab a smoothie at The Stand Juice Bar or a burger at SoNo Harbor Deli & Café. Or, just a stroll down Water Street and you'll find SoNo Baking Company, chock full of handcrafted pastries and confections, plus daily lunch specials.
5. Only a five minute walk from the Greenwich Train Station and a short block from shopping and dining excellence on famous Greenwich Avenue, The Bruce Museum offers preschoolers a first hand experience with art, science and natural history in more than a dozen changing exhibitions. On Tuesdays admission is free and the museum offers their Bruce Beginnings programs where children ages 3 - 5 and their adult caregivers will explore the museum's collections and exhibitions through picture books and hands-on activities. In summertime, the Bruce Museum Seaside Center offers some pretty cool, drop-in summer programs for kids of all ages. Pack a brown bag lunch and head to the Bruce Park Playground, for a killer afternoon.
Photo courtesy of gabczi/Shutterstock.