25 More Things to Do in New Canaan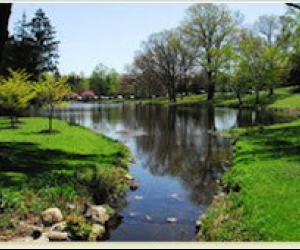 This is, seriously, one of the cutest towns in Fairfield County. Classic New England. Classic Connecticut. It is something straight out of a Norman Rockwell. I quickly googled just to make sure none of them actually was based on a New Canaan setting, and learned I'm certainly not the first writer to make the comparison. That being said, it's also home to some of the nation's wealthiest ... so, yes, you did read that price at the pump correctly. Our first list of 25 Things to Do in New Canaan was written a few months ago but there is so much to do we've added another 25 here. Enjoy!
If you start in the downtown shopping district, the first place on your list should be the New Canaan Toy Store on Park Ave., just across from the Metro North station (very cute, btw). This is the original mom-and-pop toy store -- it claims to be the oldest in New England -- with the quality selection and complimentary gift wrapping you'd expect. After the damage is done there, head east on Elm, and you'll find Pain de Quotidien's northernmost outpost from NYC. You can nosh on European-influenced cafe cuisine with every other young family in town. Or, hit up Bruegger's Bagels for something straightforward and simple. It's around the corner to the south on South Ave. If it's lunch or dinner, continue all the way east along Elm until it hits Main Street. On the left look for Pinocchio's Pizza. These guys won an international pizza competition IN ITALY five years ago. Order the one with arugula and figs. It's so good the kids won't even notice it's covered in salad. Once you roll out of there, you can backtrack on Elm to the cute little, New Canaan Playhouse for a movie. If you haven't hit the first toy store, a few doors down from Pinocchio's is the Toy Chest -- another classic outfit.
When your crew has had it with shopping, (and by this we mean the kids, because Mom and Dad could find PLENTY more to look at if their pockets are deep), pile in the car and head for nature. It's abundant here. Mead Memorial Park is a gem with ample playgrounds, ball fields, tennis courts, and waterways where kids can feed the ducks. Even better, a gourmet cafe food stand that's open when the weather's nice. Or, if you want a slightly higher altitude head a little further south along South Ave., and up into Waveny Park. The amenities are ample here with a great lawn for picnics and frisbee, and if it's summer, check on tickets to a production put on in the open air by the Summer Theatre of New Canaan. Theye even have performances for children with special needs. Just looking for a place to have the kids chase geese and run around on a playground -- katty corner from Waveny is Saxe Middle School grounds. If you need a toddler-size jungle gym, take a ride to Dixon Park (accessible from Summer or Hoyt Street - but parking on Hoyt). Want un-manicured nature? The New and Bristow Bird Sanctuary fit that bill.
Ice cream and family go hand-in-hand, and you won't want for options, even in this small town. You've got Baskin Robbins for the original, Swirl and Red Mango for top-your-own frozen yogurt, and Gelatissimo Artisan Gelato saving you a trip to Italy. Delicioso.
For indoor play, young children can enter the land of make believe at a Let's Dress Up open play session. Teens can hang out at New Canaan Outback's center, or participate in Young Life events year-round.
And finally, a few seasonal treasures to point out. St. Mark's hosts a fair in May complete with arcades, rides and a Strawberry Social. The New Canaan Nature Center hosts a Fall Fair and East Elementary School holds a Spooktacular in October. Come December, watch for the annual Holiday Stroll on Elm Street, when the roads are only open to foot traffic and the New England Academy of Dance's production of the Nutcracker. And if it happens to be Christmas Eve when you visit, well, lucky you. The place to be is God's Acre. Residents show up, like they have since 1919, to sing around the town tree with the town band in the shadow of alabaster churches. New Canaan -- it's a wonderful life.
Originally published 3/23/14.