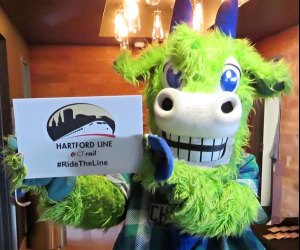 The Long Awaited CTrail Hartford Train Line Opens This Weekend!
After several years of anticipation, the CTrail Hartford train line to Springfield opens Father's Day weekend. Spend a fun day on the train with your train enthusiast. You can hop on the train in New Haven and go all the way to Springfield with stops in Wallingford, Meriden, Berlin, Hartford, Windsor, and Windsor Locks on the way. The Hartford Line will provide you with an opportunity to check out some of the coolest places at each stop including bakeries, museums, mini-golf, and more. In celebration of opening weekend, all rides are free! Check out our suggestions on what to do at each stop. Some locations that we recommend may need an uber to get to them. Many are within walking distance. And make sure to check out our post on fun CT train rides to take with your preschooler.
You can take a look at the route below or go to The Hartford Line page to see the schedules and find out what the fares are. Twelve trains will run on the weekends with more trains for commuters during the weekdays.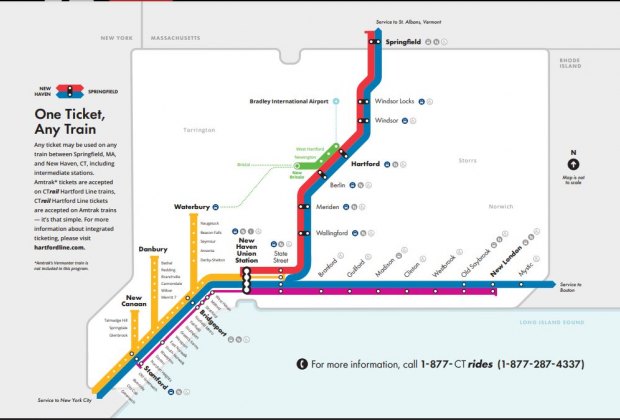 New Haven
The New Haven Union Station is a beautiful site reminiscent of architecture long gone - high ceilings, big windows, and the exciting feel of a busy train station. You can grab the train as early as 7:23 am, but before you board you may want to grab a delicious breakfast at Ikea New Haven where kids can play at SmaLand (no parents allowed!). Of course, another great place to visit is the Yale Peabody Museum where you can see huge dinosaurs, amazing fossils, and other great natural history exhibits. If you arrive later in the day, don't miss a slice of real New Haven pizza at Pepe's Pizzeria on Wooster Street. If your kids are adventurous, don't miss the IT Adventure Rope Course where you can find zip lines and rope courses with an amazing light shoot too.
A nineteen minute walk can bring you from the train station to the famous Claire's Corner Copia cafe and a sixteen minute walk will take you to the Bow Tie Criterion Movies. But, an even shorter walk (11 minutes) will take you to the Knights of Columbus Museum which is always free.
Wallingford
Moving on up the line to Wallingford your kids can burn off some energy at SkyZone Wallingford. SkyZone is an indoor trampoline park that also offers a toddler jump time. If you are looking for a beautiful, natural setting, check out Wharton Brook State Park, where you and the kids can swim, picnic, and fish. In just a fifteen minute walk from the train station, you and the family can check out Prime Climb, an indoor rope and wall climbing experience. If you're thirsty or hungry, walk down the street to Pure Alchemy Juice Bar and Cafe and get some healthy fare. There is also a Subway nearby.
If your kids are gamers, walk over to the Dragons Lair (a seven minute walk) where they can grab some gaming accessories. Also, in just fifteen minutes, you can walk from the train station to the Wallingford Public Library. They have a really large and well stocked children's section.
The Wallingford station is modern and well maintained with plenty of free parking on the weekends.
Meriden
​The new Meriden Train Station just opened in time for the new Hartford Line. It is a modern building with heated platforms and a pedestrian bridge. It serves both trains and buses. Right across from the train station is the newly refurbished 14-acre Meriden Green. The Green has trails, walkways, and an amphitheater for concerts. An eight minute walk away is the Meriden Public Library which has regular children's programming.
Berlin
At the next stop in Berlin, right around the corner from the train station is the Berlin Historical Society Museum. If you are hungry, right near the tracks is Tavern on the Trax which serves kid-friendly meals including burgers, soups, and wraps. Also, down the street you'll find the little Country Kitchen. This quaint restaurant only serves breakfast and lunch. The Berlin station is new and located in the Kensington portion of town. There are over 200 parking spaces, elevators, and a pedestrian bridge. A quick 4-minute walk will take you over to the New Britain Youth Theater where several productions are created each year by children actors and actresses.
Hartford
One of the major stops is, of course, Hartford, where you can pick up a taxi or Uber to a nearby fun activity. Union Station is open 24 hours a day, seven days a week. Walk down the street to Bushnell Park and while you are there make sure you grab a ride on the famous Bushnell Carousel. In just a fifteen-minute walk from the train station, you will come upon the Wadsworth Atheneum Museum of Fine Art. Youth ages 18 and under are always free. It's also just a quick fifteen-minute walk to the Connecticut State Capitol building and Old State House which are open to the public. Inside you can learn about the history of Connecticut and take a guided tour. While in Hartford, take an uber to Mark Twain's home where you can get a tour of his house as well as a tour of the Harriet Beecher Stowe Center.
Getting hungry? Downtown Hartford has a variety of places to eat: Ted's Montana Grill (kid's menu available, bison burgers and fries, open till 10 pm), Black Eyed Sally's Southern Kitchen (quick walk from the train station, serves dinner and lunch, kids menu available), Agave Grill (Mexican, tacos, enchiladas, and burritos), Chango Rosa (very affordable Mexican including loaded corn on the cob and cheesy Jalepeno fritters)
Windsor
Arrive in Windsor's historic station and walk down the street for a delicious lunch or treat in the oldest town in Connecticut.
If you are looking for a treat, all you have to do is walk about 15 feet from the train station and step into Get Baked. Get Baked is a coffee and bakery shop which offered delicious baked goods. You haven't had cheesy bread till you've had theirs! During the summer they also offer ice cream and milk shakes. Also down the street is Dom's Broad Street Eatery: typical diner fare and always crowded. For something a little different, try Siam Corner Thai which is a five minute stroll from the train station.
Within walking distance (of 11 minutes), you can learn about the history of Windsor at the Windsor Historical Society, see an extremely old train bridge, grab a hot dog at Bart's Drive In and take a walk on Windsor's River Trail. These are all located down Palisado Avenue.
Windsor Locks
Although they have plans for the future, the Windsor Locks train stop is just a shelter and a parking lot.
Springfield
Once you reach Springfield, there's a lot to do with the kids not too far from the station. A ten minute walk will take you and your family to the new Dr. Seuss Museum which just opened in 2017. This colorful, zany museum was built to honor the children's author Dr. Seuss and has attracted many visitors. Adjacent to the Dr. Seuss Museum, you will find the Springfield Museums within walking distance. Take your pick from a fine art museum, science museum, and the Springfield history museum. For the cost of one ticket, you can visit all five of the them. Once you are done visiting and learning, you will probably want to eat, so check out one of the restaurants in downtown Springfield. A short walk to Main Street will bring you many international options including: Student Prince Cafe and Fort (German food), Adolfo's (Italian), Mamma Mia's Pizzeria, or Nadim's Mediterranean Restaurant and Grill.
Enjoy all of the adventures you and the kids can have on the new Hartford train line!
Photo courtesy of Hartford Line.