Wadsworth Atheneum in Hartford: Free Family Fun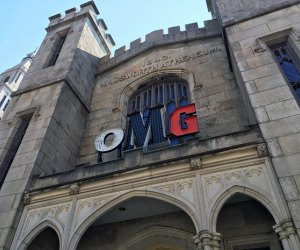 For a small state, Connecticut packs a lot of fine art – about 30 major institutions – but few in the area are as grandiose as the Wadsworth Atheneum in Hartford. It is a place my family frequents regularly, always finding something new to admire or learn about, such as the current celebration of Japanese art.
Never mind that the museum's collection boasts about 50,000 works that span millenniums and embody the greatest civilizations. Forget that its Hudson River School collection is world-famous, or that a Renoir painting of Monet graces one of the walls. Most kids don't care about that. At least not at first.
What excites them is color, creativity, and judgment-free zones. Welcome to the Wadsworth, where visitors under 12 receive free admission, and where Second Saturdays, a free monthly program featuring hands-on art projects, guided tours, educational films, and live music, is especially geared toward children.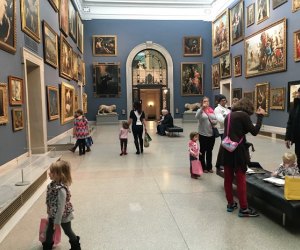 Visitors of all ages find art collections intriguing.
During January's Second Saturday event, the theme was "Hidden Secrets". Families enjoyed a treasure hunt through the galleries, and children completed a decorative box to keep their secrets safe. Musical entertainment and a magic show were a part of the day's activities. MLK Community Day on Monday, January 16, features free admission all day, and celebrates the life and legacy of Dr. Martin Luther King, Jr., with various art activities, and even a theater performance. The hands-on learning continues in February, when the museum hosts "Utamaro and the Lure of Japan" (until March 26, 2017), and then women's history month in March.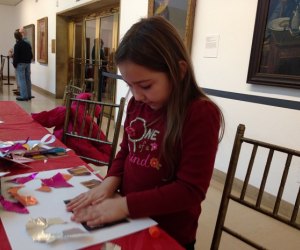 Second Saturdays programs offer many hands-on opportunities for children to learn about art and create it.
My daughters have frequented museums since infancy. My eldest speed-crawled through The Metropolitan Museum of Art, and my youngest took her first steps in the French Impressionist Gallery of the Springfield Museums. Art is a part of who they are and who they are becoming, and the Wadsworth Museum is an important contributor to their development. Here, we've learned about Coney Island and carousel horses, participated in events celebrating African American History Month, and learned about Greek mythology.
We have fun perusing its three floors filled with remarkable textiles, costumes, furniture, and paintings that inspire intense games of "I Spy" and "Best and Worst". The latter is exactly what it sounds like: individually, we pick the artwork we like best, then find one we like the least. We explain our reasons while allowing art to help us learn more about ourselves, and each other.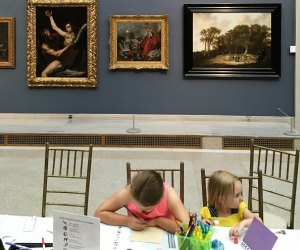 Second Saturdays projects correlate to current events or celebrations, allowing children to creatively connect with the world around them.
So if you're contemplating introducing your child to the local art scene, do not think that he or she is too young to visit a major museum of art, and do not be intimidated by the Wadsworth's downtown location. On-street parking is available around the museum – free on weekends and only $1 per hour during the week. Nearby garages are reasonably priced for museum patrons. The museum café is a full-service, sit-down restaurant and the food is delicious. Child-friendly options include burgers, sandwiches, fries, chicken tenders, and some of the best mac-and-cheese we have sampled. Adult entrees include Mediterranean dishes, fish, and steak.
Put the Wadsworth on your "Must See" or "Must Revisit" list, and try to attend at least one Second Saturdays program; regardless of how children will choose to express themselves, they will no doubt create a masterpiece.
The Wadsworth Museum is located at 600 Main Street in Hartford.
Check the Mommy Poppins calendar for upcoming Second Saturdays and other programs.
Photo Credit: All images are courtesy of the author
Originally published March 16, 2015