A Day Trip to Lighthouse Point Park in New Haven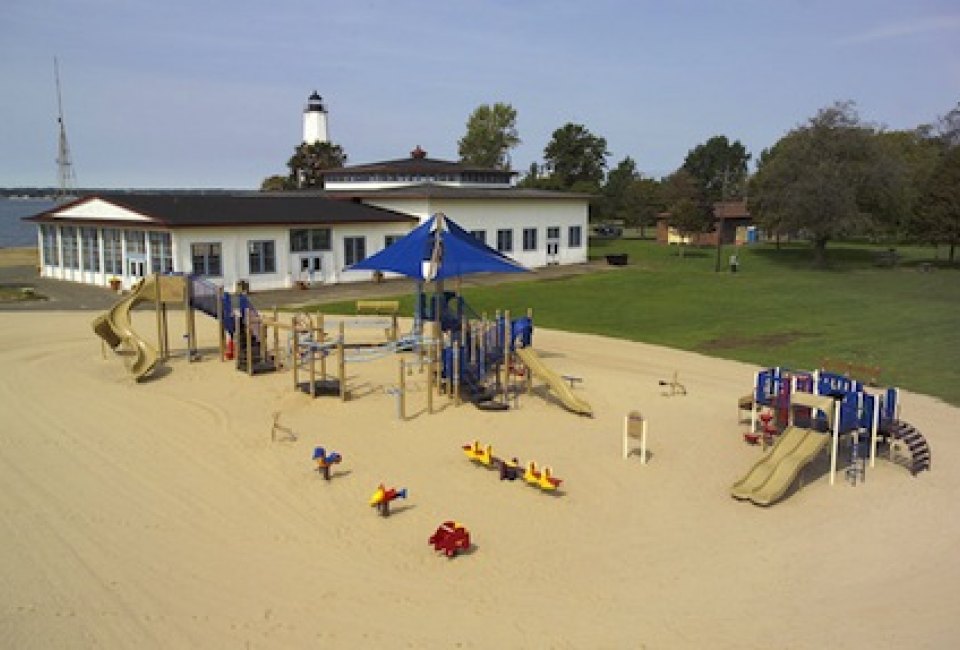 8/28/15
- By
Erin McNamee
Although only five miles from the New Haven Green at the lighthouse, Lighthouse Point Park feels much farther removed from the noise and bustle of the city. This 82-acre park on Long Island Sound, with it's historic lighthouse, antique carousel, and stretch of coastline is a beautiful summer sanctuary. In addition, it has a splash pad water play area, playground, and swings right on the beach, making it a great destination for young kids in the New Haven area, and a perfect day trip destination.
As we headed to Lighthouse Point Park we wound along the water. The sun was shining and the view was magnificent. As we got closer I rolled down the windows to feel the fresh air and and promptly heard, "Eew, mom, roll up the windows!" from the back seat. There was a fishy, harbor odor that my kids were not too fond of that persisted at the park as well. For the less olfactory sensitive this is probably not an issue, but it was pungent enough to be worth mentioning. I do not think that this is always the case, but if the winds are blowing right, prepare for a little smell.
One of the nicest things about this park is that there is both the beach area to sit as well as a large, grassy area with picnic tables, grills, and plenty of old, beautiful trees providing shade. The beach itself is rather small but it is nice and sandy and was not overly crowded. Kids will love the swings on the sand, the perfect soft landing for leaping dismounts. There are also two playscapes on the beach, bouncy animals to ride, and a low seesaw.
On the day we visited, the water had a lot of seaweed in it (perhaps this was causing the fishy smell?). My kids came up with a lot of decorative uses for the weedy plants while building their sandcastle village but did not love going in the water for that reason (it was impossible to avoid). This was during low tide; I imagine that high tide would make for much better swimming. Next time it would be worth paying attention to the tide schedule. My kids didn't mind too much though, because only a few steps away was a large splash pad to cool off in. We visited on a busy day but there was plenty of room for everyone (even adults!) to get wet. Umbrellas along the fenced-in area provided shade for bystanders. Once they cooled off, the kids were ready to check out the crown jewel of the park as far as they were concerned: the glassed-in carousel building.
The antique Lighthouse Park Carousel, built in 1916, is stunning. It is very large, with 72 figures, mostly hand-carved horses, that both jump and stand, and is decorated with sea-themed paintings -- steamboats, sailing ships, lighthouses, and mermaids. It is a bargain at 50 cents a ride! However, please note: the carousel only runs on weekends and holidays, every 20 minutes, from noon-4 pm.
The building that holds the carousel is a popular spot to rent out for weddings and other private occasions. Next door to the carousel is the historic New Haven Harbor Lighthouse, now on the National Register of Historic Places. You can catch a beautiful sunset from here in the evening, with views of New Haven Harbor and Long Island Sound.
The biggest drawback to this park for me is the parking fees. While New Haven residents are free, non-residents vehicles are charged $20/day and out-of-state vehicles are $30/day. This seems a bit steep. You are allowed to bike or walk in for free, so an option is to park on a nearby street and walk in if you are able to manage.
Lighthouse Point Park also has a public boat launch and a fishing pier. Public restrooms are easily accessible from the beach. A concession stand is open 7 days a week until Labor Day. The beach is also staffed with lifeguards until Labor Day. The park itself, however, is still a beautiful spot to visit with plenty of fun for the kids even after swimming season is over. Gates are open from 7 a.m. to sunset year round. 




2 Lighthouse Road, New Haven, CT 06512
Places featured in this article:

Sign up for our free
newsletters.
Mommy Poppins is a family activity website that helps people find things to do with kids.
©
2023
MommyPoppins. All Rights Reserved.
mp-prod4-v4.32.99
We use cookies and other data collection technologies to provide the best experience for our customers.
Learn More
Sign up for the Mommy Poppins Newsletter today!