Apple Picking in Connecticut: Best Apple Orchards for Apple Picking with Kids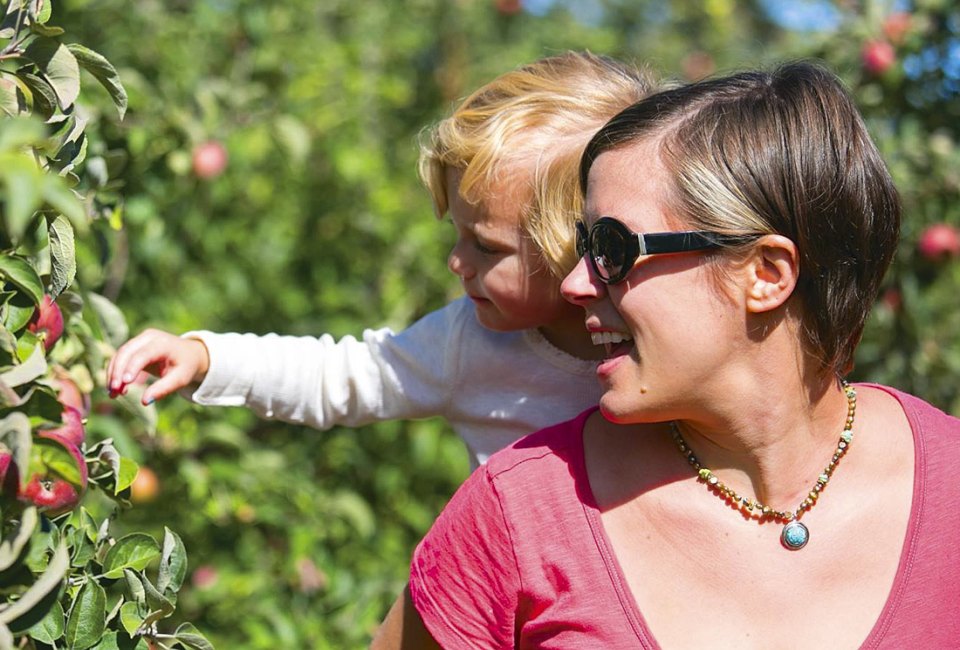 8/21/22
- By
Jennifer Coe
There are so many wonderful places to go Apple Picking in Connecticut. Apples have been growing larger, redder and juicier all summer, and now it's time to go apple picking! Apple picking by the bag is a fun tradition to do with kids in Connecticut. Starting in late August through October, farms and orchards around the state are bursting with apples and other produce too. So read on for our picks for the best apple orchards to go apple picking with kids!
To make the most of your apple picking harvest, try baking apple pie or apple muffins or mixing up fresh applesauce with our favorite apple recipes. For more seasonal activities, explore our Connecticut Fall Fun Guide.


Apple Picking Near Hartford
This decades-old, family-run farm in Southington has pick-your-own apples starting in September until late October. All of their 17 varieties are pruned in the dwarf manner, so little kids can reach the deliciousness. All PYO includes a free wagon ride to the orchard, Friday through Monday. If you go on the weekends, you'll be able to check out the doughnut and snack shack. They also have a variety of animals to visit such as cows, horses, and pigs. PYO apples are sold by the bag.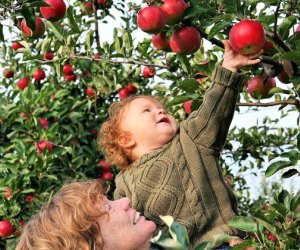 Grab a piece of fall fun at the best Connecticut apple orchards. Photo courtesy of Rogers Orchards
You can pick your own apples Labor Day through mid-October. They have two locations in Southington (Home Farm and Sunnymount), both open Friday to Sunday. Bags are provided and you can mix and match with all your favorite varieties. Pay before you pick, and then find your favorite apples from 20 different varieties.
Dondero's has apple picking daily beginning in October. On the weekend, check its bakery for homemade apple fritters! After picking your apples, be sure to ask for the list of suggested baking ideas for your delicious pickings!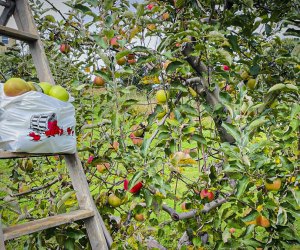 Picking your own apples is a cherished fall tradition. Photo courtesy of Rose's Berry Farm
Rose's Berry Farm is a beautiful U-pick destination. Offering a variety of 7 tasty apple types, Rose's gives families lots of open-sky picking. Stroll down a path and pick fresh, crunchy apples right off the branch with a snap. Your bag will fill up very fast! Until October, Rose's also does Sunday Breakfast where the menu reflects the berries and other produce grown on the farm.
Irish Bend offers pre-picked fruit or PYO apples. Beginning in September, Irish Bend grows 10 different varieties, including 2 less common in Connecticut: Smokehouse and Cameo. Go apple picking all day from Friday to Sunday.
Yet another beautiful spot in rustic South Glastonbury, Belltown Hill Orchards has 24 varieties of PYO apples from mid-August to early November, on weekends only. Stop by the on-site market to choose other fresh offerings, such as jams, jellies, and cider donuts. Pick-your-own apples are priced by the pound.
Face masks are currently optional.
North of Hartford in Enfield is Easy Pickins' Orchard. All of the 21 varieties of apple trees are fully-dwarfed and offer apples for picking from just above the ground to a 6-foot level so that everyone, even the most petite members of the family, can pick comfortably. Early varieties include Paula Red, Zestar, and Ginger Gold. You can also shop for things like stunning rainbow beets, honey, and baking mixes from the online shop, and pick up upon your arrival.
Another great spot for apple picking north of Hartford is Lost Acres Orchard, which has PYO apples starting in the second week of September. While there, check out the farm store, which sells apples, cider, pies, breads, soups, jams, quintessential mums, and handmade quilts.
Apple Picking in Connecticut - Litchfield and Fairfield
Beardsley's is a smaller apple orchard, tucked away among the many historical farms in Shelton. Its rustic brown wooden barn and farmhouse building hide an orchard of more than 5,000 apple trees. The orchard's dwarf and semi-dwarf trees with branches never growing higher than 10-12 feet are easy to pick. Beardsley's also has a farm store with all sorts of delicious foods: apples, local honey, homemade bakery products, and the chief attraction: freshly pressed apple cider straight from the orchard's cider mill. Picking begins September 13 and is available weekends only.
Just the trip itself to this wonderful 100-year old family farm is a feast for the eyes: scenic, gently-winding country roads along and over fast creeks lead you up to the farm. Apple trees cover 50 acres of hills on both sides of the road. The farm store sells fresh, seasonal produce and all sorts of apples and homemade bakery products in addition to giant pies, cider-flavored donuts, and rich cookies. There is a play-scape on site as well as farm animals for the little kids to befriend. Open daily 10 a.m. to 6 p.m.; prices range from av1/2 peck ($12) to 1/2 a bushel ($35).
Look for the bright red barn. The farm store is jam-packed with farm treats like blueberry and maple syrup, baking mixes, and fresh pies and donuts. But if you want to pick your own, you'll have to reach into the trees to select one of your favorite from 36 different styles of flavorful apples. Picking is open from September to late October.

Let your kids feel proud of their hard-earned treats at a CT orchard! Photo by Ally Noel for Mommy Poppins
Averill Farm is a Litchfield County favorite where apples take center-stage. Stop by for U-pick apples or to snack on the fresh homemade apple cider donuts. Tables and chairs are set up outside by the orchards where you can enjoy the gorgeous view of the hills. Bite into a Paula Red, Tydeman, or Red Free starting August 20.
Come and pick your own eating and baking apples starting in late August, and introduce the kids to Silverman's animal farm too (admission fee required). They have goats, llamas, sheep, and even buffalo! Before you leave, pick up some fresh apple cider or a fresh Silverman's pie to take home. J and D kettle corn is available on the weekends.

Apple Picking in Connecticut - New Haven and Middletown

There are 20 varieties of apples to pick in Guilford. Photo courtesy of Bishops's Orchards.
Family owned since 1871, Bishop's offers 110 acres of apple crops. Come and pick from the 20 varities of apples from late-August to October. On weekends, Bishop's provides a tractor ride to the orchard. Call Bishop's information line before heading out to the orchard: (203) 458-PICK.
Small, scenic, and brimming with pick-your-own apples, Belinsky Farm has hours on weekends from 9 a.m. - 5 p.m. Cortland, Empire, and Delicious are three popular apple picking choices at an affordable $8 per 1/2 peck. Call the pick line at 203-888-0322 for up-to-date apple orchard news.
Stroll the scenic acres of this Cheshire farm, bring a picnic to share under a shady tree or at one of their picnic tables, and pick your own apples through mid-October. Picking has already begun with Ginger Gold. On weekends, try a wagon ride. The quaint farm stand offers fresh fruits and vegetables, pumpkins, mums, or yummy cider donuts.

Pick McIntosh, Golden Delicious, Empire, and more in Cheshire. Photo courtesy of Hickory Hills Farm.
Four decades and going strong, Hickory Hill Orchards in Cheshire offers more varieties of apple than you may have even heard of. Farm stand hours are 9:30 a.m. - 6:00 p.m., and PYO apple orchards opened for the season in August with early varieties. Call ahead to ensure your best experience.
Apples have already begun to ripen for picking! Spend some time under the apple trees (or the picnic tables) at Norton Brothers Monday-Friday, from 8:30 am-5 pm, and weekends too.The Farmer's Market stocks all kinds of old-home items like maple syrup. fruit butters, pies, and cider.
Located in North Branford, Rose Orchards has been owned by the Rose family since the earliest days of Connecticut. The farm offers seasonal U-pick apples, as well as a farm market and a creamery serving up old fashioned frozen custard. Say hello to the Rose animals, ducks, goats, chickens, and sheep.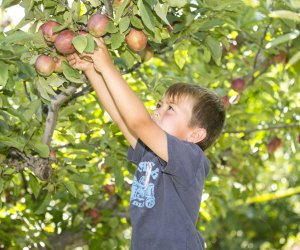 Take the kids apple picking at Lyman Orchards in Middlefield. Photo by Kim Tyler.
Centrally located in the middle of the state, Lyman is a large and very popular orchard with amazing hilltop views. Apple picking is open daily, and you can sign up online for pick-your-own alerts so that you never miss a fruit season. After you are done selecting apples from their many varieties, check out the Apple Barrel market, featuring fresh local fruit, baked goods, and specialty items. There is also a lovely deck with picnic tables to sit at with the family and drink apple cider.
Apple Picking in Eastern Connecticut
One of the largest farms in Eastern Connecticut, Scott's not only offers apples (starting Labor Day), but also berries, peaches, and pumpkins. Hitch a ride on a tractor and see the farm from a different perspective. Make sure you stop in the market and see the cider press being used. The most up to date information is always on the farm's Facebook page.
Horse Listeners boasts a large variety of apples, peaches, blueberries, and an assortment of veggies. Apples are ready for pie-making in mid-September. Horse Listener's has a fully stocked farm store year-round. For the most variety, come in October when 9 of the apple varieties are ready. Looking for a little more? Stop by their market and get all your fruit for the week.
Holmberg Orchards offers a little of everything: a variety of apples for apple picking, a superb farmers' market and bakery with lots of local offerings, and a winery that features hard ciders and fruit wines. When apple picking, pre-purchase your container (choose from a 3 lb bag up to a 13 lb bag) for entry. Check for weather and picking updates on the website.
Whittle Willow Spring Farm has been around for a century. This lovely, little farmer's market offers all sorts of freshly picked farm product including pick-your-own apples. Enjoy Macoun, Cortland and MacIntosh amongst others fresh from the tree.
Wright's invites you to pick your own apples every season from over 20 varieties. For best harvesting times, check out their harvest schedule.