Our Favorite Connecticut Lighthouses to Visit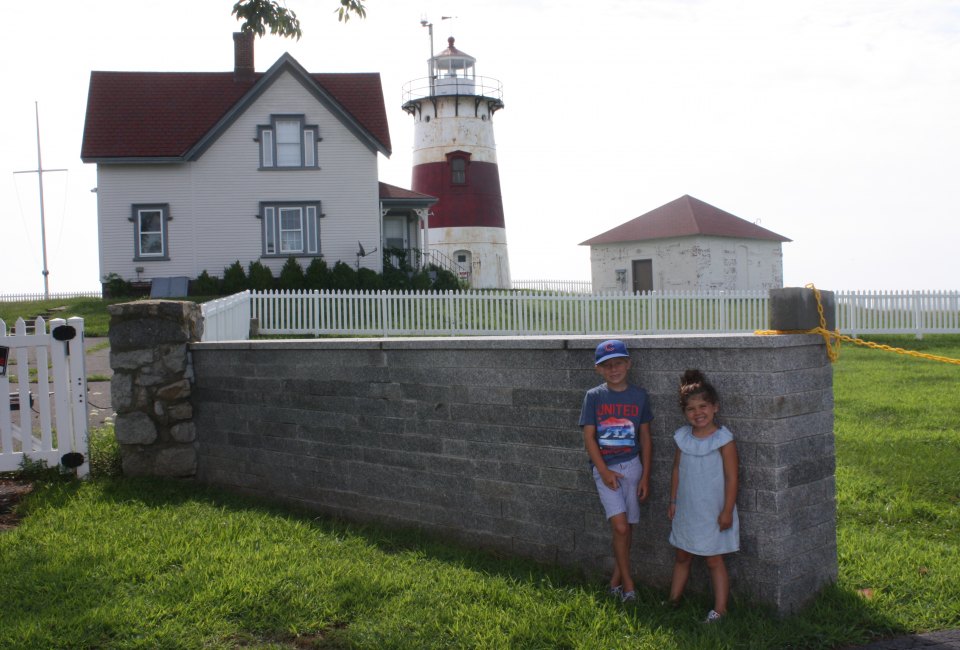 8/10/18
- By
Makayla O'Keefe
You don't have to venture to Cape Elizabeth or Portland for classic New England lighthouse vistas because Connecticut has quite the maritime history. With the very first lighthouse museum in the nation, a half dozen lighthouse tours, and even some lighthouse hauntings, we've rounded up seven Connecticut lighthouses worth a visit with your kiddos.
Stonington Harbor Light – Stonington
Built in 1840, the lighthouse at Stonington Harbor stood guard for almost 50 years and continues to serve as an educational rather than navigational beacon. The Old Lighthouse Museum at the south end of Stonington Point is the nation's first lighthouse museum featuring changing and permanent exhibits, and local artifacts reflecting Stonington Borough's storied maritime history. You can climb the tower's 29 steps and a short ladder for a breathtaking view of the Atlantic and three states! And really, you can sign us up every time to visit the absolutely charming borough of Stonington. It's postcard-perfect New England.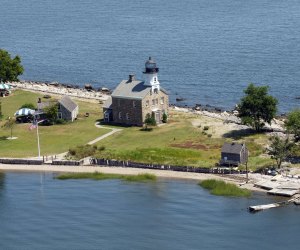 Photo courtesy of Sheffield Island Lighthouse
Sheffield Island Light – Norwalk
At the entrance to Norwalk Harbor is Sheffield Island Light, a Victorian-style lighthouse built in the mid-1800s. The lighthouse can be reached via the Norwalk Seaport Association's ferry from May through Labor Day. The covered 42-foot passenger vessel offers historic tours of the island included in your ferry trip. The ride out to the island takes about 45 minutes and you are welcome to bring picnic supplies. (Note: don't forget the bug spray – the mosquitoes can be fierce, especially later in the day.) Plan ahead and check out one of the island's special events: clambakes, Pirate's Weekend, and the Haunted Lighthouse, if you dare.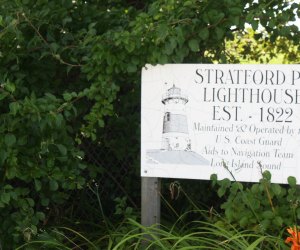 Stratford Point Light – Stratford
One of the few lighthouses you can actually drive to, Stratford Point Light stands at the entrance to Stratford Harbor where the Housatonic River meets Long Island Sound. While the lighthouse has permanent Coast Guard residents and is never open to the public, you can visit the grounds of Stratford Point which spans 27 acres of waterfront property and offers a prime location for bird watching. You might spot American Kestrels, Eastern Meadowlarks, Northern Harriers, and many species of shorebirds. Stratford Point is generally open weekdays from 8:00 a.m. until 5:00 p.m.
New Haven Harbor Light – New Haven
Standing at the entrance to New Haven Harbor, New Haven Harbor Light, also known as Five Mile Point Light due to its location five miles from the New Haven Green, remains a fixture in Lighthouse Point Park. The park is open year round featuring a beach, playground, splash pad, and antique carousel still in operation today. Plus, Lighthouse Point Park is home to the widely-popular Festival of Lights during December.
Photo courtesy of Ledge Lighthouse
New London Harbor, Ledge and Avery Point Lighthouses – New London
Climb aboard the award-winning "Best Lighthouse Tour" on the 20-passenger Popeye and set off on a 90-minute voyage departing from downtown New London and venturing out six miles past New London Harbor, Ledge and Avery Point lighthouses to North Dumpling and Race Rock Lights. New London Harbor Lighthouse, the oldest and tallest on Long Island Sound, is located onshore three miles from downtown, and offers breathtaking views of Long Island Sound. According to the United States Coast Guard, at night more lighthouses can be seen from the lantern of this lighthouse than from any other place on earth. Along your tour you'll spot a submarine factory, two forts, a U.S. Coast Guard station and Fishers Island. Play your cards right and you may even spy some seals! Tours are on Saturdays, from June through October. Be sure to check out New London's "Gem on the waterfront," the Custom House Maritime Museum that houses an impressive local maritime history collection, with exhibitions on local lighthouses.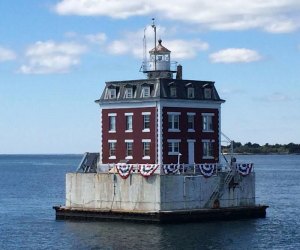 Photo courtesy of Ledge Lighthouse
Ledge Lighthouse – New London
Built in 1909 to help manage traffic in and out of New London's bustling harbor, Ledge Light sits on a manmade island at the mouth of the Thames River. The only way to see Ledge Light is by boat. Explore the rich heritage of one of Connecticut's jewels with Projection Oceanology, offering tours out of the UConn campus at Avery Point out to Ledge Lighthouse on most Summer Tuesdays, Thursdays, and Saturdays in July and August and only on Saturdays in September, including a ride into New London harbor. Participants will board the Enviro-lab and disembark at Ledge Light where they will feel what it was really like to live the life of a lighthouse keeper.
Penfield Reef Light – Bridgeport
Built to help prevent wrecks on the rocky coast of Fairfield, Penfield Reef Light has stood as a beacon of light in Black Rock Harbor for more than a century. While it can be seen from the shore, Penfield Reef Light can be viewed best by boat. We recommend heading out on the 40-foot Navy Launch "Chief" out of Captain's Cove in Bridgeport which offers a guided one-hour tour of Black Rock Harbor.
Sign up for the Mommy Poppins Newsletter today!