Guide to Visiting the Yale University Art Gallery with Kids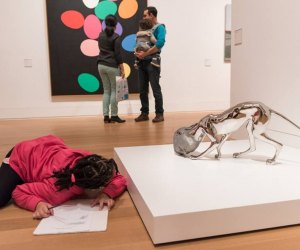 Among one of the top things to do with kids in New Haven, Connecticut is a visit to the Yale University art gallery. Right on the corner of York and Chapel streets, you'll find a collection of more than 200,000 works of art, including Picassos, Van Goghs, and Monets, definitely in our list of the best museums. The best part, Yale offers a number of family-friendly guides and programs inviting you and your children of any age. to enjoy and learn about art.
Located on Chapel Street, the Yale University Art Gallery is an art museum housed in several buildings on the campus of Yale University in New Haven. Founded in 1832, the gallery is the oldest university art museum in the western hemisphere with an impressive collection spanning all periods and cultures. The museum displays works by well-known artists such as Degas, Duchamp, Lichtenstein, Miro, Mondrian, Picasso, Rothko, and many more.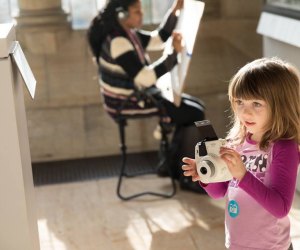 The gallery offers family programs and self-guided materials designed to jumpstart conversations about art in a kid-friendly way. Their Stories and Art series is currently online, however, offering a library of story time videos to watch on demand.
The gallery's family guides are designed to be used in the gallery spaces, teaching families how to look more closely at art, to think about their natural surroundings as art, and to have meaningful conversations about art.
One of the self-guided activities focuses on architecture. It shares the history of the gallery's three buildings and prompting kids to think about the materials, shapes and spatial relationships used in designing the gallery space.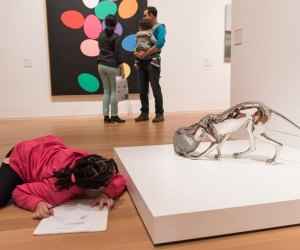 Another guide called "Looking Closely Using Felt and Yarn" offers kids the chance to use a kit to learn about how artists use lines, shapes, and color to create works of art. The guide prompts kids to consider works of art ranging from a portrait, to an abstract to a sculpture and recreate their own rendition using felt and yarn that they can later take home for further exploration.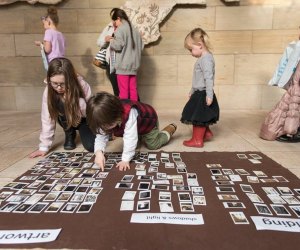 For visitors with special needs, The Yale Museum of Art offers complimentary wheelchairs and stools and access tours for visually impaired visitors. Service animals are welcome.
All photos credit of Yale Art Gallery.