Corn Maze, Apple Picking, and More Farm Fun at Lyman Orchards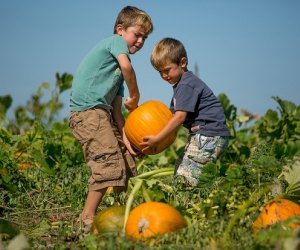 Lyman Orchards is one of those idyllic places where sprawling vistas, trees brimming with fruit, and a deliciously stocked country store make you feel like you are splurging on a vacation; however, given their 30-minute proximity to Hartford, New Haven, and Waterbury, chances are you're probably still very close to home. This Connecticut landmark is a favorite family-friendly destination throughout the year, but the views and ambiance are especially spectacular in the fall.
One of its most popular attractions, the corn maze, opens on September 2 (until November 5) and this year's theme is Airborne Adventures. Featuring the historic Spirit of St. Louis and its famous pilot - Col. Charles Lindbergh, the maze offers 4 acres of towering corn, 2 miles of pathways, and fun trivia questions that help wonderers navigate each twist and turn. Admission is $10 per adult, $5 for children ages 4-12, and free for those 3 and younger.
There's much do to at Lyman, in addition to conquering the maze. The Apple Barrel, open daily, is renowned for its fresh menu. Enjoy lunch inside the store (the Macintosh sandwich is my favorite, and my kids are always gaga about the gooey mac and cheese), or relax on the patio, under the shade of willow trees, and savor each bite as you watch children delightfully feeding the pond's resident geese.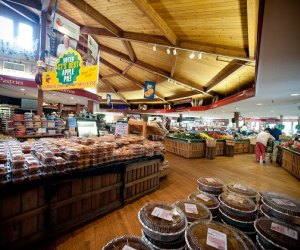 The dessert selection at the Apple Barrel is impressive, featuring a variety of baked goods.
Do not even think of leaving without stopping by the bakery. Sticky fingers and chocolate-decorated lips are a must. If nothing tempts you from the display window (I envy you!), be sure to take home a pie; the apple pie is so scrumptious (don't tell grandma!), it was voted the best farm/orchard pie for 2015 by Connecticut Magazine. By the way, if you need more proof that Lyman is an awesome place, note that it was also voted Best of CT 2016 Farm Orchard by Connecticut Magazine.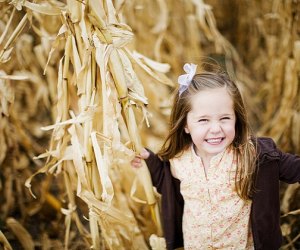 Lyman Orchards offers something for everyone year-round; from juicy berries in the early summer, to luscious pumpkins and an exciting corn maze in the fall.
If you'd rather bake your own pie, you're in luck. The orchards feature a dozen varieties of apples available from mid-August to late October. The 100+ acres are home not only to one of the best selections of pick-your-own fruit in the state, but also many festivals and events that take place year-round. Some upcoming free attractions include SteveSongs Free Concert, Harvest Music Festival, and Paint the Pumpkin Pink. On weekends and holidays, you can also enjoy pony rides and horse-drawn wagon rides.
In the fall, the orchards brim with pears and a dozen varieties of apples.
Not only is Lyman a fun destination, but a charitable one. Every corn maze admission ticket yields a $1 donation to the American Cancer Society. In 17 seasons, a seemingly small token has resulted in $538,457 donated to ACS. In addition, $1 off each admission to the sunflower maze is donated to Connecticut Children's Medical Center, and the orchard also works with St. Jude's Children's Research Hospital. So as you navigate your way through mazes, satisfy your taste buds with delicious baked goods, or pick fruit from its source, feel good knowing you're making a difference in the lives of others.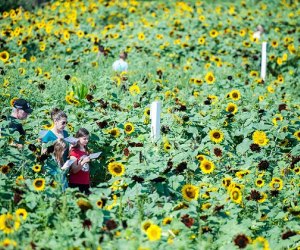 In addition to featuring delicious produce, Lyman Orchards is also beautiful place; its sunflower maze is one of the prettiest around.
NOTE: This is a sponsored post and in exchange for this review, my daughters and I received free admission to the sunflower maze. The courtesy, however, does not affect the opinions expressed. For the last 11 years, Lyman Orchards has been a favorite destination for my family, a place where we have filled our baskets with strawberries, our bags with apples, and our bellies with apple cider donuts and eclairs bigger than our hands.
Photo Credit: All Photos Courtesy of Lyman Orchards.
Originally published 8.27.2016