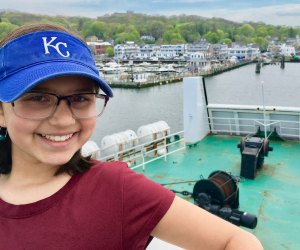 Take the Kids on a Ferry Ride Day Trip to Port Jefferson
Kids love boat rides! And what better than a free ride (plus day trip) across Long Island Sound to the adorable village of Port Jefferson? Here's what you need to know when taking the 17 nautical mile hop to Port Jefferson for a day trip, via the ferry.
Once you've gotten your feet wet with a trip on the Bridgeport & Port Jefferson Ferry, maybe you can try out other day trips across the Sound to Long Island with the kids!
Getting to the Ferry
The Bridgeport & Port Jefferson Ferry Company offers free parking on Ferry Access Boulevard behind Harbor Yard for walk-on ferry riders. Look for the sign on the fenced lot that says "FREE FERRY PARKING." Arrive about 45 minutes before departure. If the shuttle is not at the lot, call (203) 836-9955 to let the driver know you are ready for a ride.
The shuttle also makes stops to the following locations, should you need them:
The Ballpark at Harbor Yard
Bridgeport's Amtrak/Metro-North train station
The Greater Bridgeport Transportation station (bus station)
Bass Pro Shop
The shuttle runs daily from 7 a.m. to 10 p.m.
Walk-on ferry rides on the Bridgeport & Port Jefferson Ferry
Sailing time is estimated at one hour and 15 minutes.
Kids under 12 always ride free on the ferry. There may be other offers available online for discounted adult tickets. Be sure to print your discount sheet and bring it with you.
More tips for riding the ferry:
Bring a sweater even on a sunny day so you can enjoy the upper deck. It's breezy!
Print out and pocket the ferry schedule so you don't "miss the boat" on return.
Walk-on riders don't buy tickets on the website. Web sales are for vehicle tickets only. Purchase tickets from the ferry terminal building.
Pack snacks. Food can be carried onto the ferry, and will save you cash when the kids spot the concessions for sale on board.
There is some seating to chill out inside if the weather doesn't cooperate. Seats are first-come, first-served.
Things to Do in Port Jefferson
The Village of Port Jefferson is small, adorable and very walkable. Best bet for any outing like this is to plan around good weather as you will be outside most of the day.
Port Jeff is rife with cute little shops. Use the town's website to plan your shopping excursion around the village.
Make a Toy Stop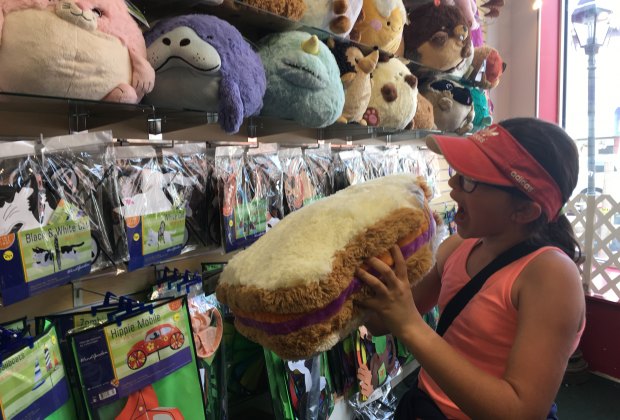 We made a bee-line for Lainie's Way, a local toy shop where the kids went wild. Seriously, my kids wanted to empty their wallets here! We managed to control ourselves since it was months until holidays and birthdays (though I took notes!) and walked out with an awesome cooperative family game recommended by the owner.
Visit the Parks

On a hot day (or any day, really) the kids go nuts in the misting sprinkler at Harborfront Park. This picnic and play area is tucked right behind the Maritime Explorium (see below), with outdoor checkerboards and a boardwalk to enjoy.
Behind Main Street on Roeesner Street, surrounded by parking lots and trees, is the "Rocket Ship Park" as its known, a recently updated little gem with basketball courts, swings, and climbing structures for the kiddos to enjoy.
Eat in Port Jefferson
We always look for outdoor seating, burgers or ramen whenever we can, and Port Jeff did not disappoint. If your kids love bowls of yummy noodles the way mine do, visit Slurp Ramen on Broadway.
If you want to try the delicious breakfast or fondue at Toast coffeehouse, you might want to be prepared for a wait at this popular eatery, especially on a nice day. Seafood lovers will go crazy for Steam Room Restaurant's specials (and sunny atmosphere). But it was the shady patio and friendly service that convinced us to choose Portside Bar & Grill on this trip. The American menu had burgers, seafood and pasta – something for everyone.
Don't miss this sweet treat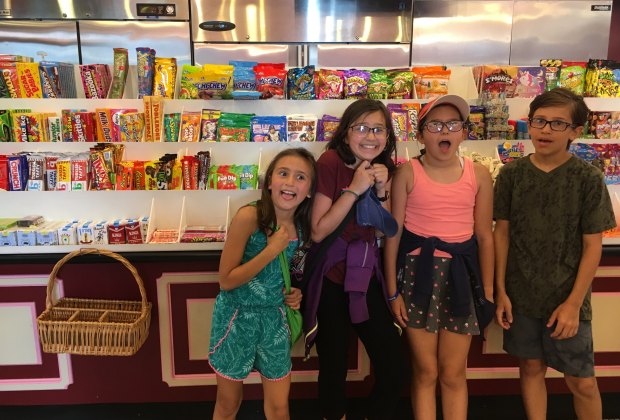 Be sure to save room for dessert or your might regret it. The enormous Port Jefferson Frigate candy and ice cream shop sells old-fashioned candy, fro-yo, ice cream, cupcakes, gelato, and fudge. Might make you want to skip lunch all together!
After lunch is a good time to take a break from shopping and swing into the Maritime Explorium. Open year-round on Saturdays and Sundays from 1 p.m. to 5 p.m., The Maritime Explorium offers hands-on, engaging activities. Cost to enter is just $5.
Return Trip to Bridgeport
Plan to arrive back to the ferry terminal at least 30 minutes before the ferry's scheduled departure. The Port Jeff Terminal has indoor and covered space to wait as needed.
On docking, the "Shuttle to the Ferry" will be waiting to take you back to the free parking lot.
Everyone will be pooped after a day around in Port Jefferson, but you will be glad you made the hop across the sound to explore this adorable Long Island village.
--
All photos by the author.