Florida's Kennedy Space Center: A Kid-Friendly Visitors Guide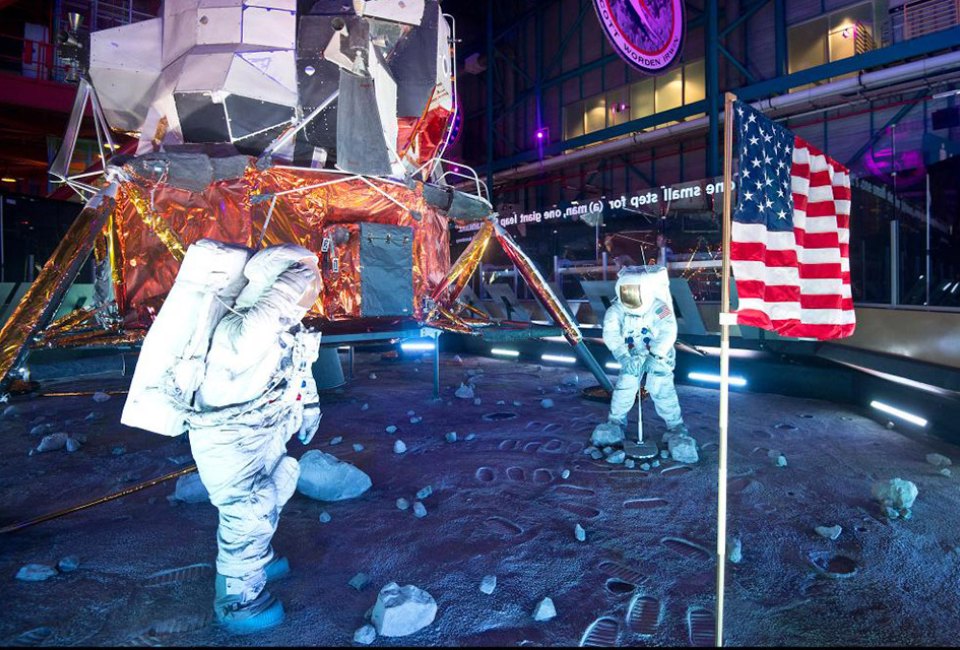 2/24/23
- By
Anna Fader
NASA's Kennedy Space Center Visitor Complex in Cape Canaveral, Florida (a short drive from Orlando) offers the perfect place to revel in the science of space. Something between a museum and a theme park all about space exploration, there's so much to see and do at this family destination, including the brand-new Gateway attraction. The Kennedy Space Center is a must-do for any family interested in science, space, and American history.
In fact there's so much to see and do at the sprawling 144,000-acre Kennedy Space Center Visitors' Complex (don't panic, all the attractions are close together), it's good to arrive with a game plan. Here's what you need to know about the different attractions so you can plan your visit and make your day great.
Doing everything at the Kennedy Space Center Visitor Complex will mean a full day, so start planning and determine your family's stamina. Luckily the bus tour can be used as a strategic rest break when you need it. If you would like to attend "Chat with an Astronaut," you will need to plan your schedule around that. Most of the other attractions run regularly all day long. The Space Shuttle Atlantis Building is going to be a highlight for the whole family and has over an hour of fun in store! Located right by the end of the bus tour, it's perfect to visit afterwards, but make sure you hit it before the kids get burned out.

Gateway: The Deep Space Launch Complex shows the visionary designs for human deep space travel.
Top Attractions at the Kennedy Space Center Visitor Complex
Recently opened in 2022, this new multi-level attraction allows guests to get up-close views of modern-day spacecrafts, including a SpaceX Cargo Dragon, Boeing Starliner Capsule, Lockheed Martin Space Habitat, and more. Then enter Spaceport KSC to board one of four journeys through the solar system via an interactive 4D ride.

Space Coast Kids' Suits show what it takes for human exploration of space.
Just inside the main entrance, the Heroes and Legends attraction is meant to bring emotion to your visit. It starts with an homage to heroism and a 4D experience highlighting the dangers of space travel that astronauts subject themselves to. Visitors can then wander through an exhibit dedicated to the virtuous qualities of heroism and personal stories of astronauts demonstrating them. The Astronaut Hall of Fame honors the heroes in a grand, solemn room. Don't go home without taking a virtual selfie with your favorite legendary astronauts as you learn their stories.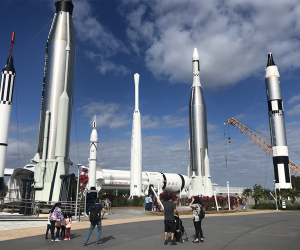 The Rocket Garden shows the grand scope of the space program. Photo by Charlotte Blanton
Wander through a forest of actual rockets of the Mercury, Gemini, and Apollo programs, and imagine them shooting off toward the stars. Their sheer size is astounding!
One of the most unique things you can do is the "Chat with an Astronaut" experience —this takes place twice daily, at 10am and 2pm. In a small group setting, attendees enjoy a sampling of food and beverages while chatting with the Astronaut of the Day in an engaging Q&A session. This experience is not included in admission, but is a worthy addition. The morning session includes a continental breakfast, while the afternoon session includes culinary samplings. Participants also receive a commemorative gift and a signed portrait of the astronaut.
The Universe Theater provides another opportunity to meet the Astronaut of the Day. See a veteran NASA astronaut give a live presentation, followed by a Q&A session. Check the daily schedule for details, show times, and autograph sessions.
It's hard to fully appreciate the scale of the actual launch sites and the giant transporters that move the rockets without seeing them in person. Thankfully this can be done via a bus tour to access the otherwise restricted areas of the complex. The bus driver disperses interesting facts along the way, and it's a nice chance to rest tired feet, too. Note: The last bus tour departs 2.5 hours before park closure.

The Apollo/Saturn V Center tells the story of our race to space.
The bus tour drops guests off at this museum dedicated to America's race to the moon. Stand below the largest rocket ever flown, touch a moon rock, and learn all about the early space program here.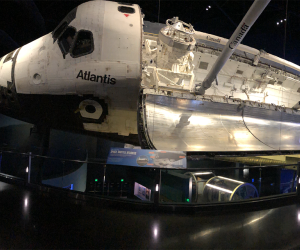 The Space Shuttle Atlantis Building is an honest look at this famed shuttle. Photo by Charlotte Blanton
Housing the famous Atlantis Space Shuttle, this complex would be a worthy destination entirely on its own. A short film introduces the story of the Space Shuttle before entering the museum where you can view the actual shuttle, space scrapes and all. But that's only the beginning. You will want to reserve at least an hour or two to explore all the interactive exhibits. Plus, guests 44 inches and taller can board a Shuttle Launch simulator for an 8+ minute launch into orbit, the next best thing to an actual launch!
These giant theaters show breathtaking space movies in two presentations. See the daily schedule for current films and show times. Grab popcorn, other snacks, and beverages in the lobby before the movie begins.
RELATED: Florida Family Travel Guide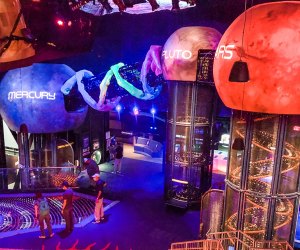 Younger kids will love letting loose at Planet Play. Photo by Charlotte Blanton
Designed for kids as young as age 2 and up to age 12, this multi-story indoor playground allows kids to "play on the planets" and is sure to be a hit with the little ones on your visit. Kids can crawl through a blackhole, slide down an asteroid field, walk on Saturn's rings, and more. There is also a soft play area for toddlers. While kids explore, parents can relax in the lounge, which is complete with a coffee, wine, and beer bar.

Take a "journey to Mars" when visiting Journey to Mars.
Learn about Nasa's plans to explore our neighboring planet and more of deep space through immersive games and simulators, including replicas of Mars rovers.
Also new to the complex as of 2022, LEGO Education and Kennedy Space Center have teamed up to provide visitors with an interactive STEAM (Science, Technology, Engineering, Art, and Math) learning experience. This attraction is complete with different LEGO education stations such as engineer design challenges, make-and-take activities, a free-build table, and more.
RELATED: Legoland Florida: Everything You Need to Know for a Great Visit
More Experiences at NASA's Kennedy Space Center
Imagine learning and training just like the real astronauts. Camps for kids age 7-16 offer educational and fun experiences that can only be offered by NASA.
Enhance your visit by booking a guided tour. Choose from a Launch Director Tour of Space Shuttle Atlantis (3-hour tour offered twice daily), KSC Explore Tour (3-hour tour offered multiple times per day), or KSC Fly with an Astronaut (5-hour experience offered once daily).
We're sending rockets up to space more often than you may realize. Check the calendar to see if there's a launch planned during your visit. They often happen at night and there's a lot of waiting around, so do a little research to see if it's going to be a fitting option for your family.
Dining at Kennedy Space Center
Several dining options are available within the complex. Orbit Café offers both breakfast and lunch, and mobile ordering is available. Build your own savory bowl at Space Bowl Bistro, open from 11am-4pm. If you partake in the bus tour, enjoy lunch at the Moon Rock Café, located within the Apollo/Saturn V Center. Located outside of Journey to Atlantis is the Red Rock Grill lunch stand, serving hot dogs and fries. For sweet treats, grab some ice cream or Space Dots at the Milky Way.
Know Before You Go: Kennedy Space Center
Parking is $10 per vehicle. Oversized vehicles and RVs are $15.
Food and drinks packed in small, soft-sided coolers are allowed. No outside alcoholic beverages are permitted.
Download the Kennedy Space Center Official Guide App to assist with your visit.
Admission starts at $75 per day (ages 12 and up), and $65 for ages 3-11. Two day passes are also available. If you are local to Central Florida or plan to visit more often, consider getting the Cosmic Club Annual Pass, which includes annual admission for two adults and up to four kids.
Strollers and double strollers are available for rent at the complex.
Photos courtesy of KSCVC unless otherwise noted.
Places featured in this article:
Click Here to Sign Up!
i