Fun Orlando Summer Camps for Preschoolers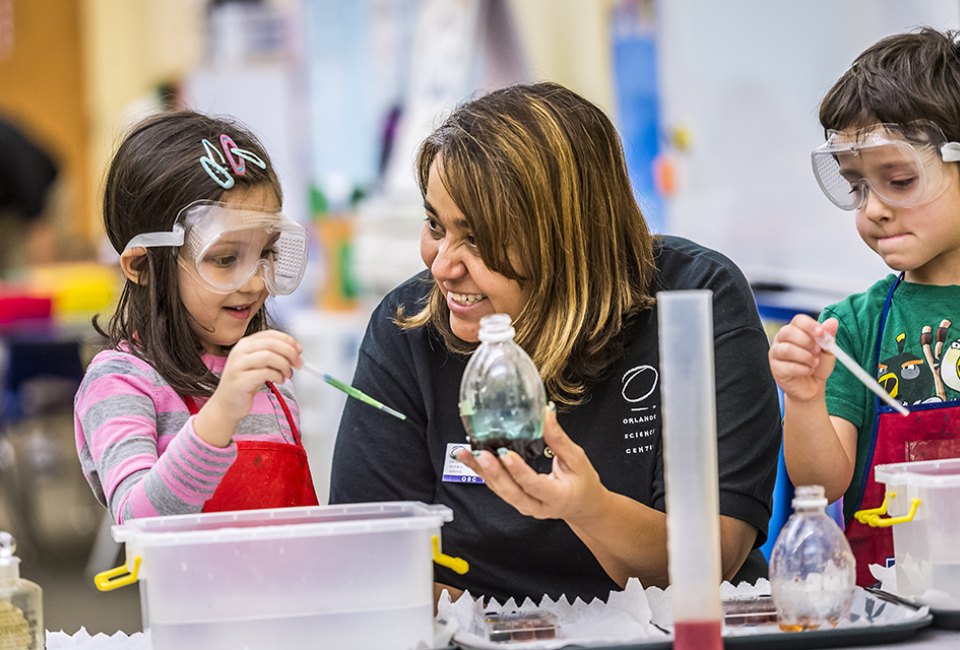 2/25/22
- By
Melanie Preis
Every child deserves to have a great camp experience, including little ones with big plans this summer. Summer camp for preschoolers involves fun, active programming, reliable leadership, and creative camp themes. Luckily, Orlando is full of awesome summer camps perfect for preschoolers!
Mommy Poppins knows how tough it can be to manuever the long lists of Orlando summer camps for preschoolers so we've gathered some excellent camps to peruse. Taking into consideration the needs of Orlando's youngest campers, we've collected camps that will be great options. So pack that sunscreen, fill up the water bottles, and label the swimsuits —it's time to take a look at preschool camps near Orlando!
Need more summer camp ideas? Check out our Orlando Summer Camp Guide and get lots of wonderful ideas and leads on the perfect camp for your kiddos!

A Kids Gym Learning Gymnastics Academy offers a variety of camp activities.
Preschool Summer Camps in Orlando
Camp Masterminds is the preschool camp from A Kids Gym and offers age-appropriate activities all summer long. Ages 3-6 will participate in sports, arts and crafts, and even continue the learning they've started during the school year.
Bridge learning and fun for your preschooler at Building Brains Academy Summer Camp. Preschool campers will take language immersion classes, make art and crafts, play outdors, create friendships, and much more.
Children ages 2-5 are part of Camp Gan Israel's youngest campers, Kiddie Camp. Regular camp dates are one-week sessions running June 27-August 12. This Jewish camp offers preschoolers organized activities, social skills, and a great first camp experience.
Cranium Academy - East Orlando and Winter Garden
Three- and four-year-olds will love attending preschool camp at Cranium Academy. With two locations, there's even more variety for parents to choose from. Weekly themes include indoor and outdoor games, cooking, kindness, time travel, pirates, and much more. Camp day hours are 8am-3pm (with the option to pay additional full-day hours).
Located throughout the Orlando area, La Petite Academy offers summer camps for a variety of age groups, including preschoolers. The 3- and 4-year-olds enjoy weekly themed camp, like STEM Builders (bringing the story of The Three Pigs to life) and My First Playhouse (exploring the world of theater and puppetry).

Mad Science Camps offers a variety of camp themes, depending on the selected week.
Mad Science of Central Florida has a variety of science-themed summer camps throughout Central Florida, including weekly camps for little ones in pre-kindergarten. Located inside Oviedo Mall's Mad Science Laboratory, these preschool camps run 10am-2pm in various themes like junior robotics, gardening, engineering, and more.
The Rep offers a fun preschool camp for kids ages 4 and 5 throughout the summer. For three separate weeks in the summer, each preschool camp offers two sessions times: 9-11am or 12-2pm. Camp them weeks include things like Cocomelon Lane, Playtime with Paddington, Spidey and Friends, and more. Camp tuition is $110-$135, depending on week.

Preschoolers love getting messy at summer camp! Photo by Roberto Gonzalez, courtesy of Orlando Science Center
Orlando Science Center's (OSC) preschool summer camp is filled with awesome activities for those ages 3 and up. OSC's preschool camps run through June and July and include themes like Going Buggy, Commotion in the Ocean!, Jurassic Jr., Construction Junction, and more. OSC members pay a discounted summer camp price so consider membership before registering.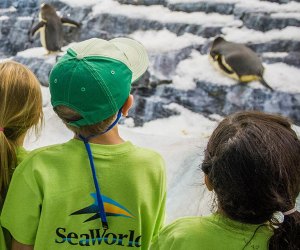 Penguins AND arts and crafts?! That's a winning combo at SeaWorld Orlando Summer Day Camps.
What preschooler wouldn't want to see dolphins and sea creatures at summer camp every day?! SeaWorld Orlando' s preschool camp is open for kids ages 3-4 and runs Monday - Friday 9am-12pm. Unlike other summer camps, SeaWorld's preschool version requires children to be accompanied by adult participants. Parent and child work together to create crafts, visit animals, and make new friends. Campers receive a complimentary shirt and water bottle.
Weeklong summer camps are available for kids of all ages, including preschoolers. StarChild offers multiple locations throughout the Orlando area, but all the campuses feature fun-filled field trips and guest speakers.
Photos courtesy of the camps and venues