Holiday Volunteering Opportunities for Kids and Families in Philly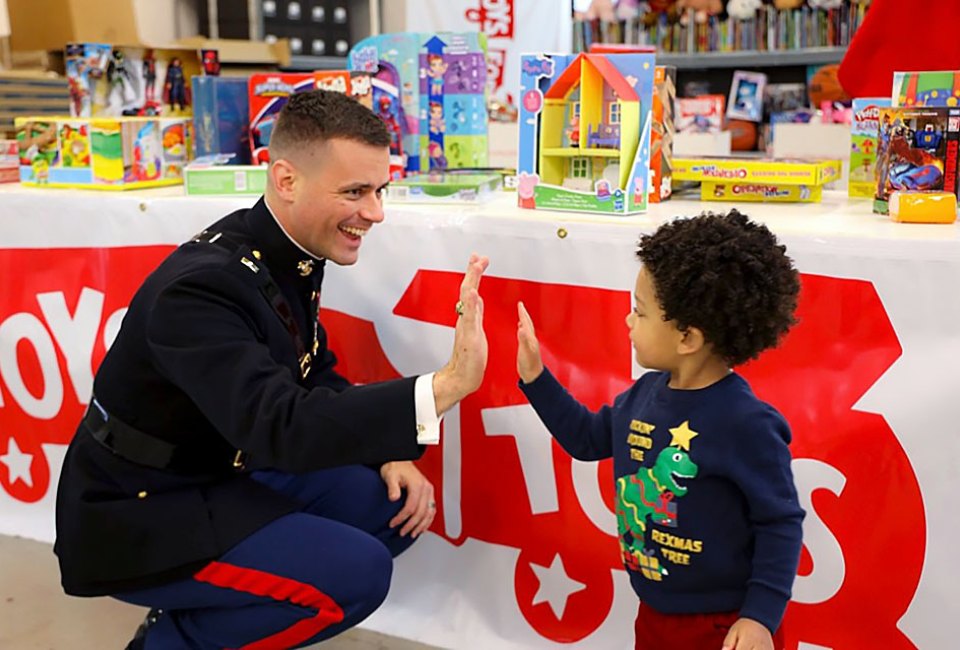 11/18/22
- By
Lindsay Li
Give back this holiday season with these volunteering opportunities near Philadelphia.
Between the hustle and bustle of decorating and shopping, it's nice to make time to give back during the holiday season. The Philly area has some wonderful volunteering opportunities to help folks in need in our local communities. Families can build strong memories and teach kids the joy of generosity by choosing one of these ways to give back.
For additional ideas to enjoy this time of year, browse our Guide to Holiday and Christmas Events in Philly.
Philadelphia Holiday Volunteering Opportunities
Back again this year, kids can create a personalized fundraiser to support children receiving care at CHOP. With a little help from their parents, kids can raise much-needed funds for the Child Life team by creating their own fundraising page that goes towards buying toys for CHOP patients. Another way to help from home is by shipping items from the hospital's Amazon wish list directly to the hospital.
The JRA welcomes families to help pack and distribute food and essentials to those in need, offering a separate packing area for families with young children. Children of any age can participate by creating and sending artwork to boost the spirits of recipients. Families can also purchase gifts for a family in need.
RELATED: Thanksgiving Activities Guide for Families in 2022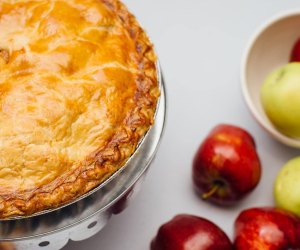 Sell pies and use the proceeds to aid those with serious illnesses at Volunteers for MANNA. Photo courtesy of MANNA
Help neighbors battling illnesses during the holiday, as proceeds from this initiative provide Thanksgiving dinner and year-round services to those struggling with health conditions. Purchase a pie and pick it up on Tuesday, November 22, just in time for Thanksgiving. With 16 pickup locations in the region, this is a great option for anyone around Philly, and volunteers can spread the word by becoming individual sellers or joining a team. You can also donate pies directly to a favorite food bank or soup kitchen or sign up to help in the kitchen.
You don't have to raise thousands of dollars to make a big impact. With Philabundance, $150 feeds lunch to 50 children over a holiday weekend. Plan an event to host your fundraiser, or start a virtual food drive to raise funds. This coalition works to reduce food poverty across the region and serves around 135,000 local residents every week.
To help seniors facing food insecurity, the Share Food Program offers three options for giving back. Volunteers age 13 and up can box food with the program; shift times vary, but usually last 3 hours. For anyone looking to involve younger children, pack the kids in the car and deliver boxes to recipients' doorsteps with 2-hour shifts available most Saturdays. Another option for older children is the 2-hour calling shifts to confirm recipients' deliveries for the upcoming weekend.
Philadelphia Parks and Recreation partners with the Fairmount Park Conservancy to maintain the city's grounds. Volunteer on a one-time basis or come out each second Saturday of the month from 10am–⁠12pm to help care for trees, remove invasive plants, and keep the waterways clean. Volunteer locations vary.
Cradles to Crayons provides low-income and homeless children with everyday essentials. Kids as young as 5 years can work two-hour shifts in The Giving Factory to inspect, sort, or package donated goods that make their way to the kids. Or, volunteer from the comfort of your home through KidPack Direct, which matches a volunteering family with a specific child's needs and provides pre-paid UPS shipping labels to ship gently used clothing.
RELATED: How to Find Free Toys for Kids this Christmas and Holiday Season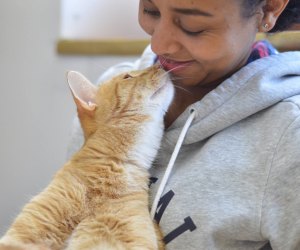 Don't forget our four-legged friends this holiday season. Photo courtesy of PAWS
Animals need help too, so let's not forget our furry friends this holiday season. If you're a pet lover, consider fostering a dog or cat. The Philadelphia Animal Welfare Society, more commonly known as PAWS, has healthy pets of all kinds as well as dogs and cats with special needs and even nursing cats with litters that need temporary homes. Volunteer opportunities are also available at each facility (PAWS has four locations throughout Philadelphia) where you can help with the pets' socialization, walk dogs, work adoption events, or assist with facility upkeep. Families can also sponsor a rescued animal.
Your family can help make sure children and families stay warm this winter season by donating coats your child has outgrown or organizing a coat drive with One Warm Coat. This organization promotes volunteerism and environmental sustainability, and you can find a Coat Drive Ambassador near you to make it easy to donate coats.
Caring for Friends' mission is to provide food and friendship to seniors, children, and adults across the Philadelphia region, and there are several ways that families and teens can get involved over the holiday season and beyond. Children as young as 8 can help prepare snack bags, while families can cook meals at home to deliver to a shelter, or you can host a virtual food drive.
Families that love to read will love Treehouse Books. Your child can organize a book drive or donate books he or she has outgrown to help this organization get books in to every Philadelphia home.
Volunteering Opportunities in the Philly Suburbs
Help out at the Langhorne Food Pantry by loading and unloading goods, sorting and putting away items, and bagging food for clients to pick up. Volunteers can also prepare meals at the Bucks County Emergency Homeless Shelter for the adults and children who temporarily live there, or package meals for clients residing at remote locations. Shifts run for 2–3 hours and are ideal for parents with teens. Submit your application to get started.
Participate in the holiday gift card drive or work with Fresh Connect, a free mobile farm market that gives fresh produce to low-income families and seniors at three locations throughout Bucks County.

Stop by a Salvation Army Angel Tree and adopt an angel at locations throughout Philadelphia or online. Photo courtesy of the Salvation Army
Holiday Toy Donations
An initiative that brings Christmas gifts to children with incarcerated parents, Angel Tree gathers the names of kids signed up by their moms or dads. The Angel Tree coordinator of your church, small group, or organization then sets up an Angel Tree display with name tags for children, showing their ages and suggested gift ideas. Volunteers visit the display, select names, and then work together to purchase, wrap, and deliver gifts for each child on behalf of his or her incarcerated parent. Monetary donations are also accepted.
For decades,Toys for Tots has been collecting new unwrapped toys and distributing them to less fortunate children at Christmas. Make a virtual toy box donation, customizable by age, or shop a local campaign. Either way, the joy and wonder of Christmas is sure to make a lasting impact on the children who receive your generosity. Like Angel Tree, Toys for Tots graciously accepts monetary donations in support of the Philadelphia campaign.
More Volunteering Ideas for Philly Families
If these events aren't near you or don't work for your family for any reason, there are still plenty of ways to give back. The organizations below help families to make giving an important part of the holiday season:
Encourage your kids to reduce their excess before more gifts come along by holding a clean-out day. Donate unwanted and gently used items to your local Goodwill or Salvation Army.
Host a family-friendly holiday fundraiser for an organization you all pick together. Whether you want to help with kids, animals, or the planet, you can use a site like Charity Navigator to find a credible charity or organization.
Find a local food bank close to your home and pick a day or weekend that works for your family.
Become a holiday sponsor for a rural family in need with the Box Project.
Send a holiday care package to a soldier through the Adopt a Soldier program.
Serve a holiday meal or help out food pantries and churches through the Coalition Against Hunger.
Go online and build a shoebox full of goodies for a child in need with Samaritan's Purse.
Color a Smile and brighten someone's day with your personal artwork.
Contact your nursing home or assisted living facility to see about bringing holiday cards or artwork to cheer up residents.
Keep in mind, volunteering your time can be as simple as helping someone in your micro-community: an elderly neighbor, an ill colleague, or a friend in need. Offer to go grocery shopping, drive them to a doctor's appointment, make them dinner, or watch their kids.
This post was originally published in 2015. Hillary Mohaupt contributed additional reporting in 2022.
Sign up for the Mommy Poppins Newsletter today!