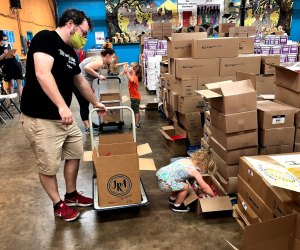 Holiday Volunteer Opportunities Near Philly for Families
Between the hustle and bustle of decorating and shopping, it's nice to make time to give back during the holiday season. The Philly area has some wonderful volunteer opportunities to help folks in need in our local communities.
Volunteer opportunities in 2021 may still require masking and physical distancing, but many philanthropic organizations are looking for assistance. Families can build strong memories and teach kids the joy of generosity by choosing one of these ways to give back.
For additional ideas to enjoy this time of year, browse our Guide to Holiday and Christmas Events in Philly.

Volunteers pack boxes with much-needed supplies. Photo courtesy of the Jewish Relief Agency.
Philadelphia Holiday Volunteer Opportunities
Back again this year, kids can create a virtual toy drive with help from mom and dad. Raise much-needed funds for the Child Life team by creating your own fundraising page, and make money to buy toys for children at CHOP. Another way to help from home is by shipping items from the hospital's wish list directly to the hospital, an initiative that runs through January 31, 2022. Please note: beginning in February 2022, donations must be purchased from the organization's Amazon wish list.
OUR LATEST VIDEOS
An affiliate of Family Promise, which focuses on homelessness prevention, the Philadelphia Interfaith Hospitality Network is welcoming cooked meals meant to serve 10–14 people. Volunteers may also act as hosts: warm the dinner and set the table, eat with the families, clean up, and spend time together after the meal. Encourage your kids to bring a book or toy from home to share with other children, and make new friends while lending a hand.
The JRA welcomes families to help pack and distribute food and essentials to those in need, offering reserved slots for families with young children. There's also the option to organize a collection. Children of any age can participate by creating and sending artwork to boost the spirits of recipients.
RELATED: Thanksgiving Activities Guide for Families in 2021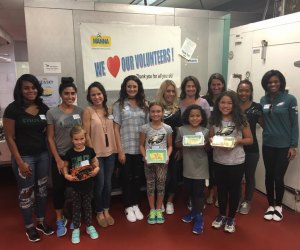 Sell pies and use the proceeds to aid those with serious illnesses at Volunteers for MANNA. Photo via MANNA.
Help neighbors battling life-threatening illnesses during the holiday as proceeds from this initiative provide Thanksgiving dinner and year-round services to those struggling with health conditions. Purchase a pie and pick it up on Tuesday, November 23 from 12–8pm, just in time for Thanksgiving. With 16 pickup locations in the region, this is a great option for anyone around Philly, and volunteers can spread the word by becoming individual sellers or joining a team. You can also donate pies directly to a favorite food bank or soup kitchen.
You don't have to raise thousands of dollars to make a big impact. With Philabundance, $150 feeds lunch to 50 children over a holiday weekend. Plan an event to host your fundraiser, or start a virtual food drive to raise funds. This coalition works to reduce food poverty across the region and serves around 90,000 local residents every week.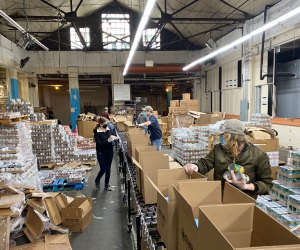 Volunteers at the warehouse help get food ready for those in need. Photo courtesy of The Share Food Program.
To help seniors facing food insecurity, the Share Food Program offers three options for giving back. Volunteers 16 years old and up can box food with the program; shifts are available 9–12pm and 1⁠–⁠4pm. For anyone looking to involve younger children, pack the kids in the car and deliver boxes to recipients' doorsteps with 2-hour shifts available most Saturdays. Another option for older children is the 2-hour calling shifts (available most days)—call home delivery recipients and confirm their deliveries for the upcoming weekend.
Philadelphia Parks and Recreation partners with the Fairmount Park Conservancy to maintain the city's grounds. Volunteer on a one-time basis or come out each second Saturday of the month from 10am–⁠12pm to help care for trees, remove invasive plants, and keep the waterways clean. Volunteer locations vary.
Cradles to Crayons provides low-income and homeless children with everyday essentials. Kids as young as 5 years can work two-hour shifts in The Giving Factory to inspect, sort, or package donated goods that make their way to the girls and boys. Or, volunteer from the comfort of your home through KidPack Direct: this program matches a volunteering family with a specific child's needs and provides pre-paid UPS shipping labels for delivery.
RELATED: How to Find Free Toys for Kids this Christmas and Holiday Season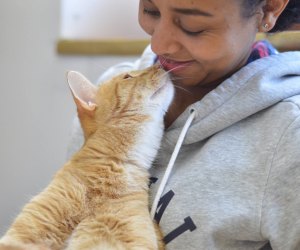 Don't forget our four-legged friends this holiday season. Photo via PAWS.
Animals need help too, so let's not forget our furry friends this holiday season. If you're a pet lover, consider fostering a dog or cat. The Philadelphia Animal Welfare Society, more commonly known as PAWS, has healthy pets of all kinds as well as dogs and cats with special needs and even nursing cats with litters that need temporary homes. Volunteer opportunities are also available at each facility (PAWS has four locations throughout Philadelphia): help with the pets' socialization, walk dogs, work adoption events, or assist with facility upkeep.
Volunteer Opportunities in the Philly Suburbs
Help out at the Langhorne Food Pantry by loading and unloading goods, sorting and putting away items, and bagging food for clients to pick up. Volunteers can also prepare meals at the Bucks County Emergency Homeless Shelter for the adults and children who temporarily live there, or package meals for clients residing at remote locations. Shifts run for 2–3 hours and are ideal for parents with teens. Submit your application to get started!
Participate in the holiday gift card drive, work with Fresh Connect–a free mobile farm market that gives fresh produce to low-income families and seniors at three locations throughout Bucks County. Or, simply reach out to the HELP Center manager, Sheri Ratner, to indicate your volunteering interests and the organization will match you to a program.
Holiday Toy Donations
An initiative that brings Christmas gifts to children with incarcerated parents, Angel Tree gathers the names of kids signed up by their moms or dads. The Angel Tree coordinator of your church, small group, or organization then sets up an Angel Tree display with name tags for children, showing their ages and suggested gift ideas. Volunteers visit the display, select names, and then work together to purchase, wrap, and deliver gifts for each child on behalf of his or her incarcerated parent. Monetary donations are also accepted.
For decades,Toys for Tots has been collecting new unwrapped toys and distributing them to less fortunate children at Christmas. Make a virtual toy box donation, customizable by age, or shop a local campaign. Either way, the joy and wonder of Christmas is sure to make a lasting impact on the children whom receive your generosity. Like Angel Tree, Toys for Tots graciously accepts monetary donations in support of the Philadelphia campaign.
More Volunteering Ideas for Philly Families
If these events aren't near you or don't work for your family for any reason, there are still plenty of ways to give back. The organizations below help families to make giving an important part of the holiday season:
Keep in mind, volunteering your time can be as simple as helping your micro-community: an elderly neighbor, an ill colleague, or a friend in need. Offer to go grocery shopping, drive them to a doctor's appointment, make them dinner, or watch their kids.
Whichever way you choose to give back this holiday season, let us know. Visit our Facebook page and share how you helped make our community a better place.
This post was originally published in 2015. Corrie Stango contributed an update in November 2021.