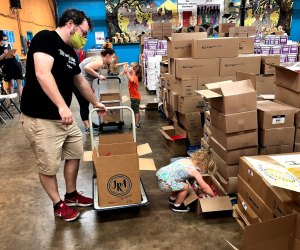 Holiday Volunteering Opportunities for Philly Area Families
Ready to do more as a family this holiday season? This year more than ever, there is great need in the Philly area, which is full of opportunities to share your time and talents with others.
Volunteer opportunities in 2020 have been modified due to COVID-19. However, many philanthropic organizations still are looking for assistance. Browse our list to find a way to help. Build strong memories of caring during the Christmas season with this roundup of ways to give back.
For additional ways to enjoy he season, be sure to browse our Best Holiday and Christmas Events Near Philadelphia in 2020.

Packing it up. Photo courtesy of Jewish Relief Agency
Holiday Season Volunteer Opportunities in Philadelphia
Hold a Toy Drive for the Children's Hospital of Philadelphia
2020 Update: New this year, kids can create a virtual toy drive with help from mom and dad. Funds can be raised to purchase toys since the current COVID situation has impacted the ability to collect new toy donations.
The Child Life, Education, and Creative Arts Therapy department is always looking for new toys and art supplies for the children who visit CHOP as patients. Crayons and paper, bubbles, small LEGO kits, and Play-Doh—all the things your kids love—are very helpful. Host a toy drive and get the whole family involved Get the kids to help create the flyers and wish lists for you to distribute to your neighbors, friends, and colleagues.This year, physical toys and art supplies will not be collected due to COVID.
Cook for a Family in Need at the Philadelphia Interfaith Hospitality Network
2020 Update: An affiliate of Family Promise, which focuses on homelessness prevention, the Philadelphia Interfaith Hospitality Network is accepting food donations and other essential supplies such as diapers to help families in need.
Under typical circumstances, families can cook a meal, or better yet, host a meal on-site. With hosted meals, the whole family shares the gift of companionship. Encourage your kids to bring a book or toy from home to share with other children, and make new friends while also lending a hand. Volunteer activities may be modified due to the current environment.
Provide Food Essentials to Families by Partnering with the Jewish Relief Agency
2020 Update: The opportunities to volunteer at Jewish Relief Agency have been changed due to COVID, but there are still ways to help.
Families can help pack and distribute food to those in need. This year, there are modified schedules and additional safety protocols in place. Children can create artwork to mail to those who are isolated during this time or help send birthday cards to community members. Families can also volunteer to make friendly phone calls to the homebound.
RELATED: Polar Express Holiday Train Rides in the Philly Area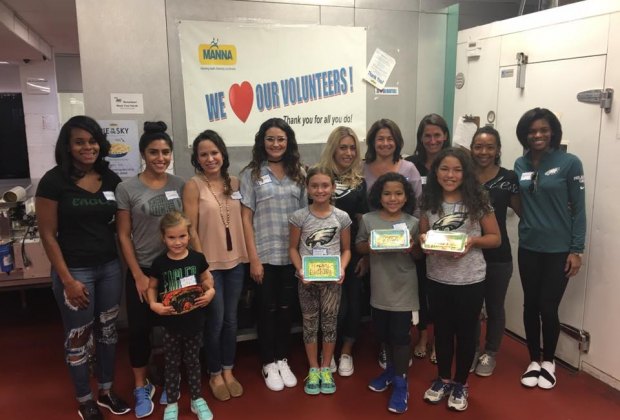 Sell pies and use the proceeds to aid those with serious illnesses at Volunteers for MANNA. Photo via MANNA
Eat Pie in the Sky Presented by American Airlines and MANNA
2020 Update: Pies are being sold this year to help those suffering from cancer, chronic kidney disease, and other illnesses. There are multiple pickup sites throughout the region.
The local community comes together to help neighbors battling life-threatening illnesses during the holiday season. The organization looks for volunteers to sell pies, coordinate a team to sell pies, or donate pies to your favorite food bank. Proceeds help to provide Thanksgiving dinners and year-round services to those struggling with health conditions.
Host a Philabundance Fundraiser
2020 Update: Safety precautions are in effect. Volunteers must be screened for illness before helping at the Hunger Relief Center. Teens 14 or older accompanied by an adult can help in person. Volunteers can also help remotely by organizing a virtual food drive.
You don't have to raise thousands of dollars to make a big impact. With Philabundance, raising just $150 can feed lunch to 50 children over a holiday weekend. This coalition has been working to reduce food poverty across the region and serves around 90,000 local residents every week.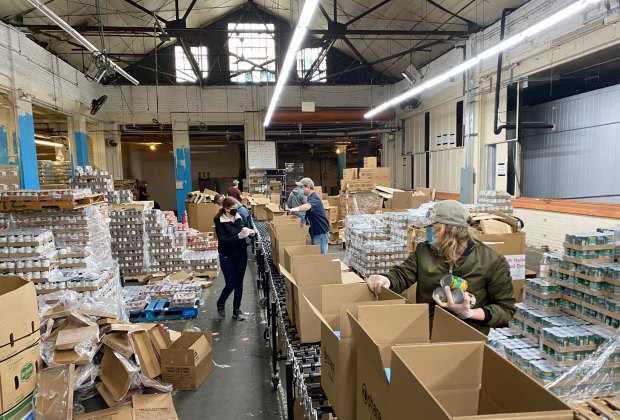 Packing volunteers at the warehouse. Photo courtesy of The Share Food Program
Help Fight Hunger with the Share Food Program
2020 Update: The Share Food Program is looking for volunteers to help pack food boxes, deliver food, and make phone calls to recipients.
Volunteers who are 14 and younger can assist the Share Food Program. In particular, children can help deliver food to seniors and those with disabilities through the organization's Knock, Drop, and Roll program. Another option for younger helpers is working in the farm and garden area on the grounds.
Help Keep Philadelphia Beautiful by Volunteering with the City's Parks and Recreations Team
2020 Update: Volunteers are needed to keep our parks looking well manicured and clean. Love Your Park hosts a Fall Service Day at 65+ parks throughout the region.
Philadelphia Parks and Recreation partners with the Fairmount Park Conservancy to maintain the city's grounds. Volunteer on a one-time basis or come out monthly, on the second Saturday of the month from 10 a.m. to 2 p.m. Help plant or remove trees and plants and work to keep the waterways clean. Volunteer locations vary.
Go Directly to the Giving Factory by Volunteering with Cradles to Crayons
2020 Update: While the Giving Factory is open, the number of volunteer options is limited at this time.
The organization provides low-income and homeless children with everyday essentials. During normal operations, families can help create KidPacks, with two-hour shifts to sort clothes, supplies, and toys that make their way to the girls and boys through the Giving Corps.
RELATED: Free Virtual Thanksgiving Celebrations for Kids and Families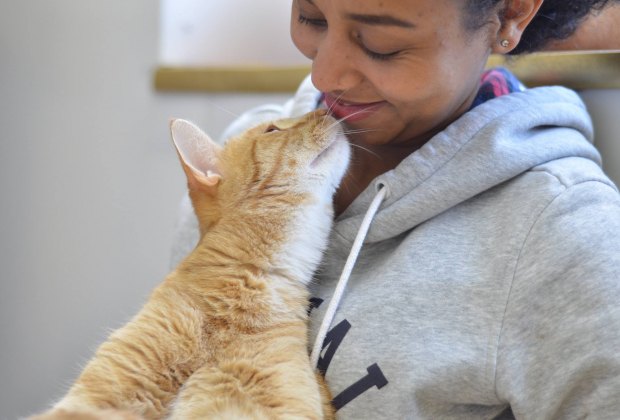 Don't forget our four-legged friends this holiday season. Photo via PAWS
Be a PAWS Pet Foster
2020 Update: Pets need help, too. Volunteer opportunities are available at PAWS.
Let's not forget our furry friends this holiday season. If you're a pet lover, consider fostering a dog or cat. Philadelphia Animal Welfare Society, more commonly known as PAWS, has adult dogs and cats, pets with special needs, kittens, and nursing cats with litters in need of temporary homes. Volunteering opportunities are also available at PAWS locations throughout Philadelphia.
Volunteer Opportunities in the Philly Suburbs
Volunteer in the Holiday Shop of the Family Service Association of Bucks County
2020 Update: Contact Family Service to express interest in volunteering. Representatives assist in matching the volunteer's interest with the organization's needs. There might be a wait list for some positions.
Help shoppers sort through the donations that meet their needs, or help by sorting and stocking donations. Donate in two-hour shifts. Ideal for parents with teens.
Support The United Way of Bucks County
2020 Update: Service opportunities are available throughout Bucks County. Potential volunteers must complete an interest form and the United Way then matches interested parties with areas of greatest need.
There are many opportunities on Thanksgiving as well as in the Christmas season. Submit a form indicating your volunteering interests and the organization will match you to a program.
Other Volunteering Ideas for Philly Families
If these events are not near you or don't work for your family, there are still plenty of ways to give back. The organizations below provide ways to make giving a part of your holiday season:
Keep in mind, volunteering your time might be just as simple as helping your micro-community: an elderly neighbor, an ill colleague, or a friend in need. Offer to go grocery shopping, drive them to a doctor's appointment, make them dinner, or watch their kids.
Whichever way you choose to give back this holiday season, let us know. Visit our Facebook page and share how you helped make our community a better place.
This post was originally published in 2015. It was updated in November 2020.