Why the Caramoor Jazz Festival has a Leg Up on Lincoln Center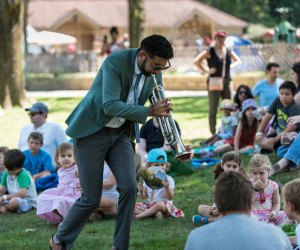 One of the best reasons to live in Westchester is the close proximity to Manhattan, with an abundance of high culture just a short car or train ride away. What if some of that culture were to relocate to Westchester? The Caramoor Jazz Festival brings high-caliber music right to our backyard in Katonah.
Though Caramoor is no slouch in the world of fine music, its alliance with Jazz at Lincoln Center lends extra clout. Now an annual event—this year's festival takes place on Saturday, July 15, 2017—it remains under the artistic direction of Wynton Marsalis and features some 20 performances on multiple "stages." Some of these are just a shady spot under a tree, inches from the audience and lending an intimacy not enjoyed in a large concert hall.
Read on for our first-hand experience in attending this event with kids. Looking for more things to do with kids? Check out our Event Calendar and follow us on Facebook.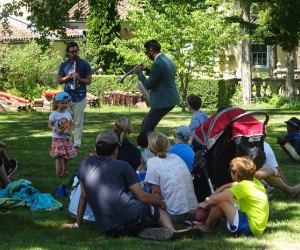 Up close and personal with the artists
The biggest challenge of the Caramoor Jazz Festival is choosing when to go. The day-evening lineup of performers is long, with a big-name headliner typically scheduled in the evening. (In 2016, this was the Chick Corea Trio; in 2015, Wynton Marsalis accompanied the Jazz at Lincoln Center Orchestra.) This year's event will feature the McCoy Tyner Trio.
I go with my family annually, starting early in the day to avoid crowds, higher costs and a late bedtime. The lesser-known artists are well worth the price of admission. Included in the 2017 agenda is Riffin' with Riley (1pm) and Swingin' with Camille Thurman (2:30pm), two sessions specifically for kids, as well as performances by the Jazz at Lincoln Center Youth Orchestra.In some ways, Caramoor has a leg up on Lincoln Center: The bucolic grounds of Caramoor are the stuff of fairy tales, with vast green lawns, sunken gardens and mood-altering serenity. Picnicking is encouraged and is the icing on the cake for a tranquil outdoor performance. A picnic may be purchased by ordering in advance on the Caramoor website. Parking is another virtue of Caramoor. Unlike its metropolitan counterpart, there's an abundance of parking spots, and all are free.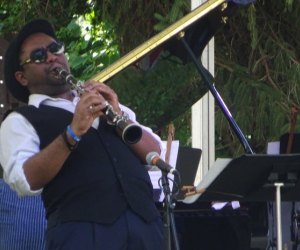 A member of the Gotham Kings performing at the 2016 festival.
While some concert-goers plant themselves in one area throughout their visit, we've preferred to bop around to sample the different artists for a primer on varying jazz styles. In 2016, we began by laying out our blanket under a tent on the great lawn of the Friends Field for The Gotham Kings, a New Orleans-style jazz band that was heavy on horns and featured a dedicated tap dancer wearing bright red shoes. Before that ended, we relocated to the Sunken Garden for an up-close performance by the Eddie Barbash Band, whose style integrated elements of bluegrass; there, my kids could run around the garden within earshot of the music but without disrupting the cozy cluster of audience members. In the Outdoor Amphitheater, we sat on folding chairs under the large roof for the Evan Sherman Big Band.
The festival has also featured an instrument petting zoo, giving kids the chance to try out (and purchase) various instruments, from percussion to brass and woodwinds. "I Spy" tours of the historic (and magnificent!) Rosen House are offered throughout the day and included in the price of admission. We took advantage of them to keep the kids engaged and upbeat.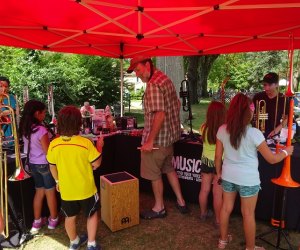 The instrument petting zoo lets kids try and buy various instruments.
What to Know Before You Go
Though well-suited for kids, this is primarily an adult event, so kids should be old enough to behave accordingly.
Different admission rates are available for those who wish to attend the afternoon only vs. the whole day and evening.
Food and drinks are available for purchase from assorted food trucks. Some picnic tables are available in the food area.
Traveling by train? Resources include Metro-North packages and take advantage of Caramoor's free shuttle service from the Katonah station.
Bathrooms are located near the entrance to the grounds and in the Rosen House. The latter may not be available all day, but the entrance area is easily accessible from all points.
Some areas offer folding chairs, but bringing a picnic blanket or folding chairs is recommended.
Be prepared for the heat. While some of the performance areas are tented, not all areas are shaded. Caramoor has been known to distribute complimentary paper fans, but do yourself a favor and bring a spritzing fan.
This post was originally posted in 2016 and has been updated for 2017.
Top photo: Gabe Palacio for Caramoor. All other photos taken by the author.