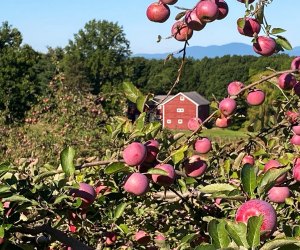 Fall Day Trips for Westchester Families: Foliage, Festivals, Charming Towns
While the transition from summer to fall has its share of sadness, we're here to tell you not to pout just yet! With so much to do in fall and generally more comfortable temps, we encourage you to turn your weekend attention to the numerous destinations in our area that make for lovely fall day trips from Westchester.
Below we've listed more than a dozen worthy drives (or train rides) that will transport you to fall fun. Many of these follow along the Hudson River, as savoring the gorgeous fall foliage for which the area is well known creates a showcase backdrop. We've also paired these destinations with family events, like fall festivals, so you might time your visit to coincide. And stay tuned for all the Halloween fun that's heading our way!
Classic Fall Fun, from Apples to Hayrides
Some of the best fall fun comes in the form of good ol'-fashioned classics, like visiting pumpkin patches and apple orchards, navigating a corn maze, feasting on apple cider and doughnuts, and topping it all off with a hayride. What's more, many of the farms and orchards that host these activities have extensive offerings besides, such as live music, bouncy houses, pony rides, bungee jumping, food vendors, farm stands, and more.
Fall Festivals in the Tri-State Area
Fall festivals abound in both Westchester and the Hudson Valley, but many other seasonal events are still a day-trip's drive away. Among the nearby fall festivals in Connecticut is the New Canaan Nature Center's Fall Fair, featuring carnival rides, a traditional maze, spooky stroll, pumpkin decorating, fire truck rides, apple sling shot, and more. We've also rounded up fall festivals on Long Island and in New Jersey. Often, there's a cute town to explore while there!
Hudson River Valley Ramble
The annual Hudson River Valley Ramble is a multi-site event series held weekends in September to celebrate the history, culture, and natural resources throughout the region. The Ramble encompasses nature-themed excursions, family festivals, historic events, river exploration, and more. Browsing the complete calendar of offerings can help pinpoint a destination to serve as the basis of a family excursion (or two).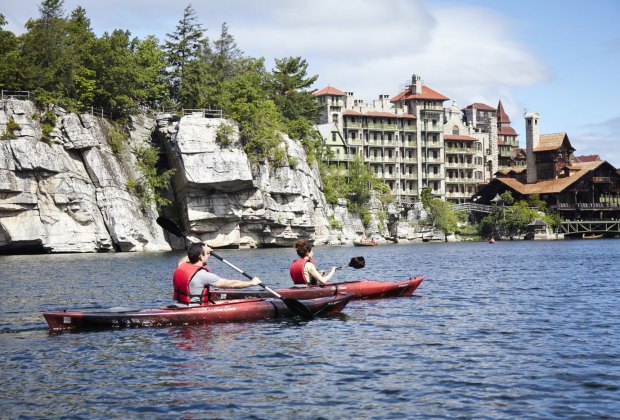 Go kayaking on Mohonk Lake. Photo courtesy of Mohonk Mountain House
Fall Day Trip to New Paltz
New Paltz is a college town with one foot in the groovy '60s and lots of fun to offer. Families can enjoy a hike amid the beautiful Shawangunk Mountains, pick produce at local farms, explore a historic 17th-century community, or frequent the quaint shops and eateries on Main Street or in the charming Water Street Market. Splurge on a day pass at Mohonk Mountain House, a majestic resort dating back to 1869 offering stunning scenery, old-world charm, beautiful landscaping, hiking, daily tea and cookies, and more.
Fall Day Trip to Skytop Lodge
While the Poconos might conjure various associations, the majestic Skytop Lodge stands apart, more similar in style to Mohonk. Even the drive there, among the Pocono Mountains and the fall foliage that they showcase, is destination-worthy alone. Skytop's beautifully maintained grounds boast hiking trails, boating on the tranquil lake, golf, tennis, a driving range, archery, lawn games, and more, with a healthy emphasis on outdoor fun. Older kids can take advantage of the TreeTop Adventure Course, and numerous events are offered daily. Budget some down time to linger in the lodge, where the lobby is elegant and the rocking chairs on the back porch afford a beautiful view of the gardens. Choose among the selections at the buffet lunch in the Windsor Dining Room or grab a more casual meal from the Tap Room, and round out the day with tea, lemonade, and cookies.
Fall Day Trip to Bear Mountain State Park
A trip to nearby Bear Mountain State Park gives the feeling of almost being in the Adirondacks. The beauty of the mountains and lake offers tranquility, and the woodsy Bear Mountain Lodge offers refuge. Take a walk down to the Trailside Museums and Zoo to see not only assorted animals like the bears, birds of prey, and beavers, but also various buildings housing herpetology and geology exhibits, as well as artifacts of early settlers to the area. No visit to Bear Mountain is complete without at least one ride on the carousel, which allows riders to choose a ride on a turkey, frog, skunk, or other friendly creature. There's also hiking (the Appalachian Trail passes through), lookout points, picnicking, paddleboating, and a lively playground. What's more, a trip to Bear Mountain does not break the bank, with carousel rides at only $1 and the zoo admission being pay-what-you-wish. Cars are charged $10 to park. In fall, the wildly popular Oktoberfest takes over the Anthony Wayne Recreation Area at Harriman State Park; while this is a separate area, be prepared for possible traffic in the vicinity at peak times (or grab a schnitzel!).
Fall Day Trip to Cold Spring/Garrison
A historic hamlet just north of Westchester County, Cold Spring offers small-town charm and serves as a magnet for both hikers and leaf-peepers who cruise up the Hudson in search of colorful foliage. Along Main Street, you can peruse antiques and dine at one of the town's many kid-friendly restaurants, capped off by ice cream at Moo Moo's Creamery. Savor your cone outside along the river by the gazebo and watch the fishermen, boats, and mountains in the midst.
Whether its own destination or combined with a trip to Cold Spring, nearby Garrison is home to the historic Boscobel House & Gardens, which boasts beautiful views of the Hudson River, house tours, and many year-round events, including Bring the Kids! Second Saturdays. An added perk in early October is the Heritage Applefest.
Fall Day Trip to Cornwall
Set on a whopping 500 acres, there's no shortage of exploration at Storm King Art Center, renowned for its striking collection of outdoor sculpture.. In addition to the permanent art collection and rotating exhibitions, the center hosts various events, including those geared specifically toward families. Though you can't bring your own, the option of touring the grounds via bike is permitted with the availability of on-site rentals. Nearby is the Cornwall Fall Festival, held in September. Year-round nature fun awaits at the Hudson Highlands Nature Center, which hosts numerous family programs throughout the fall.
Fall Day Trip to Beacon
Beacon offers tranquility and quintessential small-town appeal, so start the day by fueling up with breakfast or lunch at any of the quaint eateries and browsing the stores along the long stretch through the downtown. On a nice day, take in the scenery via kayak on the Hudson River, or stay on land and soak up the art scene at Dia: Beacon. Beacon is also home to Pete Seeger and some of the environmental efforts he spawned; rides on the Sloop Woody Guthrie may be available. In October, join the rustic fun at the Beacon Sloop Club's Pumpkin Festival. If you're looking for an add-on, Beacon is in close proximity to Cold Spring, Garrison, and Cornwall, described above.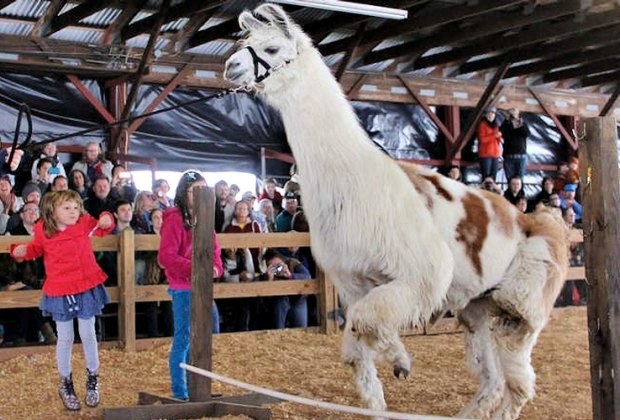 Visit the llamas at the annual NY Sheep and Wool Festival. Photo courtesy of the festival
Fall Day Trip to Rhinebeck
Beyond oodles of charm and attractions, Rhinebeck is chock full of American history. George Washington actually was a guest at the still-operational Beekman Arms, the oldest continuously operating inn in the U.S. Dine there or at the Foster's Coach House Tavern, in operation since 1890. Pay a visit to the 19th-century Wilderstein Historic Site, which gets decked out for the holidays in late fall. A must-see is the Old Rhinebeck Aerodrome, which showcases antique flyers, presents air shows using planes from World War I and II, and offers biplane rides (the Aerodrome remains open through October). For more contemporary attractions, take in a live show at the Family Entertainment Series, offered most Saturday mornings starting in October, or stroll the Rhinebeck business district, an exemplary downtown hub, with charming mom-and-pop shops and eateries. In fall, you might time your visit to coincide with the annual Sheep and Wool Festival or pick apples and pumpkins at the Cedar Heights Orchard.
Fall Day Trip to Woodstock/Saugerties
With the media attention paid this summer to the 50th anniversary of Woodstock, now's a good time to wax nostalgic and take a day trip to the area. Both Woodstock and nearby Saugerties offer charming communities replete with mom-and-pop shops and eateries. Depending on the timing, visitors to Bethel—the famed site of the '69 festival—can take in a concert, enjoy a festival, or visit the museum at Bethel Woods Center for the Arts. Looking to time your trip around an event? Base a fall trip to Woodstock around the weekly Harvest Festival on September Sundays or plan a September visit to Saugerties to coincide with the annual Garlic Festival.
Snag Seats to Hot Shows This Fall
While Westchester boasts its own lineup of live entertainment, there are always some productions that don't make a stop in our county. Head to New Jersey for fall ball at a Jets or Giants game, or dazzle your little one with a performance of Disney on Ice: Road Trip Adventures, featuring Woody and Forky from Toy Story 4, or Disney Junior Holiday Party!. Consult the Mommy Poppins New Jersey site to further explore these areas for a longer outing.
Big Fall Opening: American Dream Mega-Mall
Though the American Dream Mega-Mall doesn't specifically boast autumnal qualities, the newsworthiness of its highly anticipated opening is worth noting as a fall event. Don't mistake this for a mere mall. The mega-complex will feature the largest indoor amusement park in the western hemisphere (including two record-holding roller coasters), as well as North America's first indoor snow sports center. There will also be an indoor water park, an NHL-sized ice skating rink, an aquarium, mini-golf, a LEGO Discovery Center, a kids' "interactive city," and more than 100 dining options. Scheduled to open in October. Follow us for updates!
Fall Day Trip to Norwalk
Though not specifically seasonal, even Plan A's need Plan B's sometimes, and a day trip to Norwalk is perfect for any rainy (or any!) day. View the aquatic life, catch an iMax film, or play in the interactive area at the Maritime Aquarium at Norwalk. Or head to the highly stimulating Stepping Stones Museum for Children, whose admission might be free for your family.