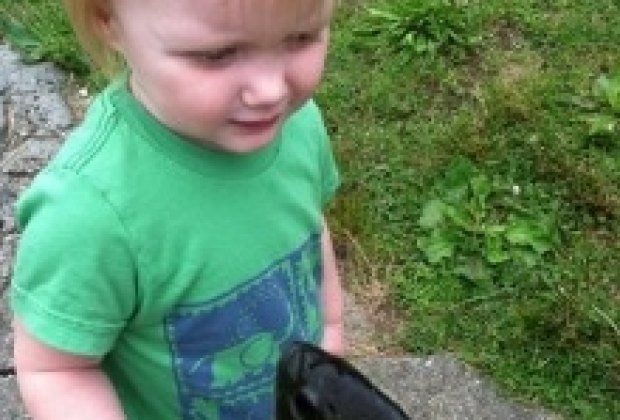 Kid-Friendly Fishing for Westchester Families
My daughter was just closing in on the big zero-two when I decided she was old enough to go fishing at Mitchell Lake in Peekskill. Lacking any fishing gear for a kid her size, we tied some line onto the end of a bamboo pole, attached a hook, some sinkers and a bobber and pulled a couple of worms out from under a rotting log near the lake. Within minutes we were dangling our homemade rod into the shallow waters of Lake Mitchell, watching as the resident sun fish nibbled at our bait and, eventually, tried to take it and run. When we finally managed to pull a spiny little fish out of the water my toddler was overjoyed at the opportunity to pet a fish and then very sad to let it go again. She immediately wanted to toss the line back into the water in hopes that they'd meet again.
Westchester County's parks are full of lakes, ponds, rivers and reservoirs that are teeming with fish. Some are stocked, some are ignored, some are a hike to get to and some practically allow you to fish from the front seat of your car. Be it the early days of trout fishing season in April, the long lazy days of summer, the winter-is-coming fall feeding frenzy or cold winter days huddled out on the ice, catch-and-release fishing is a sport that can be enjoyed any time of year. Not sure where to start? Not a problem. I've been fishing this area since I was a kid and have all the information your family needs to get started.
The most basic of basics; a fishing license. In New York State, all fisher-persons over the age of 16 must have a valid New York State fishing license and all fisherkids must be accompanied by an adult with a valid NYS fishing license--EXCEPT during Free Fishing Weekends, which are discussed below. Licenses can be purchased at nearly all city/town/villiage halls in the county and at nearly all sporting goods stores. These licenses come in 1 day, 1 week, 1 year and lifetime increments; daily licenses cost $5 and annual licenses are generally $25---though there are special prices for veterans, members of the military, adults over 70, blind residents, Native Americans from certain tribes and out of state residents.
Once everyone in your party is properly licensed, it's time to get some gear. My family has had luck fishing with just 3 items: hook, line and bait. This works in very warm, very shallow water (like the roped off area of Canopus Lake in Fahnestock State Park) where the fish are willing to swim right up to your feet along the shoreline and happy to nibble at anything and everything--including toes. These fish are rarely more than 3 or 4 inches long. After this super simple set up comes the makeshift rod that I described above; a long branch or piece of bamboo that with string, hook and bait attached--and sinkers and a floater if you have them on hand. Kind of Tom Sawyer style. Beyond that, simple ready-to-fish starter kits for children can be purchased at most sporting goods stores for between $15 and $30. These usually include a push-button release rod and reel and a small tackle kit. Other useful supplies to have on had are barb-free hooks (makes it easier to get the hook out), gardening gloves (for grabbing spikey and slippery fish) and needle nose pliers (for removing deep-set hooks).
So now what? Gear in hand, head to one of the many fabulous fishing spots here in Westchester. First, think of the small parks in your own community. Odds are, one of them has a large pond or small lake that is just right for kids. The banks of the Hudson River is an obvious choice (be forewarned- the NYS Department of Health warns that children and women of child bearing age should not consume ANY fish caught in our part of the Hudson River). Some other great spots to check out with kids:
Bronxville Lake - Bronxville
Bronx River Reservation, California Road
Lake Mohansic and Crom Pond - Yorktown
FDR State Park, Crompond Road
Tarrytown Lakes - Tarrytown
Tarrytown Lakes Park
Tibbetts Brook - Yonkers
Tibbetts Brook Park, Midland Avenue
Lounsbury Pond - Peekskill
Blue Mountain Reservation, Welcher Avenue
Fishing Pier - Rye
Rye Playland, Playland Parkway
Mitchell Lake - Peekskill
Depew Park, Robin Drive
Wallace Pond - Mount Kisco
Leonard Park
Though fishing is allowed in many of the reservoirs in Northern Westchester, it requires a special permit in addition to a fishing license. The permit is FREE, but must be acquired from the New York City Department of Environmental Protection. Without this permit, do NOT attempt fishing at any local reservoir- including New Croton Dam and Kensico Dam.
So how about some local fishing events? We've got those too! First, check with the Parks and Recreation department in your town; most Westchester towns host a FREE or small donation fishing derby for young anglers at some point during the year- commonly in the spring. In addition to small-town derbies, the Southern New York Fishing Derby runs on a rolling admission cycle every month from January through November. Thousands of dollars in prize money is given away every year for local catches, and it is FREE for children to enter (adults pay $10).
Every year New York State hosts two Free Fishing Weekends where fisher-folk DO NOT need to possesses a license to fish. The first 2014 weekend is coming up on June 28 and 29. For these two days, all normal New York waters are open to the unlicensed public. Rockefeller State Park in Tarrytown will be the site of a New York State Fishing Clinic for families on the 29th. Just show up and learn all you need to know to get started.
Finally, if you need help identifying your catch, visit the New York State Department of Conservation's NY Fish Gallery. This photo gallery will help you figure out who you reeled in.
Don't want to release your catch? Contact some of these family friendly charters for open water fishing adventures!
Shamrock Charters - New Rochelle
Sound Fishing Charters - Port Chester
Long Run Fishing Charters - New Rochelle
Klondike 9 - New Rochelle