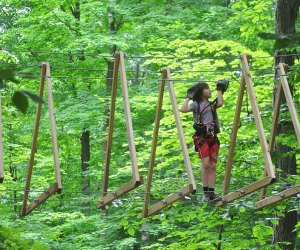 New Treetop Adventure Park Opens in Purchase, New York
Recently, we told you about a new indoor trampoline park for active families. Another new venue for those on the move is Boundless Adventures, a treetop adventure complex in Purchase that offers assorted aerial feats for varying levels of ability—and bravery. Read on to learn more about how your family can harness up and rise to the challenge.
Want to stay in the know about grand openings and other happenings? Sign up for our newsletters! Our Event Calendar can also help keep you informed about special events and other fun for thrill seekers.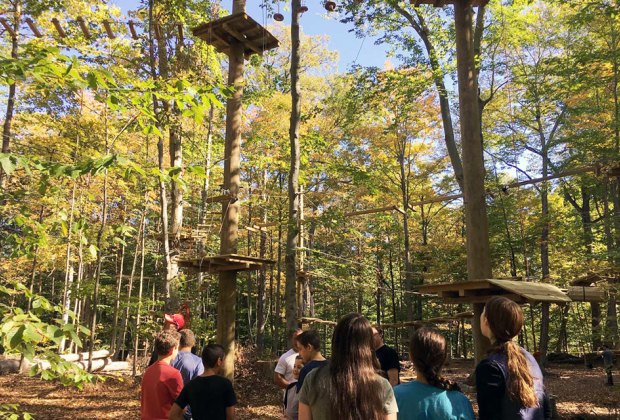 Boundless Adventures has nine obstacle courses with varying degrees of difficulty.
Occupying eight acres on the Purchase College campus, Boundless Adventures comprises nine obstacle courses, representing four levels of difficulty, that include zip-lining, climbing, balancing, swinging, crawling, and traversing at varying heights and distances. The in-air challenges include walking between trees on a horizontal ladder, maneuvering from one platform to another while they shake under your weight, and swinging from tree to tree along a zip line. These feats become increasingly harder with each course.
RELATED: Zip Lines, Ropes Courses, and Outdoor Adventure Parks Near NYC

Safety is the top priority for climbers of all ages.
Participants wear a full-body harness and choose their course based on age, strength, and personal preference. A guide to the levels is offered with regard to height of elevation, degree of difficulty, and age of participant, but newbies of any age might prefer the easier courses:
Exploration Courses (10 feet elevation) for ages 7-9
Motivation Courses (15 feet elevation) for ages 10-11
Strength Courses (22-26 feet elevation) for ages 12-13
Conqueror Courses (30-40 feet elevation) for ages 14 and up
Though the website advises to allow 3.5-4 hours for a visit, the courses are offered in segments that take about 30 minutes, allowing climbers to opt for a briefer stay.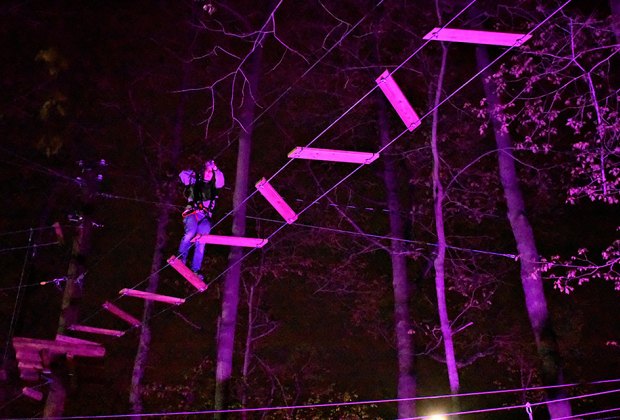 Go for a nighttime climb during the once-monthly Glow in the Park events.
Once monthly through October, the park offers its Glow in the Park event, when glow-in-the-dark bracelets and face paint are provided to participants during nighttime climbs.
As of this writing, admission is $54 for ages 7-11 and $59 for ages 12 and up, which allows for up to three hours of climbing (the balance of the time is spent checking in, harnessing up, and getting oriented). For Glow in the Park, admission is $39 for a two-hour climb.
In 2018, the season runs from April 7 through November 26. Hours vary by season. Birthday party packages and Boundless Adventure gift cards are available.
RELATED: Revamped Saxon Woods Park Playground Is Worth a Visit

Climbing, swinging, zip-lining, and balancing are great for building confidence and self-esteem.
Know Before You Go
Signed waivers are required for all participants. Additional requirements include closed-toe shoes, no baggy clothes, and participation in a mandatory safety briefing, among others.
Participation criteria are ages 7 and up, and up to 265 pounds.
Spectators do not require paid admission.
The venue recommends not bringing valuables into the park.
Parking is free.
Operation is rain or shine (except in the event of extreme weather conditions). View the cancellation policy before reserving in advance.
Photos courtesy of Boundless Adventures