Bounce Off the Walls at New Launch Trampoline Park in West Nyack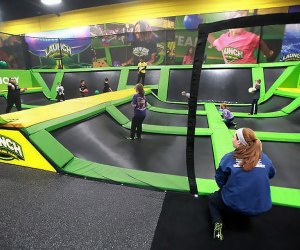 6/28/18
- By
Susan Miele
It seems like yesterday we announced to readers the opening of Rockin' Jump, the indoor trampoline park, at Ridge Hill. Now there's a new trampoline kid on the block: Launch Trampoline Park.
Located in Rockland County's West Nyack, Launch Trampoline Park opened in June 2018 and is gearing up for a Grand Opening event. Bearing much resemblance to Rockin' Jump, Launch Trampoline Park offers extreme dodgeball, one-on-one basketball, a battle beam, dunk basketball, a warrior ninja course, more than 15,000 square feet of open-jump trampoline space, an arcade with redemption, and a cafe. Read on for more details about this new facility for Westchester and Hudson Valley kids.
Looking for more places to have fun while burning off energy? Consult our guide to indoor play spaces in Westchester. Also stay abreast of new openings, special events, and more by signing up for our newsletters and following us on Facebook!

Do battle on the beam and attempt to knock your opponent into the foam pit.
Launch Trampoline Park has more than 25 locations throughout the U.S., but Launch Trampoline Park—Rockland is only the second facility to open in New York, the other being in Queens.
The facility caters to all ages (including adults), with the only criterion being the ability to walk. Younger ones can take advantage of a designated open-trampoline area for the under-5 crowd, as well as Toddler Time sessions, when the park is off limits to older jumpers.
While some jumpers might be content to try out new tricks in the open-jump trampoline area (15,000 square feet is a lot of trampoline!), the other play areas offer diversity, competition, and varying degrees of challenges. With dunk basketball, players jump on trampolines to dunk the ball while airborne in either of two baskets positioned at different heights. With one-on-one basketball, players try to shoot the ball into their opponent's hoop without leaving their own trampoline. Another competitive offering is extreme dodgeball, while the ninja course challenges visitors to hurdle obstacles without falling into the airbag below (two paths offer different levels of difficulty). Lastly, the battle beam offers jousting fun, with opponents attempting to knock each other into the foam pit.
RELATED: Indoor Trampoline Parks in and Around Westchester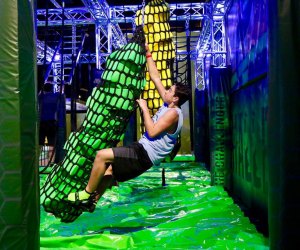 Older kids will enjoy some of the more difficult physical challenges.
Lots of jumping results in lots of thirst and often an appetite. The café offers pizza, chicken tenders, nachos, hot dogs, mozzarella sticks, pretzels, Mini Melts ice cream, popcorn, candy, chips, Goldfish crackers, applesauce, and Go-GURT. Fountain and bottled drinks are also available, as is an ICEE machine. Outside food and beverages are not permitted.
Jump rates vary depending on the length of visit. Currently, one hour costs $22; 90 minutes costs $27, and 2 hours runs $32. (Editor's note: Even my hearty tweens last about an hour at trampoline parks, so starting with that duration may be prudent.) An additional fee is charged for mandatory skid-resistant socks, though these can be re-worn on future visits. Ankle socks cost $3, and calf socks are $5. Prices for jump time and socks are inclusive of sales tax. Jumpers under 2 years of age are free with paid adult admission.
Walk-ins are accommodated based on availability, but advance reservations ensure availability for your preferred arrival time. Reservations must be made online with a credit card. There is no surcharge for advance reservation, but late arrivals lose out on any missed time. Advance reservations using a frequent launcher card as payment require an in-person reservation.
As of this writing, several modifications are in the works: For one, lockers are not available onsite, but open cubbies are. Guests should determine a plan for securing their belongings, accordingly. Additionally, the venue's website includes a tab that mentions purchasing movie tickets; I confirmed with the owner that this is an error that will be removed. Also planned are Home School hours and Special Needs events.
Hours of operation are Sunday: 10am–7pm; Monday, Wednesday, and Thursday: 3:30–8pm; Tuesday: closed; Friday: 3:30–9pm; Saturday: 10am–10pm. Call ahead to confirm the schedule, especially on holidays and school vacations.
Know Before You Go
All jumpers and spectators must have a valid waiver on file. Plan to arrive at least 20 minutes before the start of your jump time to allow for check-in.
Remember to bring your Launch Grip socks (if previously purchased) and a photo ID.
While lockers are unavailable, determine what to do with your valuables before arrival.
Got teens? Try the Ignite nights designated for their age group, when the music goes up and the black lights go on.
Frequent launchers and gift cards are available. Coupons are offered for those who follow Launch on social media or sign up for email or text alerts.
The park also offers three private party rooms for hosting birthday parties and other events.
Whereas some other Launch locations are equipped with a rock wall, the West Nyack location does not offer this.
Photos courtesy of Launch Trampoline Park