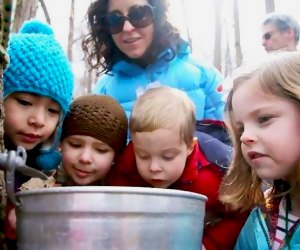 Maple Sugaring Events for Westchester and Hudson Valley Kids
Here in the Northeast, what apple picking is to fall, maple sugaring is to winter. The season begins in February and runs through late March. Ideally, temperatures must dip below freezing at night and warm up during the day to stimulate sap flow. Thus, the maple-sugaring season is brief. And to make just one gallon of pure maple syrup, it takes more than 40 gallons of sap!
We've rounded up maple-sugaring fun in Westchester and the Hudson Valley. Read on for details on where to learn about and celebrate this centuries-old tradition. Looking for more seasonal fun? Check out our Westchester Winter Fun Guide, and look to our Event Calendar for new events added daily.
Maple Sugaring Series – Cross River
Various dates through Sunday, March 9, 2019
Trailside Nature Museum is hosting a series of maple-sugaring events, starting with a new Family Tapping Experience and continuing with Maple Sugaring: Past to Present demonstrations and fireside stories. You can also participate in one of the Sugarhouse Chats, and head to the annual farewell-to-the-season Sugaring Off Party. Some events are FREE!
Maple Sugarin' Fun – Katonah
Tappin' the Maple Trees: Sunday, February 10, 2019
Maple Sugarin': Sunday, February 17, and Sunday, March 10, 2019
Watch as the evaporator in the Sugar House turns sap into syrup in these FREE demonstrations.
Maple Sugaring – Rye
Saturday, February 16, and Saturday, February 23, 2019
Kick off the maple-sugaring season with this opportunity to learn how tree sap is collected and harvested to make maple syrup.
Maple Sugaring Tours – Cornwall
Saturdays and Sundays, February 23 – March 17, 2019
Hudson Highlands Nature Museum is hosting a series of tours on four consecutive weekends. Learn how to tap a tree, collect sap, and discover the history of harvesting maple syrup. On opening day, enjoy additional festivities including crafts, games, Native American storytelling, treats, and more.
Sugaring Sundays and Pancake Brunch – Ossining
Sugaring Sundays: February 24 – March 10, 2019
Pancake Brunch: Saturday, March 16, 2019
Educators at this beautiful, maple tree–filled nature center will be in Warren's Sugar House hosting a fun-for-all-ages series, recounting folklore and sharing facts about this sweet time of year. Several time slots are available each day. The pancake brunch includes a sugaring demo and guided bird walk.
Maple Sugaring – Chestnut Ridge
Saturday, March 2, 2019
Learn about maple trees and what it takes to turn sap into syrup; then head out to tap a tree and make some real syrup. Taste some poured over ice (yum!), and take home your own spout to tap your own tree. FREE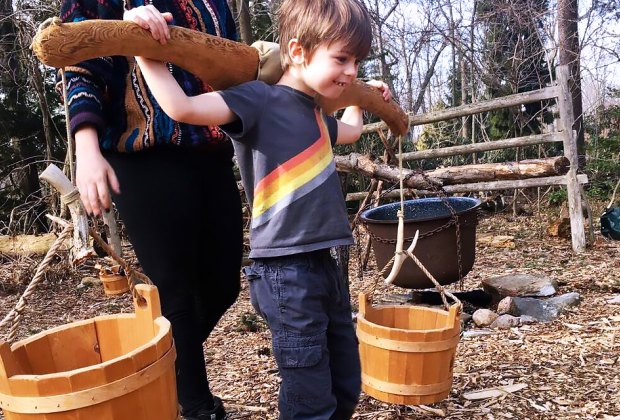 Register your family for the Maple Sugaring Party at Greenburgh Nature Center! Photo courtesy of the center
Maple Sugaring Party – Scarsdale
Sunday, March 3, 2019
Join the maple-sugaring celebration with featured events and activities including sap collecting demonstrations, crafts, and candy and porridge making. Reserve early to save on admission. Read our review.
Sugarfest – Mount Kisco
Saturday, March 9, and Sunday, March 10, 2019
Sugarfest celebrates the sugaring season with an all-you-can-eat pancake feast, live music, and tree-tapping demonstrations. Learn how maple syrup was made centuries ago, and see if you can taste the difference between the real vs. fake stuff. This event sells out—register early.
Maple Sugaring & Pancake Breakfast – Carmel
Saturday, March 10, 2019
Learn about tapping trees and enjoy the fruits of the forest over a pile of pancakes, as well as a maple-themed craft, vendors, and a raffle.
First published in February 2014