Kid-Friendly Marinas on Long Island's Waterfront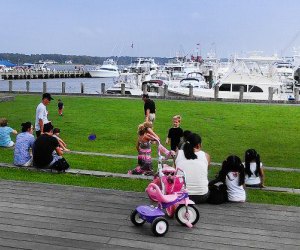 Whether or not you own a boat, marinas are an attraction for their water views and laid-back atmosphere. Add a restaurant, fishing pier, and an amazing sunset and it becomes quite a destination for family fun. It's no wonder Long Islanders ienjoy hanging out at the marina on a summer day. Here are our picks for marinas that offer plenty of fun extras.
Looking for more waterfront fun? Check out our list of family-friendly boat rides and the best beaches for Long Island families.
Best Marinas for Families in Nassau County
Tobay Beach Marina — Massapequa
Ocean Parkway
Officially named the Joseph J. Saladino Memorial Marina at Tobay, this Town of Oyster Bay marina is open May through September. It offers a transient boat basin of more than 150 slips and many other extras for a true family-friendly summer destination. Swimmers can enjoy the calm waters of South Oyster Bay and surfers and kayakers will like the waves on the ocean side. There's a playground and sprinkler park that will keep kids entertained for hours. Dining options include three new restaurants that offer everything from oysters to Mexican food. Nonresidents should check the town's website for fees and days open.
Town Dock Park — Port Washington
347 Main Street
This is one of the best spots In Nassau County to relax. Enjoy the views of Manhasset Bay, especially at sunset. There's plenty to do, including kayaking, fishing, and picnicking at nearby Sunset Park. For dinner, stop by Louie's Grill and Liquors for fresh seafood and grab an ice cream at Sweet Treats on the Wharf. On Saturday mornings the Port Washington Farmers' Market offers local honey, organic fruits and vegetables, cheese, and baked goods. At the entrance of the dock is the tugboat museum. Admission is FREE; you don't actually enter the museum, but instead look through the portholes of the tugboat structure to view changing exhibits.
Best Marinas for Families in Suffolk County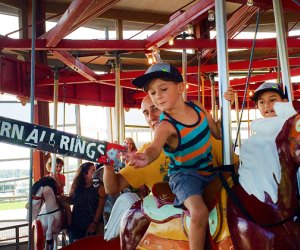 Take a spin on the 100-year-old carousel at Greenport's marina. Photo by Jaime Sumersille
Mitchell Park and Marina — Greenport
115 Front St.
Conveniently located in Greenport's vibrant downtown, this marina is popular with locals and visitors. The draw to this full-service marina is the adjoining park that is perfect for a picnic lunch or a game of tag. Didn't pack a picnic? Head over to Crabby Jerry's at Claudio's Marina for fresh seafood with an amazing view. Place your order at the counter and find a table to enjoy the festive atmosphere. Enjoy the 100-year-old carousel that is open daily during the season; at $2 per ride it's old-time fun for kids of all ages. Check out the camera obscura—a movie-like projection of light showing live images on a screen. Visitors can also enjoy dancing in the park in the summer and ice skating in winter.
Oakland's Restaurant and Marina — Hampton Bays
373 Dune Road
Fishing lovers will cherish Oakland's. With tournaments and invitationals throughout the season, you can catch sight of some big fish, and even sharks. There are two dining options here: Oakland's Restaurant and Sundays on the Bay. The twin lobsters special at Sundays on the Bay is a popular choice, but it also serves burgers and pastas, and offers a kids' menu for the 1-and-under crowd. The marina itself has many amenities for boaters, including shower facilities, a weigh station, fuel, and bait. Best of all might be the sunset over Shinnecock Bay: Don't miss it. A charter fishing boat is available for a fun family adventure.
Port Jefferson Marina — Port Jefferson
Located in the heart of the bucolic North Shore Village, Port Jefferson holds true to Long Island's maritime past. Walk the marina, past the ferry to Bridgeport, Connecticut and the Long iksland Explorium children's museum. Gaze at the rows of Victorian-era captain's houses. Oh yes, don't forget the harborfront park, perfect for touch football, a run through the sprinkler park, and, of course, ice cream. Transient docking is available for residents of the Town of Brookhaven and nonresidents.
RELATED: Best Places for a Family Picnic on Long Island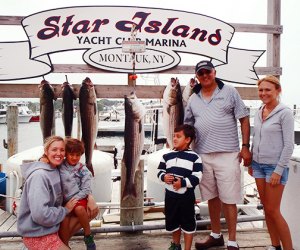 There's a chance you'll catch a big fish or at least catch sight of one at Star Island Yacht Club and Marina. Photo courtesy of Star Island Yacht Club and Marina
Star Island Yacht Club and Marina — Montauk
59 Star Island Road
This full-service marina overlooks Montauk Harbor and resembles a star floating on the ocean. Located in prime fishing territory, Star Island offers plenty of amenities for boaters including floating docks with cable TV and electricity, showers, and a heated pool with a barbecue and picnic area. You don't have to own a boat to enjoy the marina's amazing views and on-site restaurant, the Star Island Grill, which opens for breakfast, lunch, and dinner and includes a kids' menu. Sit on the patio and watch the boats as the sun sets over the harbor. For those lucky enough to catch a fish or two, the restaurant will clean it and prepare it to your liking.
Top photo: Enjoy a picnic, catch the breeze, or just watch the boat traffic at Mitchell Park and Marina in Greenport. Photo courtesy of Mitchell Park and Marina