Family-Friendly Restaurants in the Hamptons & North Fork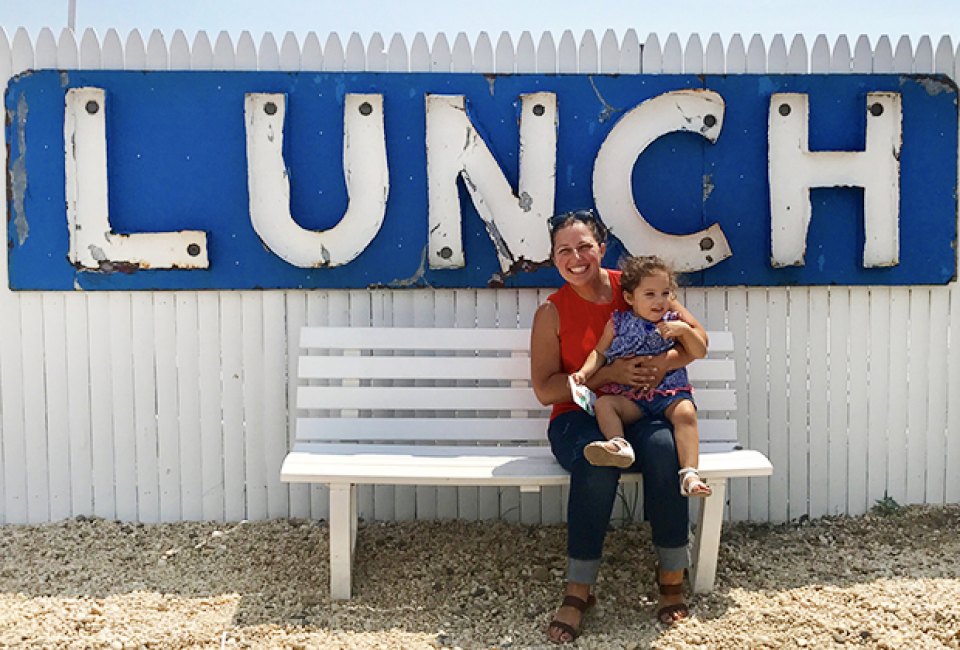 7/24/17
- By
Kimberly Chacon
It might please moms and dads to know the East End offers an assortment of family-friendly eateries. These spots offer everything from the traditional lobster roll to a "guppy" menu, ideal for young appetites.
Some of these locations even offer outdoor dining with stunning views, so it's a good idea to venture out early to avoid the crowds. We've rounded our favorite family-friendly locations, where you can sample the catch of the day (or most anything else) and eat with boats shimmering in the marina behind you. (Did we say summer photo-op?)
Before heading out to the East End, be sure to check our guide to the Hamptons and North Fork to help plan your visit. In addition, check out our list of 50 Things to Do with Kids in the Hamptons and North Fork. Bring your appetite, because delicious options are waiting.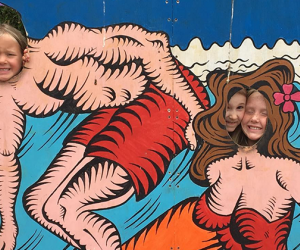 Kids will enjoy the murals at La Fondita. Photo by teddygameday via Istagram
The Hamptons
Candy Kitchen — Bridgehampton
Located about a mile from the Children's Museum of the East End, this classic diner has been serving local families for generations. Offering breakfast, lunch and dinner, there should be something here to please even the littlest eaters. Don't miss the homemade ice cream. Cash only.
John's Drive In — Montauk
A Montauk institution, John's Drive In is an old-fashioned destination serving burgers, fries, shakes, and hand-packed ice cream.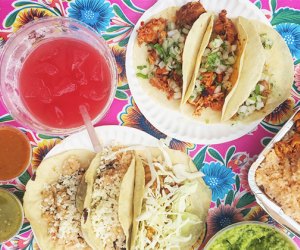 La Fondita serves up delicious Mexican street food in a parklike setting. Photo by schmooey via Instgram.
La Fondita — Amangansett
La Fondita serves traditional Mexican street food using fresh ingredients. The outdoor seating with colorful tables and eclectic decorations is ideal for kids. The art on the back patio should not be missed. Its extensive kids' menu includes fun dishes such as quesadillas, nachos, and tacos.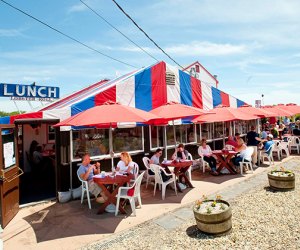 The Lobster Roll's Amagansett location sits right across from the ocean.
The Lobster Roll — Amangansett, also Baiting Hollow on the North Fork
This iconic summer spot has been serving up lobster rolls for more than 50 years. The red, white, and blue awnings set the stage for a festive atmosphere, and the beach balls as whimsical decor add to the fun. Eat on the patio, inside at spacious booths, or at the bar. The friendly atmosphere makes this a great place to eat with a group. Don't be put off by the seemingly long line: Tables turn over quickly as most patrons stop for a fast bite and then continue on their way. With offerings for Land Sharks (hamburgers and hot dogs) and Sea Critters (fried shrimp or lobster salad slider), the kids' menu offers an array of options. End the meal with one of its famed fruit pies. Enjoy raspberry, strawberry rhubarb, and peach, just to name a few.

LT Burger offers a mini-burger basket ideal for little appetites.
LT Burger — Sag Harbor
LT Burger offers a robust menu for kids. Kids can choose a mini-burger with waffle fries or grilled cheese with broccoli, to name a few options. Snag one of the outdoor tables and enjoy lunch while watching the bustling action on Main Street. In addition to its regular menu, LT Burger offers seasonal specialties.
New Moon Cafe — East Quogue
This casual spot has been serving Tex-Mex meals for years. With a large deck and plenty of outdoor seating, you can enjoy warm evenings with a plate of sizzling fajitas or delicious brisket. Menu choices include barbecue and burgers, as well as homemade desserts. There's also a kids' menu for the "young-uns."
Sam's Restaurant — East Hampton
This family-owned bistro has operated since 1947. It is a favorite of locals and seasonal visitors, with dinner and lunch service as well as world-class pizza.
Sundays on the Bay and Oakland's — Hampton Bays
These related waterfront restaurants offer great food and the gorgeous backdrop of Oakland's Marina. The recently renovated Sundays on the Bay has a bright and crisp interior appearance. Both establishments offer a kids' menu with a free drink; choices range from fried flounder to a kids' steak. Kids will delight in the passing boats and the flurry of marina activity at these fun spots.
The North Fork
Country Corner Cafe — Southold
It's ice cream and more at this Southold village landmark. Enjoy breakfast specialties, a lunch menu, including vegetarian options, and a dinner menu heavy on comfort food, including meat loaf, pot roast, seafood, burgers, and more. But it's the old-fashioned ice cream menu kids will cherish, including sundaes, banana splits, shakes, floats, and even ice cream cakes.
Crabby Jerry's at Claudio's Clam Bar — Greenport
Part of the famed Claudio's restaurant chain of downtown Greenport, Crabby Jerry's caters to families eager to enjoy harbor views, sunsets and simple, self-ordered food. As you might expect, the menu is heavy on seafood, but there are landlubber options, including burgers, chicken, fries, and more. Kids will love the views of the ferry to Shelter Island and the boaters on Peconic Bay, and the short walk to the antique carousel.
Hellenic Snack Bar — East Marion
This North Fork favorite sits on the Main Road east of Greenport and features a pretty outdoor patio and ample space for kids to play after sampling some of its Greek specialties. Enjoy traditional Mediterranean dishes as well as local fish served in Greek fashion. Afterward, enjoy homemade gelato.

Love Lane Kitchen, on Mattituck's most charming street, offers outdoor music and more.
Love Lane Kitchen — Mattituck
This friendly, local spot is laid-back and a great place for families. Enjoy homemade baked goods, breakfast, lunch, and dinner. Love Lane Kitchen is known for roasting its own coffee beans on the premises.
Peconic Bay Diner — Riverhead
Peconic Bay Diner is located about a mile from the Long Island Aquarium. It offers traditional diner fare, including hamburgers, wraps, and an extensive daily breakfast menu. "Aquarium Specials" provide a free meal to children when the adult portion of the bill reaches $25. You must show your ticket from the aquarium.
Top photo: Kids will delight in The Lobster Roll's quaint Amagansett location. Photo by the author
Sign up for the Mommy Poppins Newsletter today!