It's Not the Hampton Classic: Carousels on Long Island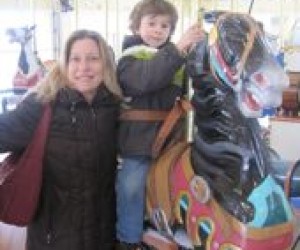 When I was a kid we would drive from our home in Queens to Nunley's, a small Long Island amusement park, located on Sunrise Highway in Baldwin. I'd beg my parents to let me ride the kiddie roller coaster for the tenth time and then I'd head to the arcade for a ride on their gorgeous carousel. In the early 90's, I heard that Nunley's was closing and I was heartbroken. I felt like a large part of my childhood was being erased. Thankfully the carousel was saved and is now housed between the Cradle of Aviation and the Long Island Children's Museum on Nassau County's Museum Row. Although I can't take my kids to Nunley's for a game of mini-golf, I can still enjoy a ride on the carousel with them. Read on to find out how you and your kids can visit Nunley's Carousel and other great carousels on Long Island.
The Historic Nunley's Carousel
Museum Row
Garden City, NY
516-572-4066
A ride on this historic indoor carousel will cost you two dollars. There is a carnival atmosphere at the carousel building with a small concession stand selling treats and small toys. The walls of the building are decorated with old photos and information on the history of the carousel. Before Nunley's, the carousel was located at Golden Park, Canarsie's waterfront amusement park which closed in the 1930's. A trip to the carousel offers entertainment and a mini history lesson. Plus, you can loop in a trip to the Cradle of Aviation or the Long Island Children's Museum.

1920's Antique Carousel
Mitchell Park, Greenport, NY
631-477-2200
If you're a fan of historic carousels, you should also head out east to Greenport for a ride on their 1920's carousel located in Mitchell Park on the waterfront in this quaint north fork Long Island town. The Mitchell Carousel is housed indoors, so you can ride it year round. A ride costs two dollars, but if you catch the brass ring, you get the next ride for free.

Heckscher Carousel
Hempstead Lake State Park
W. Hempstead, NY
Another great classic carousel is the Heckscher Carousel. The carousel was built in 1914 and it's located in the scenic Hempstead Lake State Park in West Hempstead, NY. This wooden carousel was closed for restoration and re-opened in 2005. It's $2 for a ride and is open now for the weekends. Spend the afternoon in the park taking rides on this historic carousel.
For other great carousels, venture to NYC, but first check out our post NYC Carousels: Get Merry and Go Around.