Batting Cage Locations for Long Island Kids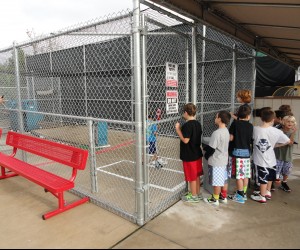 Spring is right around the corner, which means baseball season is about to start. If you have a little one dreaming of turning into the next Derek Jeter, you'll certainly want to take them out to a batting cage to try out and strengthen their hitting skills. You can spend a few hours hitting balls--or you can couple it with another activity as many batting cage facilities also go-cart racing and mini-golf.
And for more sports-themed fun, be sure to check out our Indoor Play Spaces, Sports Centers & Fun Zones Guide.
Batter Up
130 Hickville Road, Bethpage
516-731-2020
Batter Up offers both baseball and softball batting cages. Hours vary depending on weather. Batting Cages are available on a token system. Team rentals are also available. The facility also features mini-golf.
Out East Family Fun
1716 Old Country Road, Riverhead
631-208-9397
Out East Family Fun offers batting cages, as well as a water slide, mini-golf, trampoline basketball and water balloon launching. The facility is open in the summer daily 10am to 10pm.
Country Fair Entertainment Park
3351 Route 112, Medford
631-732-0579
Country Fair Entertainment Park offers a variety of batting cages, including baseball and softball with speeds up to 80 mph. The facility also features go-carts, mini-golf and laser tag, Hours vary depending on weather.
Play Like a Pro
1745 Expressway Drive North, Hauppauge
631-342-9033
Matt Guiliano's Play Like a Pro facility features four token batting cages, eight hitting tunnels and four pitching mound tunnels, as well as two indoor 96'x40' fields. The facility is open in the summer from noon to 9pm (Monday through Friday), and 10am to 4pm on Sundays.
Station Sports
25 Depot Road, Huntington Station
631-673-1830
Station sports features five high-tech batting cages with slow, medium and fast pitch baseball. The facility also features an 18-hold mini-golf course and target paintball. The facility opens mid-March with hours depending on weather.
Selden Ballpark
1117 Middle Country Road, Selden
631-732-9144
The Selden Ballpark features nine outdoor cages with baseball-slow, medium and fast pitch, as well as softball slow and fast pitch. The facility also features go-carts and arcade games. Hours depend on weather.
Five Towns Mini-Golf, Batting Rage
570 Rockaway Turnpike, Lawrence
516-239-1743
Five Towns Mini-Golf and Batting Range offers 10 baseball and softball cages at all speeds, as well as a Lil' Slugger Wiffleball for your youngest of sluggers.