Pop-Up Ice Skating Rinks in the Hamptons and North Fork
What's better than gliding across a sheet of ice on a lovely winter day? How about doing it outdoors, where all of the season's pageantry is on display?
Pop-up-ice rinks are popping up all over the East End of Long Island these days, from low-cost, low-frills facilities to high-end clubs that cater to every perk a skater could imagine.
We've got your winter entertainment covered here, with five seasonal rinks from Riverhead to East Hampton and Greenport. All are open to the public without residency restrictions but costs can be higher for nonresidents. For good measure, we've also included a pair of up-Island pop-up rinks just in case your seasonal shopping takes you off the East End.
As always, be advised these facilities are weather-dependent and opening and closing dates vary based on temperature, rainfall and patron interest. Prices are as of October 2016.
East Hampton

Buckskill Winter Club 

178 Buckskill Road
631-324-2243

Located just north of Montauk Highway, this upscale facility offers public skating seven days a week. It's pricier than many area rinks —admission ranges from $14 to $17 weekdays and $18 to $27 on weekends — but the amenities are top-notch, and skaters are welcome to stay all day and into the evening. Perks include a cafe with fireplace, changing area, regular ice resurfacing, skate and helmet rentals, balancing aids for novice skaters and more. The club offers adult and junior lessons, pickup hockey, an adult hockey league and a figure skating program. Seasonal memberships with unlimited ice time that run from Thanksgiving until the end of March are available for individuals and families.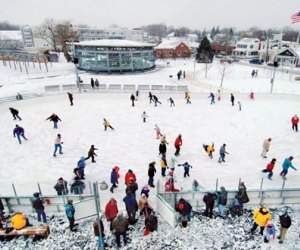 Greenport
Mitchell Park, next to the village carousel

631-477-2200 ext. 2

Come Thanksgiving weekend, Greenport's ice rink becomes a favored destination for kids all across the North Fork. And at $5 for adults and $3 for teens and younger, it's easy to understand why. Skate rentals, lessons and sharpening are available, and the rink is home to the Greenport Pirates youth hockey organization. Public skating sessions are 3-5pm Monday to Friday and 11am-5pm on weekends and holidays. Pickup hockey and rink rentals are also offered. The rink traditionally closes in late February.
Riverhead

Stotzky Memorial Park, Columbus Avenue
631-727-5744

Once the cold weather arrives, the Town of Riverhead transforms its skateboard park into a winter carnival. The rink is open for public skating on Saturdays from 1 to 9pm and Sundays from 1 to 7pm and during school breaks. Be advised, however, the facility is weather-dependent and offers few amenities beyond the adjacent public park. Ice fees are $2 for residents and $5 for nonresidents. Annual passes are available.
Southampton

Southampton Ice Rink, 668 County Road 39 

631-283-2158
This fully enclosed facility, adjacent to Southampton mini-golf and driving range, opened in 2014. It quickly became a South Fork winter destination. The rink is refrigerated so it can remain open when nearby ponds and rivers have melted. As a result, its season extends into April. Amenities include skate rentals, after-school lessons, hockey leagues and more. Public skating is from 11am to 10pm on Saturdays and holidays and from 11am to 8pm on Sundays. Afternoon sessions are offered during the week and there is an evening session from 7:30 to 10 on Fridays. Adults 16 and older are $20 on weekends; children 5 to 15 are $15; and toddlers 4 and under are $12. Weekday sessions are discounted.

Westhampton Beach 

Great Lawn on Main Street

631-289-1654 

At 50-feet-by-100-feet, this rink is about half the size of a regulation hockey surface, but twice as cozy. Depending on weather conditions, it opens near Christmas week to skaters from all across the East End; village residency is not required Skating is free, however, as of last year skate rental was not available. The village is considering skate rental for the coming season as well as portable lights to accommodate night skaters.
Nearby
The Rink at RXR Plaza — Glenn Curtiss Boulevard, Uniondale

If you're holiday shopping at Roosevelt Field mall, why not detour to this corporate park near Nassau County's Museum Row? Warning: It's a short season here, often closing right after New Year's Day.
Tanger Outlet Ice Rink — Deer Park

631-667-0600

Enjoy a break right on the grounds of this Suffolk County discount mall. The season runs from mid-November through early March and is especially festive during holiday times.

Top image: Buckskill Winter Club. All photo courtesy of the venues.