Lagoon Pools, Kids Club, and Spas at the Hyatt Regency Grand Reserve Puerto Rico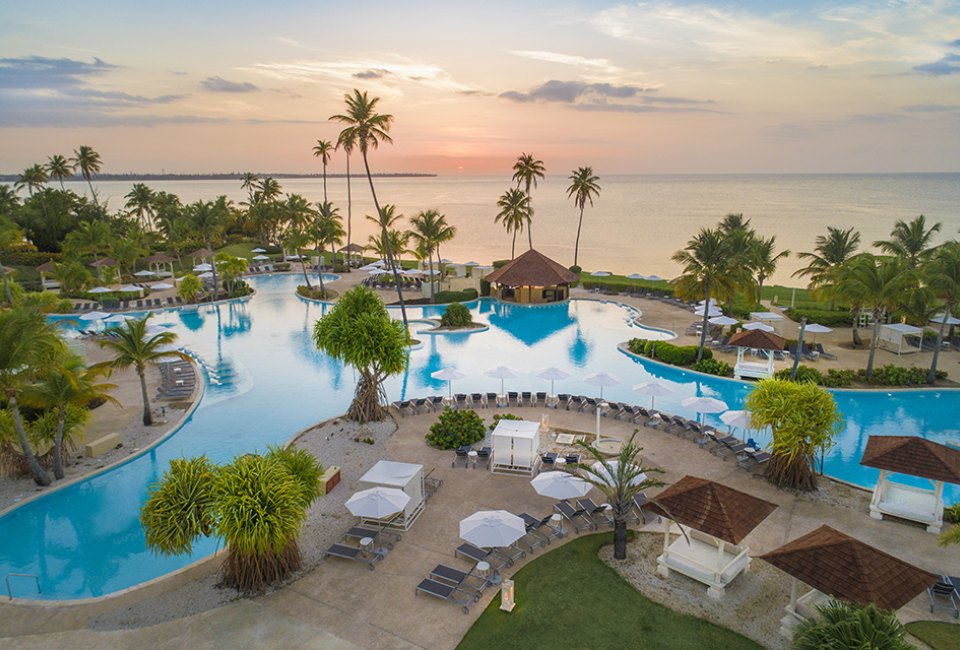 7/22/23
- By
Charlotte B
Tucked away amid the vibrant landscapes of Puerto Rico, the Hyatt Regency Grand Reserve offers a serene retreat where "doing nothing means everything" (the resort's motto). This idyllic resort combines luxury, natural beauty, and a commitment to guests' well-being, making it the perfect destination for those seeking a break from their fast-paced lives.
We were recently invited to visit the Hyatt Regency Grand Reserve, where we enjoyed a fun and rejuvenating stay. Read on to learn all about our experience in this tropical paradise. Then visit our Caribbean Family Travel Guide for more sunny family vacation ideas, including Mexico, Aruba, and many other gorgeous locales.

Relax in a cozy hammock on the serene beach.
The Meaning Behind "Doing Nothing Means Everything"
The Hyatt Regency Grand Reserve has embraced the motto of "Doing Nothing Means Everything," which encapsulates the idea that sometimes, taking a break and allowing ourselves to simply be in the present moment can hold immense value and significance. In a fast-paced world filled with constant distractions and endless demands, it reminds us to find balance and prioritize moments of rest, reflection, and self-care.
Because of this, the resort intentionally does not have a packed activity calendar. By releasing the need for constant activity and embracing the luxury of leisure, guests can reconnect with themselves, their loved ones, and the surrounding environment.
RELATED: Finest Punta Cana: A Luxury All-Inclusive Resort for Families in the Dominican Republic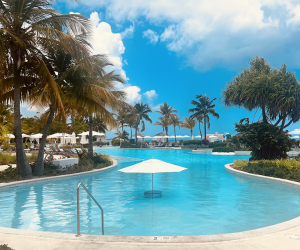 Cool off in the large lagoon-style pool.
Hyatt Regency Grand Reserve Activities
Even with its focus on rest and rejuvenation, the Hyatt Regency Grand Reserve Puerto Rico offers several amenities and activities to keep families busy. The resort boasts four impressive pool areas, including the island's largest lagoon-style pool. Whether you seek a quiet swim in a secluded adults-only pool or splash-filled fun with the family in the giant lagoon pool, there is an ideal swimming spot for everyone.
Families can engage in a friendly game of beach volleyball, tee off on the lush greens of the Grand Reserve Club, or embark on a kayak excursion along the serene coastline. Kids can enjoy a shallow wading area within the Villas pool, lawn games near the lagoon pool, and an on-site kids club with a playground.
And when it's time to recharge again, indulge in the resort's full service Rainforest Spa, which offers a variety of services to take you to a realm of pure relaxation.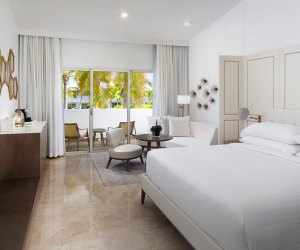 The Hyatt Regency Grand Reserve offers guest rooms, suites, and villas of various sizes. Photo courtesy of the resort
Hyatt Regency Grand Reserve Accommodations
Great for multigenerational getaways, the Hyatt Regency Grand Reserve features 579 luxurious rooms, suites, and villas that accommodate various numbers of guests. Choose a room with panoramic ocean views, a spacious villa with a kitchenette, a suite with a private plunge pool, or one of several other options.
We had the privilege of staying in the newly built Villas en la Reserva, nestled in a more secluded area of the resort. With expansive layouts, kitchenettes, private balconies, and a large pool in the center courtyard, these villas are perfect for families. From our room, we enjoyed secluded walks along the beach area, where to our delight, we found a hidden rope swing proudly flying the island's flag. The resort also provides complimentary trolley service to take guests around the grounds.
RELATED: 21 Best All-Inclusive Resorts in the US, Caribbean, and Mexico for Kids

Explore El Yunque National Forest, the only tropical rainforest within the US National Forest System.
Puerto Rico Area Attractions
While the allure of "doing nothing" may tempt you to remain within the confines of the resort, the Hyatt Regency Grand Reserve is ideally located for those who wish to explore Puerto Rico's natural wonders. On the first full day of our trip, we embarked on an excursion to El Yunque National Forest, the only tropical rainforest within the United States National Forest System. We climbed the towering Yokahu observation tower, from which we enjoyed panoramic views of the rainforest. We also learned all about the Bano Grande, a historic swimming hole, and captured photos by a cascading roadside waterfall. Our tour guide took us to the river as well, where he showed us how the locals use river rocks to craft a natural body paint.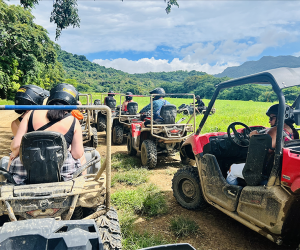 Ride ATVs through Carabali Rainforest Adventure Park.
Following our rainforest escapades, we were treated to a whimsical treehouse lunch at Carabali Bar & Grill and an ATV tour at Carabali Rainforest Adventure Park. After providing safety instructions, our guide led us on an ATV adventure through the foothills of the rainforest, navigating the lush foliage and muddy paths. Carabali Rainforest Adventure Park also offers UTV adventures, go-kart racing, horseback riding, and a rainforest hayride, making it the perfect family attraction to visit on your trip.
Hyatt Regency Grand Reserve​ Dining
The resort features 11 restaurants and bars, each offering a unique experience. Each morning of our stay, we indulged in an array of delicious options provided at the Water's Edge breakfast buffet. As the sun set on our first evening, we were treated to a full culinary experience at Prime 787, a contemporary twist on an American Steakhouse.
Other culinary options include Nori Teppanyaki, offering Japanese style hibachi; La Mina, an open-air poolside restaurant with an ocean view; Nectar, serving up traditional Puerto Rican flavors; and the newest addition, The Sand Trap Bar & Grill, complete with TopGolf gaming simulators.
For those seeking round-the-clock indulgence, The Market is open 24 hours, offering specialty coffee drinks as well as grab-and-go snacks and gourmet sandwiches. The resort also offers the convenience of in-room dining. One morning, we were treated to Pan Sobao brought right to our door. Pan Sobao is a soft Puerto Rican bread, and ours was served with butter and accompanied by cheese and traditional Puerto Rican coffee. It was a wonderful way to start the day!
RELATED: St. Thomas with Kids: 25 Best Things To Do in St. Thomas, Virgin Islands

Enjoy a sunset picnic atop the highest point of the peninsula.
For the utmost luxury to celebrate a special occasion or the ultimate romantic evening, allow the resort to orchestrate a mesmerizing sunset picnic atop the highest point of the peninsula, surrounded by breathtaking views of both the ocean and rainforest. We were treated to a sunset picnic experience on the final evening of our stay, and believe me, it was nothing short of pure enchantment!
Getting to the Hyatt Regency Grand Reserve
Traveling to Puerto Rico is a breeze, as this vibrant gem is a United States territory that embraces visitors with open arms. Set your passports aside, as you won't need them. With numerous direct flights available from major US cities such as New York, Miami, and Atlanta, you'll find yourself easily transported to this beautiful Caribbean island. Upon arrival at the Luis Muñoz Marín International Airport in San Juan, a mere 35-minute scenic car ride takes you to the sanctuary of the Hyatt Regency Grand Reserve.
Unless noted, photos by the author
Places featured in this article:
---
Hyatt Regency Grand Reserve Puerto Rico
Click Here to Sign Up!
i