35 Things to Do in Savannah, Georgia with Kids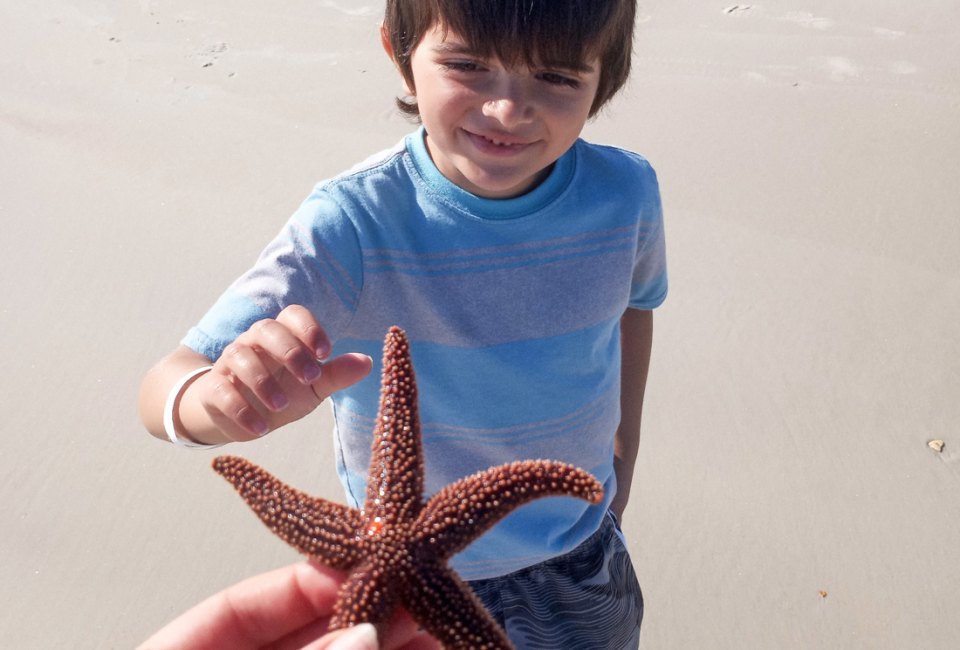 3/5/22
- By
Katherine Dhurandhar
Cobblestone streets, live jazz music, oak trees dripping with Spanish moss, the smells of Southern cuisine floating on the breeze... while this quintessential picture of Savannah, Georgia is accurate, the city is also full of fun activities for kids and families. From museums and historic sites to island excursions and dolphin watching, Savannah, Georgia offers lots to do while maintaining a small-town, laid-back vibe steeped with Southern hospitality. And with several barrier islands nearby, families can mix some beach time into their Savannah, Georgia vacation.
Here are 35 fun things to do in Savannah, GA with kids, including family-friendly hotels and delicious restaurants in Savannah, GA. For more family fun in Georgia, check out our review of Sea Island Resort, Georgia and our list of 50 fun things to do in Atlanta with kids.
Things To Do in Savannah, Georgia with Kids

All of the exhibits at Savannah Children's Museum are outdoors. Photo courtesy of Cogdrell and Mandala Architects
Savannah Children's Museum features more than a dozen exhibits and programs designed to expand the imaginations of children, including an exploration maze, a reading nook, and a sensory garden. Since the museum is entirely outdoors, it may close due to inclement weather, so call ahead or check the museum's Facebook page for accurate closing information.
ArtZeum is an interactive children's museum inside the Jepson Center for the Arts. Kids can step inside a reproduction of a painting, such as artist Gari Melchers' home inspired by his work The Unpretentious Garden. Other activities include a wall where kids can choose what art is displayed and an area for them to learn about architecture and create their own buildings.

Take a family stroll along River Street. Photo courtesy of Tyler Edi
Take a stroll along the waterfront and watch the majestic riverboats and big barges pass by. River Street frequently features musicians performing live jazz and blues. The street is pedestrian-only and lined with shops and restaurants, ideal for a family evening out.
Ellis Square has a water fountain for kids to run through, shaded tables, a life-size chess set, and CAT bikes available for rent. It is located at the entrance to City Market on the west side of the park and Paula Deen's The Lady and Sons restaurant, just one block east on West Congress Street.
Related: Top Attractions in Atlanta: Best Things to See and Do with Kids

Forsyth Park's famous fountain was installed in 1858. Photo courtesy of Philip Arambula
Explore this sprawling 30-acre park featuring two children's playgrounds, a splash pad in the summer, open fields, and tennis and basketball courts. Forsyth Park is also home to the city's most most famous fountain, which was installed in 1858 and modeled after the fountains at the Place de la Concorde in Paris. On certain days, the path to the fountain is lined with local artisans working to the sounds of live music.
Located in Tricentennial Park, Georgia State Railroad Museum is a beautiful National Historic Landmark located at the old Central of Georgia Railway Savannah Shops and Terminal Facilities. Kids will love exploring the historic railcars up close, riding on a handcar, and taking a site tour on a historic steam or diesel locomotive.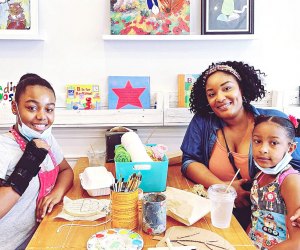 Bring out your child's creative side at Henny Penny Art Space & Cafe. Photo courtesy of Henny Penny
This hip, artsy area is known for its art galleries, coffee shops, and locally owned restaurants and bakeries. Kids will enjoy checking out the many impressive wall murals found throughout this area or tasting a unicorn hot chocolate while creating art at Henny Penny Art Space & Cafe.
A popular spot for weddings and family photos, this picturesque sanctuary includes a children's garden as well as a two-acre pond, nature trails, and the historic Reinhard House, a 19th-century farmhouse. The gardens include rose gardens, vegetable gardens, ferns, and more. The National Wildlife Federation has recognized the Savannah Botanical Gardens as an official wildlife habitat.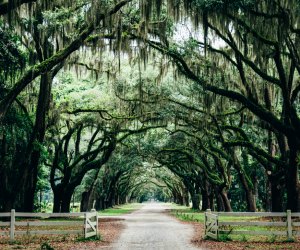 Step into a photo as you drive up to Wormsloe Historic Site. Photo courtesy of Ashley Knedler
The avenue that leads to this historic site, lined by live oaks and Spanish moss, is one of the most popular photos of Savannah, Georgia. Wormsloe is the oldest standing structure in Savannah and the colonial estate of Noble Jones, a carpenter who arrived in Georgia in 1733 with James Oglethorpe and the first group of settlers from England. Visitors can interact with historical interpreters during programs and events, see artifacts unearthed at Wormsloe, and watch a short film about the site and the founding of Georgia.
Kid-Friendly Tours of Savannah, Georgia

Take a ride on the Georgia Queen riverboat. Photo courtesy of visitsavannah.com
10. Riverboat Cruises
Learn about the history of Savannah, Georgia while enjoying a ride on one of its majestic riverboats. A number of companies offer narrated sightseeing tours on the Savannah River, including Sunday Brunch cruises, dinner cruises, and day trips to Hilton Head Island. Popular tour companies include Savannah Riverboat Cruises and Bull River Cruises.
11. Ghost Tours
Ghost City Tours offers a kid-friendly ghost tour that combines ghost-seeking thrills with lessons in history. On these all-walking tours, guests visit Savannah's most haunted locations, including many featured on the TV shows Ghost Hunters and Ghost Adventures. Locations include haunted mansions and historic homes, haunted cemeteries and burial grounds, a Revolutionary War battlefield, and much more.

Learn fun facts from local guides on one of Savannah's popular trolley tours. Photo courtesy of visitsavannah.com
12. Trolley Tours
Explore Savannah, Georgia at your own pace and learn fun facts from local guides on a hop-on, hop-off trolley tour. Popular tour companies include Old Town Trolley Tours and Old Savannah Tours.
13. Walking or Biking Tours
Take an eco-friendly tour of Savannah, Georgia with one of the many companies offering walking, bicycle, or e-bike tours. Try Explore Savannah walking tours, Savannah Bike Tours (which offers a haunted bike tour of Savannah's historic district), and Adventure Tours in Motion. Infant seats for bikes are available by request.
14. Scavenger Hunts
A popular new way to explore the city is by completing one of the many scavenger hunts available on phone apps. Learn about the city's historic sites with trivia questions and photo challenges on a scavenger hunt with Let's Roam Savannah, or solve a fictional crime using clues found around town with Investigate Downtown. Other popular apps include Crazy Dash, Wacky Walks, and Operation City Quest.
Things to do at the Beach near Savannah, Georgia
Approximately a 20-minute drive from downtown Savannah, Tybee Island captures the island vibe of a tropical vacation. With white sand beaches and a picturesque lighthouse, Tybee Island has a wide selection of hotels, home rentals, shops, and restaurants. Day visitors can park in one of the many paid parking lots near the quieter, less developed north Tybee beaches or the bustling South beaches. Parks on the island include Jaycee Park, which has paved trails, bathrooms, and a giant playground; and Tybee Memorial Park, which has a playground, bathrooms, a barbecue pavilion, and basketball, tennis, and volleyball courts.
Related: Swimming Lakes and Beaches Near Atlanta for Georgia Families this Summer

Enjoy the unspoiled beauty of Little Tybee Island. Photo courtesy of the author
If you're looking for an adventure, journey just south of Tybee Island to Little Tybee Island, an ecological preserve accessible only by boat. Boat rentals are available for a full or half day at Bull River Marina. Bull River also offers beach drop-off, sunset cruises, dolphin tours, and fossil hunting on Shark Tooth Island. For a more adventurous way to travel, try renting a kayak or jet ski from Sea Kayak Georgia or Tybee Jet Ski & Watersports. Visitors can also camp for free anywhere on the island, but be aware that there are no facilities.
Related: Jekyll Island with Kids: Top Things To Do on this Georgia Island

Spot dolphins in their natural habitat. Photo courtesy of tybeedolphinadventure.com
17. Tybee Island Dolphin Tours
Kids and adults alike will love spotting dolphins playing in the open ocean on one of the many dolphin tours offered on Tybee Island. Popular tour companies include Captain Derek's, Captain Mike's, and Bull River Marina.
This state park about 20 minutes from downtown Savannah by car borders Skidaway Narrows, part of Georgia's Intracoastal Waterway. Trails wind through maritime forests and past salt marshes, leading to a boardwalk and observation tower. Visitors can watch for deer, fiddler crabs, raccoon, egrets, and other wildlife. Children can learn about local wildlife and even see a 20-foot giant sloth replica and reptile room.
Related: Immerse Yourself in the Georgia Aquarium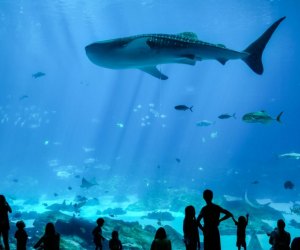 Get up close to marine life at the UGA Marine Education Center and Aquarium. Photo courtesy of the aquarium
The UGA Marine Education Center and Aquarium on Skidaway Island features 16 saltwater exhibit tanks that showcase a variety of Georgia's marine life. A public touch tank allows visitors to get up close and personal with some of Georgia's marine invertebrates such as whelks and crabs. A boardwalk overlooking the Skidaway River supports education programs and is ADA-accessible. The boardwalk is part of the ADA-approved Jay Wolf Nature Trail that winds through the maritime forest and along the Skidaway River salt marshes. Picnic tables line the bluff outside the back door along the Skidaway River and provide a perfect spot to eat lunch.
This pristine island boasts 9,800 acres of beautiful undeveloped beaches, maritime forests, and marshes with a history dating back to the Native Americans. The island is only accessible by ferry or private boat. Visitors can bring or rent bikes on the island, and campsites are also available.
Hotels in Savannah, GA for Families
Kids can enjoy swimming in the large pool and watching the boats pass by at this riverfront hotel, which features two on-site restaurants, a Starbucks, and a pool bar and grill. Adults will love the 18-hole PGA championship golf course and the lush spa.

Be in the center of the action at Embassy Suites Savannah. Photo courtesy of the hotel
Centrally located in the Savannah, Georgia historic district (about half a mile from the riverfront), this hotel features outdoor pools, a restaurant, games for kids, laundry facilities, and a 24-hour business center.
Located on the riverfront with direct access to River Street's shops and restaurants, this hotel features a heated indoor pool, extra beds and cribs upon request, laundry facilities, yoga in the room with YogaAway, a concierge service, and water taxis.
Located in midtown, away from the hustle and bustle of downtown (about a 20-minute drive from River Street), this hotel offers complimentary parking, an indoor pool, a free hot buffet-style breakfast, and coin laundry facilities. Cribs and play yards are available upon request. The hotel is located near attractions such as Wormsloe Historic Site, Savannah Botanical Gardens, and Savannah Mall.

Enjoy ocean views at DeSoto Beach Hotel. Photo courtesy of the hotel
The only beachfront hotel on Tybee Island, this hotel features an outdoor heated pool, a game room, and free beach chairs and umbrellas. The hotel is located on the quieter north end of the island, a short beach walk away from the picturesque Tybee lighthouse. Parking and breakfast are complimentary.
Skidaway Island's campground offers tents and RV sites as well as cabins with screened porches, air conditioning, bathrooms, and kitchens. The campground features three playgrounds for kids, picnic shelters, and miles of walking and biking trails.
Restaurants in Savannah, GA that Kids Love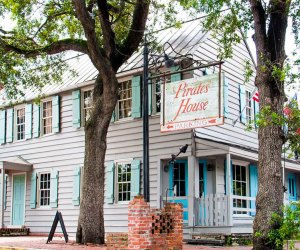 Bring your little mateys to The Pirates' House. Photo courtesy of the restaurant
This famous pirate-themed restaurant is located in a converted house built in 1754. It serves up hearty Southern fare that's heavy on seafood, and the First Mate's Menu offers kid-friendly favorites like burgers, chicken fingers, and hot dogs served with homemade biscuits and cornbread. At the end of the meal, kids can choose a small treat from the treasure chest in the lobby.
Diners at Your Pie Pizza can completely customize their pizza with a wide selection of crusts (including cauliflower crust), sauces, and toppings. This is a great place to eat if your child is a picky eater or has food allergies, as it offers gluten-free dough, nondairy cheese, and nondairy sorbet. The restaurant's selection of decadent gelato and craft beer and wine makes it a great place for adults as well.
Do your kids like to draw on the tables? It's no problem at Henny Penny's. Enjoy a family-friendly atmosphere with freshly baked, made-from-scratch pastries, craft coffee, and an art space to do crafts with little ones. The art space is open every day from 9am to 3pm, and no reservation is needed. The Unicorn Hot Chocolate is a kid favorite, of course.

There are so many delicious choices at Maple Street Biscuit Cafe. Photo courtesy of the cafe's Facebook page
This casual cafe serves biscuit sandwiches and Southern sides for breakfast and lunch. The kids' menu features waffles, fresh biscuits, and house-made jams and jellies.
This casual waterfront restaurant offers seafood platters, sandwiches, and BBQ favorites in an indoor-outdoor setting, plus baby alligators in a lagoon.

Betty Bombers is the place to go for delicious diner fare. Photo courtesy of Betty Bombers
This kid-friendly diner is located inside American Legion Post 135 and serves classic American fare in a retro setting. Kids will especially love the milkshakes served in frosted mugs.
CoCo's boasts amazing views of the river and ocean from its patio, located on an operating fishing marina. Kids will love watching the wildlife and boats returning with their fresh catch of the day. The restaurant features a variety of fresh seafood and a kids' menu.

Enjoy a decadent cone from Leopold's Ice Cream. Photo courtesy of Leopold's
This famous Savannah, Georgia ice cream shop and soda fountain has been serving house-made ice cream for more than a century. Ice cream flavors include standard chocolate and vanilla as well as decadent creations like lemon custard, rum bisque, and the Savannah Socialite, with Georgia pecans and bourbon-infused caramel.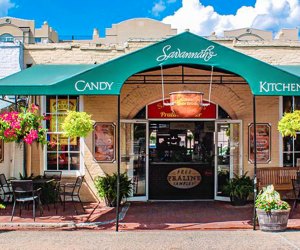 Try the famous pralines from Savannah's Candy Kitchen. Photo courtesy of the shop
Savannah's Candy Kitchen has been making candy from scratch for more than 40 years. From its famous Savannah's Original Pralines and saltwater taffy to hand-stretched peanut brittle, kids are sure to love this Savannah, Georgia favorite.
t Click Here to Sign Up!