Sanibel Island, Florida with kids: 19 Best Activities for a Family Vacation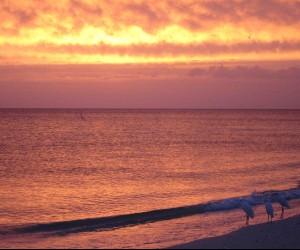 3/28/13
- By
Allison Tibaldi
Sanibel is a Gulf Coast barrier island, easy to reach via causeway from Fort Myers, Florida. Time spent in Sanibel is reminiscent of an old-fashioned Florida seaside vacation, before mass tourism was the rule in the Sunshine State. There are no theme parks, no high-rises to mar the ocean views and no fast food, except for a discreet Dairy Queen. What you will find are "Mom and Pop" shops, restaurants that feature locally caught seafood, miles of unspoiled beach, spectacular birds and wildlife in abundance. There are no swim with the dolphin experiences here, rather a variety of activities that are conservation oriented and aim to promote interacting with nature in a respectful and responsible way.
Outdoor Things To Do on Sanibel Island with Kids
1. Hit the Beach
The warm gulf waters and the calm surf means that swimming is usually safe even for beginning swimmers. The sand is bright white and very clean. Bowman's Beach is a relatively secluded beach with a well-equipped playground. Sunsets here are especially scenic.
2. Go Biking
With over 25 miles of pancake-flat, paved trails, Sanibel is a great place for families to explore on two wheels. Even novice bikers who have recently ditched the training wheels should be able to handle the gentle trails without frustration. Rent your bike, trike or canopied surrey at Billy's Rentals. Helmets and locks are available.
3. Collect Seashells
Sanibel is renown for the incredible variety of shells that wash up onto its shores. The island's unusual east-west orientation is what accounts for the copious sprinkling of awesome shells. Low tide is the best time to search for them and you can expect to share the beach with scores of serious collectors. No live shells may be taken or disturbed, but you will find loads of gorgeous-hued specimens to fill your pail or bag.
4. Go Fishing
The pristine waters surrounding Sanibel means the fish are usually biting. Try fishing off the lighthouse pier, at the "Ding" Darling Refuge and right on the beach. You may catch grouper, snapper, sea trout and more. You can purchase bait at the Bait Box and buy an inexpensive license here, necessary if you are over sixteen.
5. Take a Boat Ride
Tarpon Bay Explorers is the official concessionaire of the "Ding" Darling Refuge and they aim to show families wildlife without disturbing the animals or land in any way. They have a full range of guided kayak and canoe tours for all ages and levels of paddlers. They run 90-minute narrated pontoon boat rides several times daily. Unspoiled Tarpon Bay is a prime place to spot dolphins and manatees. There is a touch tank that the enthusiastic naturalists allow you to explore before you venture out onto the water.
6. Explore a Semi-Deserted island
Captiva is about a 20-minute drive from Sanibel. McCarthy's Marina is located here, the departure point for Captiva Cruises catamaran excursion to Cabbage Key. This island paradise is accessible only by boat, a one-hour ride. There is a casual restaurant, small inn and nature trails where you won't run into anyone, giving it a Gilligan's Island-feel. The boat picks you up a few hours later and brings you back to Captiva. Good thing lunch at the Cabbage Key Inn and Restaurant is tasty, as you pretty much need to eat here, since you are not supposed to bring food with you. Thousands of autographed dollar bills hang from the restaurant's ceiling, some signed by celebrities who have visited.
7. Sea School
Sanibel Sea School is dedicated to teaching kids and adults about marine ecosystems. They use the natural setting of the island as a field lab to give students a greater understanding of the immediate surroundings and the global environment. Morning and afternoon sessions are offered daily. The drop-off classes are for kid's ages 6-13, but you are welcome to stay and shadow your child if you prefer. Teens can join the adult classes. Topics covered include sea turtles, shorebirds, and waves.
Top Attractions on Sanibel Island for Families
8. Sanibel Lighthouse
The Sanibel Lighthouse has been a landmark since 1884 and is worthy of a visit, even if you are not allowed to climb to the top. The fishing pier and nature trail are popular.
It is entirely apt that shelling mecca Sanibel has a museum devoted to mollusks and bivalves. There are tons of different varieties from around the globe, with an emphasis on species from southwest Florida. Stop by the colorful kid's lab complete with shell specimens, puzzles and books.
Delve into the islands past by exploring seven turn-of-the-century buildings. Peek into the one-room schoolhouse, general store and post office to get an idea of what life in Sanibel was like for the pioneers who settled here. Closed in September and October.
The refuge's mangrove estuary provides a safe haven for an array of shorebirds and birds of prey, including great blue herons, snowy egrets, white ibis, pelicans and osprey. You may also see raccoons, otters, lizards, alligators, butterflies, turtles and crabs. Slowly drive, bike or ride the open-air shuttle bus around the refuge's four-mile scenic drive. Don't miss visiting the Education Center, which includes a children's area with interactive exhibits.
C.R.O.W. cares for thousands of injured and sick animals each year. The Healing Winds Visitor Education Center offers a rare glimpse into the world of western and eastern methods of animal medicine. Interactive touch-screen activities, critter cams and the ability to play vet and follow sick animal cases make a visit here compelling.
SCCF is dedicated to conservation of the delicate coastal habitat. The Nature Center offers several miles of easy trails, an observation tower, a touch tank and a butterfly house. There are regularly scheduled guided walks and environmental workshops.
The library is one of the nicest I have ever seen, with a children's area and a teen space. Visitors can purchase a temporary library card for $10, and have access to DVDs, computer lab, books and more. This is the perfect place for a rainy day.
Sanibel Island Restaurants Kids Will Love
This Captiva restaurant is a treasure trove of kitsch, bursting with Hollywood and Christmas memorabilia. A giant collection of miniature trains, Jukeboxes, puppets, toys and servers dressed in scout uniforms will keep kids entertained. The portions are gigantic, but save room for the dessert. Triple-layer cakes, sliced in wedges large enough to satiate a family of four, are ceremoniously presented. The orange cake is award winning, but we couldn't stop eating the red velvet.
Timbers is a fish market and casual family restaurant with a wide menu of market-fresh seafood. Shrimp, oysters, stone crab and many more offerings are available depending on the season and the catch. A kid's menu with fish, burgers, chicken, and steak are served with a smile.
This popular restaurant has two Sanibel locations. The grouper sandwich, a local specialty, is served mesquite-grilled or fried. The kid's menu comes served on a Frisbee with a take-away cup. The key lime pie is mouth-watering.
Family-Friendly Sanibel Island Resorts
The West Wind is a super-clean, low-key, beachside inn. The units have ample kitchenettes, so you can purchase groceries at Bailey's down the road and prepare light meals and snacks. The property has a large pool, a toddler pool, a butterfly garden, shuffleboard, a small library, a computer center, and bikes for rent. Walk out your door and onto the glorious sand.
This high-end Captiva resort sits on miles of unsullied beach, sprawling out over 335 acres. South Seas has multiple swank pools and water slides and lots of nature-oriented children's activities, plus tennis, golf, and more. There are also great on-site restaurants. With all of these amenities, lots of visitors never leave the property.