Interlochen With Kids: 20 Best Things to Do Near Interlochen, Michigan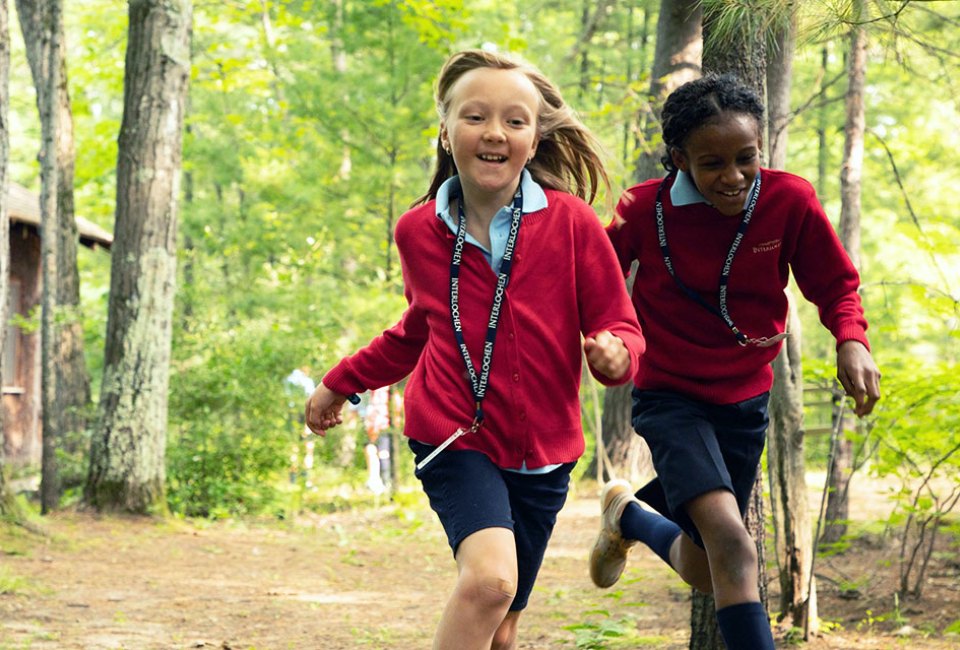 9/10/22
- By
Vanessa Leigh
With its gorgeous lakes, trees, and beaches, you can't get much more picturesque than Northern Michigan, which includes popular destinations like Traverse City and Interlochen, Michigan. And then there's the delicious food—fish boils, the National Cherry Festival, decadent chocolate fudge, and more to fit everyone's taste buds.
In Interlochen, nestled between Duck Lake and Green Lake, you'll find the world-class Interlochen Center for the Arts. I'm a proud alumna of both the Center's Interlochen Summer Arts Camp and its Interlochen Arts Academy. Nearly 20 years later, I returned to the campus—this time with a little one in tow— to experience the magic of Interlochen, Michigan as a family.
Whether you're looking for a place for young musicians, artists, actors, and writers to hone their craft or a place to explore the scenic outdoors in the Great Lakes State, Interlochen and its surrounding areas are the perfect places to visit with kids. Here are 20 things to do in Interlochen, Traverse City, and Northern Michigan with kids. Check out our Family Travel Guide and Midwest Family Travel Guide for more fun family vacation ideas.

You just might hear some sweet music drifting from the practice cabins at Interlochen Center for the Arts.
Things to Do in Interlochen, Michigan With Kids
The renowned Center for the Arts is home to both the Interlochen Summer Arts Camp and the Interlochen Arts Academy, a boarding high school. Kids as young as 8 from around the globe attend the Interlochen summer camp to study a chosen arts discipline—music, creative writing, theater, visual arts, film/new media, dance, or interdisciplinary arts. Visitors to Interlochen, Michigan can enjoy a leisurely stroll through the Center for the Arts campus while soaking in student recitals, live performances, and art exhibitions. The air is filled with music from the practice cabins. Don't forget to stop by The Melody Freeze for some afternoon ice cream treats.
Another big reason to visit the Interlochen Center for the Arts campus is its annual summer Arts Festival. The Center brings in some of the biggest names in music, including Harry Connick, Jr., Bruce Hornsby & the Noisemakers, and Chicago. As a camper, I'll never forget seeing Norah Jones from the front row and dancing to Hootie and the Blowfish with a group of my new summer orchestra pals. Concerts take place in the outdoor, covered Kresge Auditorium, the perfect lakeside venue to enjoy sunsets and a warm breeze while soaking in the music.
Start the day with a delicious breakfast and freshly brewed coffee at this family-friendly Interlochen, Michigan restaurant. Bud's welcomes kids with its tasty food and ice cream, plus an enticing toy and book section right as you enter the restaurant. My family left with full tummies, to-go mochas, and some adorable stuffed animals.
Related: St. Louis with Kids: 35 Best Things To Do in St. Louis, MO

Have some fresh-air fun at Interlochen State Park. Photo courtesy of the park
Right across the road from the Interlochen Center for the Arts is Interlochen State Park, a perfect daytime destination for the whole family. You can camp, fish, swim, hike, and do so much more at this gorgeous park. Check out the Explorer Programs when visiting with kids during the summer months.
5. Playgrounds Near Interlochen, Michigan
Interlochen, Michigan has its share of fun playgrounds for kids. If you've already explored the playground at Interlochen State Park, head just down the road to Green Lake Township Memorial Park. We spent a couple of hours here, and it's well worth a stop. The tall, curly slide was a big hit. The neighboring towns also have some great parks with playgrounds, including Blair Township Park in Grawn and East Bay Park in Traverse City.
Can't quite make it across the pond to Munich's Hofbräuhaus for dinner? Kein Problem. This local restaurant was once a favorite stop for an "off-campus" meal when I was an Academy student. The menu is extensive, offering steak, pizza, seafood, sandwiches, and a full kids menu. Indoor and outdoor seating is available, starting daily at 4pm.

Mackinac Island has lots of kids activities throughout the summer. Photo courtesy of Mackinac Island Tourism Bureau
Best Day Trips From Interlochen, Michigan with Kids
For a more serene, nature-filled day trip, head up to Ocqueoc Falls for a day of hiking and swimming. The trip is about a 2.5-hour drive from Interlochen, Michigan. Ocqueoc Falls holds the title of the largest waterfall in the Lower Peninsula of Michigan. If you happen to visit in the winter, enjoy cross-country skiing and snowshoeing.
If your kids enjoy the sandbox at your local playground, then these miles of sand and beaches will be sure to impress them. With nearly 100 miles of hiking trails in the National Lakeshore, it's impossible to conquer all of Sleeping Bear in one visit. Plan ahead to decide which part of the park you'd like to explore, from forests and lakes to bluffs and, of course, the dunes. Sleeping Bear Dunes is a must-visit in Northern Michigan, with gorgeous views that never cease to amaze me.
The town of Glen Arbor is quaint, full of great shops and restaurants, and right on Lake Michigan. A stop at Cherry Republic—a shop carrying tons of specialty cherry products such as chocolate-covered cherries and homemade cherry ice cream—is a must. For the adults, there's an on-site winery with many cherry wines to try, while kids can sample the shop's cherry soda pops.
Mackinac Island was rated Best Island in the Continental US by Time & Leisure Magazine in 2022, and a visit there will create family memories to last a lifetime. Take a ferry boat (or charter a plane or personal boat) to visit the island's car-free streets. While there, explore the island on bikes, by foot, or journey back in time with a horse and carriage ride. You'll definitely want to sample Mackinac Island's famous fudge, with many different flavors to choose from at the local shops.
Related: Family-Friendly Farm Stays: Meet the Animals and Work the Farm

Meet the adorable goats at Black Star Farms. Photo courtesy of the farm
Things to Do in Traverse City, Michigan With Kids
Located just a 30-minute drive from Interlochen, Michigan in Traverse City, this beautiful estate features an inn, rolling fields, a winery, and a working farm. Families can visit more than 20 privately boarded horses and see the goats in all their glory.
From crowning the National Cherry Queen to large outdoor concerts and parades, the National Cherry Festival has so many events and family-friendly activities to take in. Plan your visit in July, and be sure to save your appetite for the Very Cherry Flying Pancake Breakfast.
Situated just north of Traverse City in Williamsburg (Grand Traverse County), this museum is a great find for all music lovers. Travel through time to soak in the history and learn about early music boxes and phonographs. A highlight of the tour is seeing Amaryllis, the restored 1922 Mortier Dance Organ.
Stroll through the local vendor tents every Wednesday and Saturday from June through October to pick up fresh items for your trip. Whether you're planning a picnic or looking for some treats to take home, you'll have an abundance of things to choose from at this downtown farmers market.
The unique, homemade flavors served up at MOOmers are well worth a country drive. Enjoy your cups, cones, and double scoops outside on the deck that overlooks the farm. Moo with the cows as you eat your sweet treats.
Related: The Best Children's Museums in the US

Kids will delight in the interactive exhibits at the Great Lakes Children's Museum. Photo courtesy of the museum
This Traverse City children's museum has exhibits specifically tailored for different age groups. These include a puppet theater, an interactive water-cycle station with slides, and an exhibit about the life cycle of a cherry, complete with a delivery truck.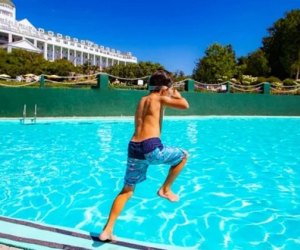 Robin Hood Trivia Challenge Corn Maze is fun for the whole family! Photo courtesy of the hotel
Best Northern Michigan Hotels for Families
Perhaps you've vacationed at one of the Great Wolf Lodges across the US before. This location in Northern Michigan has tons of adventures awaiting the whole family. Enjoy the themed suites at the resort after a day of splashing and sliding at the indoor water park. If a day is all you have, you can also book a day pass to enjoy the water park for a full or half day of fun.
When visiting Mackinac Island, a stop or stay at the Grand Hotel is definitely a must. Afternoon tea, daily live music, and the ice cream parlor will have you wishing that your family vacation could be just a few days (or months) longer. Take a walk on the Grand Hotel Porch to see the sweeping water views and relax in a rocking chair. Non-guests can access this part of the hotel for a per-person fee. The Grand Hotel is a National Historic Landmark and truly an extraordinary place to visit.
Treat yourselves to luxury on your family vacation at the Grand Traverse Resort and Spa. Multiple golf courses and the spa are just a few of the luxurious amenities to be found at this charming oasis. Kids can enjoy the pools and the indoor water playground.
Visit Michigan's largest indoor water park, Avalanche Bay, at this larger-than-life resort. The amenities are endless at Boyne Mountain, with something for everyone. Kids and adults alike will enjoy the Zip Line Adventure Tour. Be sure to book a return visit once SkyBridge Michigan, which will be the world's longest timber-towered suspension bridge, is completed.