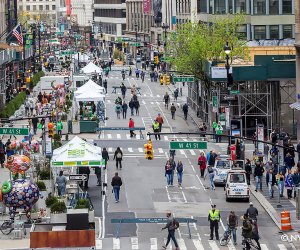 Free Things to Do with NYC Kids in August 2019
Free Things to Do in August 2019
See free June & July events | See free September events | See free anytime events
Thursday, August 1 Kick it old-school with a showing of Space Jam during the Citi Summer in the Square Throwback Thursday Movie Nights.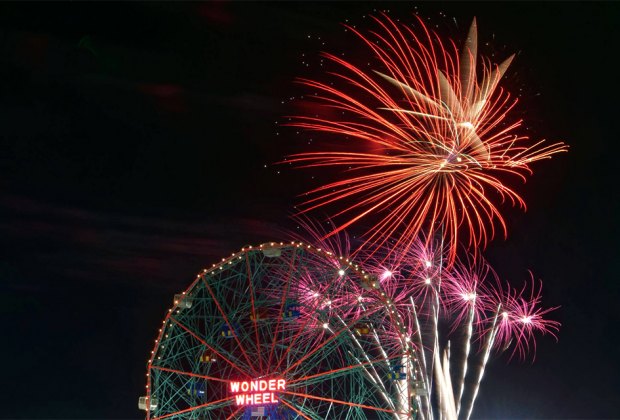 Double the fun with rides and fireworks at Coney Island. Photo courtesy of Coney Island
Friday, August 2 While away the day on the sand at Coney Island and claim your spot early for the Friday night fireworks!
Saturday, August 3 Head to Prospect Park for the BRIC Celebrate Brooklyn Festival which features music and movies tonight with a showing of Crouching Tiger Hidden Dragon.
Sunday, August 4 Catch one of our favorite annual festivals when the Hong Kong Dragon Boats take over Flushing Meadows Corona Park.
Monday, August 5 Catch funnyman Will Ferrell on the big screen as part of the Bryant Park Film Festival with Anchorman playing tonight.
Tuesday, August 6 Get your game on with a basketball clinic in Brooklyn Bridge Park.
Wednesday, August 7 Highland Park is the setting for a classic puppet show from the Hudson Vagabond Puppets who perform Caps for Sale and Three Billy Goats Gruff.
Thursday, August 8 Catch the stars of the Great White Way during Broadway in Bryant Park's lunchtime performance series.
Friday, August 9 Join a marine biologist and expert anglers to learn how to fish during this catch-and-release clinic at Brooklyn Bridge Park.
Saturday, August 10 Experience the magic of ... magic as Tyler Schwartz puts on a show at Innovation Alley.
Sunday, August 11 Pack your dancing shoes and head to Robert F. Wagner Park for the first day of the Battery Dance Festival.
Monday, August 12 Be the star of your own workout with a Broadway-inspired sweat session in Brooklyn Bridge Park.
Tuesday, August 13 Enjoy Tot Time Tuesdays at Clay Pit Ponds State Park. The fun begins indoors with storytime and concludes with a short hike.
Wednesday, August 14 Head to the King Manor Museum in Rufus King Park for an outdoor cooking workshop where kids craft Dutch Oven doughnuts.
Thursday, August 15 Prove to your teen that you were once cool and take them to the Central Park Bandshell for a KISS tribute show from KISS ARMY.
Friday, August 16 Register for Kids Bowl Free at Queens' Astoria Bowl and Jib Lanes or Brooklyn's Shell Lanes. Children younger than 16 can play up to two free games per day (times vary and shoe rental is not included).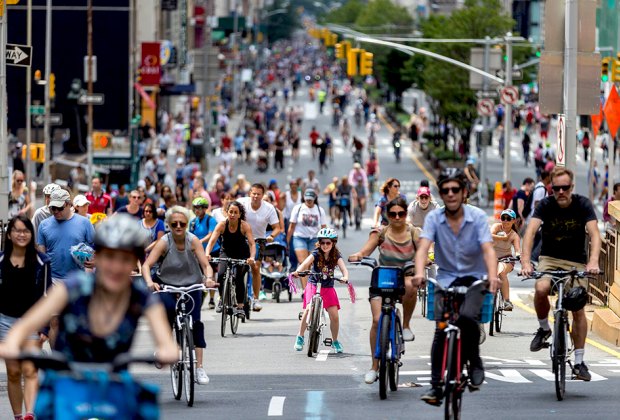 Celebrate summertime at Summer Streets. Photo courtesy of NYDOT
Saturday, August 17 Walk, bike, or blade along the Summer Streets route and enjoy all the free fun, classes, giveaways, and eats at each rest stop along the way.
Sunday, August 18 Groove to the sounds of the Despers USA Steel Orchestra at the Harlem Meer Performance Festival on the lovely northeastern edge of Central Park.
Monday, August 19 Catch a cool river breeze while exploring Manhattan's newest neighborhood.
Tuesday, August 20 Get soaked at one of our favorite sprinklers or splashpads.
Wednesday, August 21 Enjoy all the fun the Bronx Zoo offers with pay-what-you-wish general admission today (and every Wednesday year-round!)
Thursday, August 22 Hang with Hudson River Kids in Chelsea today for a storytime and musical performance. Afterward check out the nearby, recently remodeled Chelsea Waterside Playground.
Friday, August 23 Catch Spider-Man: Into the Spider-Verse on the big screen at the Narrows Botanical Garden in Bay Ridge.
Saturday, August 24 Enjoy harbor views and free art-making with the Children's Museum of the Arts on Governors Island.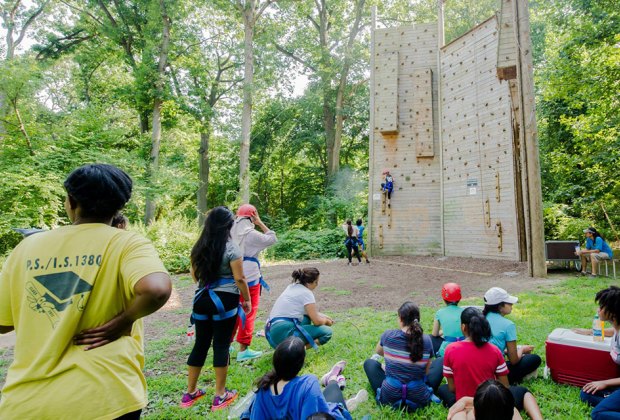 Challenge yourself at the Alley Pond Adventure Course. Photo courtesy of NYC Parks
Sunday, August 25 Conquer your fear of heights on the Alley Pond Adventure Course in Queens.
Monday, August 26 Introduce the kids to the opera with this hour-long performance of Carmen in Bryant Park.
Tuesday, August 27 Explore the industrial park-turned-hipster haven Industry City where there's always something new to taste, do, or see!
Wednesday, August 28 Enjoy a Broadway-style dance performance at the Staten Island Children's Museum's Boogie Woogie Wednesdays, which are included in museum admission.

Check out the newish spray park at Domino Park in Williamsburg. Photo by Ros Muggeridge
Thursday, August 29 Explore the sugar-factory inspired playground at Domino Park.
Friday, August 30 Explore what lurks beneath the surface of the East River with a seining workshop in Brooklyn Bridge Park.
Saturday, August 31 Governors Island plays host to a pair of fun family festivals today with the 10th annual Unicycle Festival and the new-to-the-scene Japan Performing Arts Festival.
See free June & July events | See free September events | See free anytime events
Check out our Summer Fun Guide and our Events Calendar for additional suggestions.