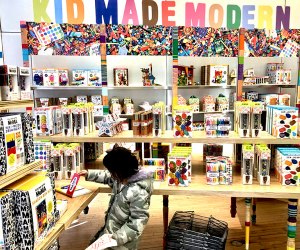 40 Fun Things to Do on a Rainy Day in NYC
When it's raining outside, it's time to bring the fun indoors. Our list of 40 rainy day activities will brighten up even the dreariest day, with NYC's coolest indoor play spaces, the most kid-friendly museums to explore, and some delicious places to grab a bite. Of course, if you'd rather stay cozy at home, we've got you covered there, too, with plenty of creative indoor boredom busters.
For even more things to do, check out our Events Calendar, which is filled with plenty of fun activities—indoors and out—for every day of the week.
Sign up for our FREE newsletters to get posts like this delivered to your inbox.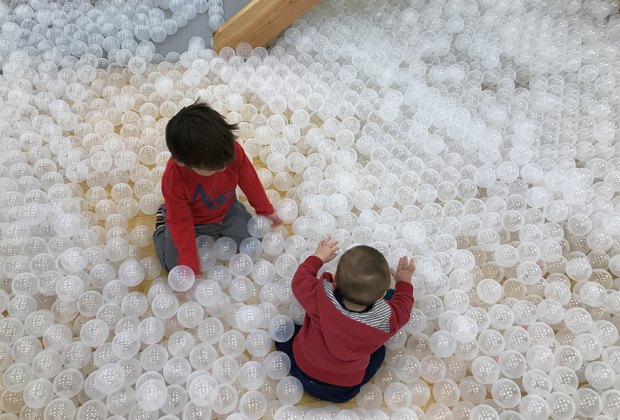 Kids will love mixing it up in the ball pit at Good Day Play Cafe. Photo by Louise Finnell

1. Visit a play café in Brooklyn or Queens. Your kids will have fun and you can catch a breath, enjoy a latte, and catch up with friends (or emails).
2. Challenge your kids to a friendly game or two of bowling, bumpers optional, at one of the many kid-friendly bowling spots throughout the five boroughs.
RELATED: 50 Indoor Crafts and Activities to Do with Kids on a Rainy Day

There's so much to do at the New York Hall of Science, you'll want the rain to last the whole day. Photo courtesy of NYSCI
3. Head to the New York Hall of Science in Queens, where there are lots of hands-on activities, daily science demonstrations, and a 3D theater. This is a great option for when the forecast calls for nonstop rain, since there's so much to do here you'll have a hard time packing it all into one day.
4. If you're looking to roam a bit further afield, head to one of these indoor water parks that are no more than two hours from NYC.
5. Instead of bouncing off the walls of your living room, let your kids work off some of their energy at one of NYC's indoor bounce houses or trampoline spots.
6. Reading is a great way to spend a rainy afternoon. Head to your local library to check out some books. And don't forget about other perks available from libraries, including free museum passes.
RELATED: The Best Children's Museums in NYC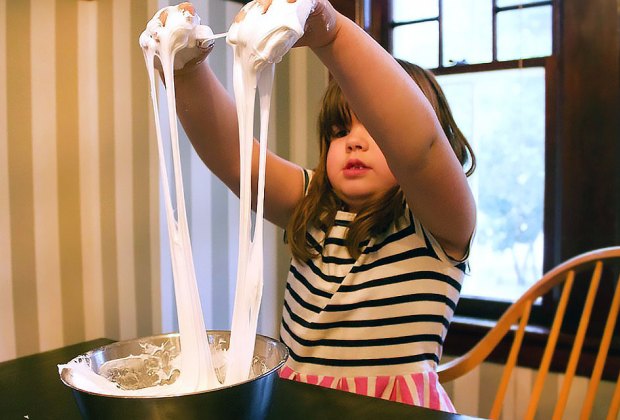 When boredom strikes, mix up some slime. Photo by Ally Noel
7. Whip up a batch of slime for some gooey fun in the kitchen.
8. Why stop there? Turn your kitchen into a laboratory for the day, using some of these easy science experiments using everyday household stuff.
9. Go for a swim…indoors of course, at one of NYC's family-friendly indoor pools.
10. Head to one of NYC's many candy shops where your kids (and you) can sample something sweet.
11. Break out some board games and have a game-playing marathon. Or for more active inside fun, get the whole family moving by playing freeze dance or hallway bowling—or try one of the other activities on our action-packed list of indoor games to play with kids (even in a small apartment!).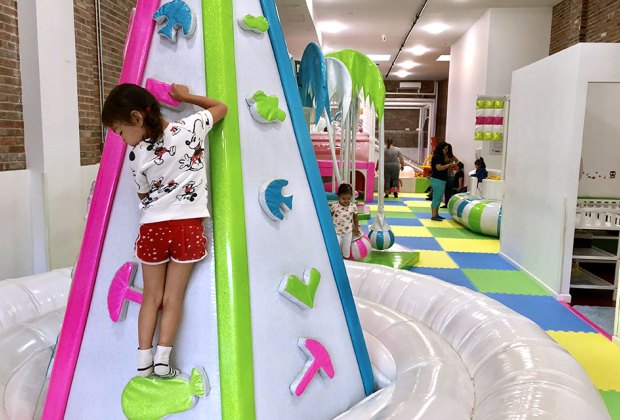 Climb a tower at Mini Land in LIC. Photo by Janet Bloom
12. Jump around in the ball pit and the balloon room at Mini Land, one of Long Island City's newest indoor play spaces.
13. Stay home and set up your own indoor obstacle course.
14. Mix up a batch of play dough and have fun creating.
15. Head to Ikea in Red Hook, where you can combine a day of shopping with lunch at the store's family-friendly restaurant. Let your kids enjoy the ball pit and awesome "tree house" hang out space at Smaland, the store's FREE supervised play area, while you shop.
16. So many museums, so little time. Head to one of the big names on Museum Mile on the Upper East Side, or hit up somewhere smaller like MoMath or the Museum of Chinese in America where kids have lots to explore and grownups have less to navigate.
RELATED: Free Times to Visit NYC Museums, Gardens, and Zoos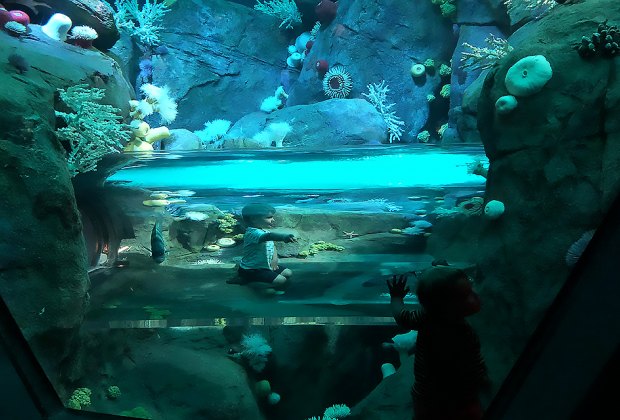 Get up close to sea life at Ocean Wonders: Sharks! Photo by Louise Finnell
17. Take the train to Coney Island to the New York Aquarium, where you'll be able to view the awesome Ocean's Wonders: Sharks! exhibit.
18. Take the chill off with a pot of tea and some tasty treats at one of the three locations of Alice's Tea Cup. Or host your own at-home tea party, complete with fancy hats and homemade tea sandwiches.
19. Climb aboard at the New York Transit Museum and explore the vintage fleet of subway cars, ride the life-size city bus, and check out one of their interactive workshops (which usually take place on the weekends).
20. Head over to the Laser Bounce indoor amusement park and arcade in Queens where kids can play video games, bounce, play laser tag, or try out VR.
21. You scream, I scream, we all scream for ice cream! Make a stop at Van Leeuwen in the South Street Seaport for some cool ice cream and we guarantee the screaming will stop. Bonus: they have vegan flavors as well!
22. Explore Brooklyn Bridge Park's hands-on indoor attractions–the Environmental Education Center and SPARK by the Brooklyn Children's Museum.
RELATED: Find Free Classes for Kids at NYC Stores and Public Spaces

Explore the new ColorLab studio at Brooklyn Children's Museum. Photo by Carolina Cabanillas
23. Nurture your budding artists. Bring them to the Brooklyn Children's Museum's new ColorLab studio for an afternoon of creativity where kids can create collages, sculptures, drawings, and loads of other artworks.
24. Take in a matinee and take care of a meal (or a snack) at the same time, at one of the city's dine-in movie theaters.
25. At these year-round indoor ice skating rinks in NYC, kids get to take a spin on the ice no matter what the weather outside looks like. Prefer to skate on dry land? Enjoy a roller rink instead.

Surround yourself with medieval unicorn tapestries at the Met Cloisters. Photo by Suzanne Cort
26. Gawk at the unicorn tapestries at the Met Cloisters, which boasts a trove of Medieval treasures to enchant kids of all ages.
27. Go out to eat. Whether it's for breakfast, lunch, or dinner, there's no shortage of family-friendly restaurants throughout the city.
28. Grab the umbrellas and explore the indoor attractions of a new-to-you family-friendly neighborhood like Astoria, Queens which has no shortage of fun indoor places for kids.
RELATED: 100 Things to Do With Kids in NYC Before They Grow Up

Go on a quest for ancient treasure at Ripley's Relic in Times Square. Photo by Stuart Ramson/AP Images
29. Play tourist and head to have your imagination sparked at Ripley's Believe it Or Not in Times Square.
30. Visit Industry City in Brooklyn for roller skating, family dance parties, a game room, a food hall, Japan Village and more.
RELATED: Cooking Classes for NYC Kids

Do you have what it takes to be be a spy? Test your skills at Spyscape. Photo courtesy of the museum
31. Go undercover and explore the daring work of intelligence agencies and spies worldwide at the Spyscape Museum in Midtown.
32. Head to the Instagram-ready Museum of Illusions, where every visit lets you experience the impossible.
33. Take a step back in time at one of NYC's historic houses. Many offer hands-on activities and kid-friendly tours.
34. Go easy on the wallet and find an indoor spot where kids can play for FREE.
35. Who says you have to stay out of the rain? Embrace the raindrops, open the umbrellas, and go puddle jumping.
36. See the stunning National Geographic Encounter Ocean Odyssey, an immersive experience that brings an ocean right into the center of Times Square.
37. Explore one of our favorite only-in-NYC stores for trains, toys, books, fossils, and more.
38. Support your favorite local independent bookstore!
39. Visit the Staten Island Children's Museum where there are several hands-on experiences for children ages one and up on the grounds of Snug Harbor.
40. While you're in the forgotten borough check out the Staten Island Zoo. Many of the exhibits there are indoors including the aquarium, bird conservatory and reptile wing.