Visiting the New Harry Potter Exhibition in Midtown: Tips for a Magical Trip with Kids
5/19/23
- By
Jody Mercier
Harry Potter: The Exhibition is popping up in Herald Square and promises to be one of the it tickets of the summer in New York City. Wizard-loving muggles who are fans of the franchise would be wise to snap up tickets now because this touring exhibition is only in NYC through mid-October.
Grab your wand and your house robes and read on for a first look at this new-to-NYC exhibition, which invites visitors on an interactive journey throughout the Wizarding World with cool immersive experiences and top-notch technology that leaves you feeling like you're smack dab in the middle of Hogwarts Castle. Want more Harry Potter fun? Don't forget to check out our take on the magical Harry Potter New York just a few blocks south.
Subscribe to our newsletters to get stories like this delivered directly to your inbox.
Exploring NYC's Harry Potter: The Exhibition
Harry Potter: The Exhibition lands in NYC following runs at Philadelphia's Franklin Institute and in Atlanta, Georgia. It's produced by Imagine Exhibitions, Inc. in partnership with Warner Bros., so bookworms take note: Its displays and storylines are centered more on the franchise's movies than the books, and superfans who have read and watched all things Harry Potter—like my 13-year-old—will likely get the most out of the experience. There were things she noticed that I glossed over as a book reader only, but overall we enjoyed immersing ourselves in the Wizarding World for a couple of hours.
Interactive Elements at the Harry Potter Exhibition
The coolest part of Harry Potter: The Exhibition, was, undoubtedly the interactive elements. Guests are given a bracelet upon entry that must be registered with their name, chosen house (don't worry if everyone picks Gryffindor; we won't judge!), plus your wand and patronus of choice.
RELATED: Top Attractions in NYC: Best Things To See and Do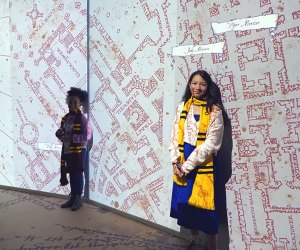 Seeing our names on the Maruader's Map was just a clue to the magic in store at Harry Potter: The Exhibition.
As you move through the experience, this bracelet unlocks some cool experiences. My girls were wowed when they scanned it at the first kiosk as we stood in a room surrounded by the Maurader's Map—and suddenly could see ourselves on the map.
With each scan and task accomplished—some more interactive than others—guests are rewarded with token points for their chosen house. You can connect your bracelet to an email address to receive a snapshot of your visit as a keepsake.
While the interactive elements were the highlight for my girls, they were bummed to find out that you can scan your bracelet only once at each experience. If you tried to, say, brew a second potion the screen would pop up with a message that you've already completed this experience and prompt you to move on. While it makes sense from a keep-the-lines-moving perspective, there were times when they felt like they messed up and wanted a re-do that they weren't allowed. So, choose wisely and perhaps, assist small kids in completing their challenges!
RELATED: The Wizarding World of Harry Potter: Tips for a Magical Trip

Inside Hagrid's Hut, everything is giant-sized.
More Highlights of Harry Potter: The Exhibition
There are tons of props, artifacts, and costumes from across the Wizarding World nestled in Harry Potter: The Exhibition. All of these make for great photo ops, so be sure to come with a charged phone to capture it all! There's also a green screen group photo when you enter, and documenting it all will save you a few bucks upon exit!
The Hogwarts Houses Gallery is a stunning sight with stained glass windows paying homage to each of the four houses. Speaking of houses, we also loved wandering through Hagrid's larger-than-life house, posing for photos in his huge armchair and giggling at the site of his umbrella-shaped wand on display.
RELATED: Step Inside the Harry Potter Store in the Flatiron District

Beyond the interactive elements, there are museum-like displays of props from memorable movie scenes in the franchise.
How Long Does the Harry Potter Exhibition Take?
With my two daughters in tow, we spent about an hour and a half exploring the six different exhibition halls within Harry Potter: The Exhibition and I'd expect visitors on a crowded day should allot at least that amount of time, if not a little more, to enjoy all it has to offer. Some galleries are more interactive than others—and the ones that let kids mix potions, wield wands, and more are likely to take more time to explore.
Where Is Harry Potter: The Exhibition
Harry Potter: The Exhibition is located on the corner of 34th and Broadway in Midtown Manhattan, making it easily accessible via subway or train for out-of-towners. The entrance is just east of the avenue, on the south side of 34th Street.
RELATED: AMNH's Gilder Center Opens Bringing New Kid-Friendly Exhibits

Will you dare to re-pot a mandrake during your visit—and endure its scream?
What Ages Is Harry Potter: The Exhibition Best For?
Officially, the recommended age is 5+. I wouldn't bring a kid that young who wasn't familiar with the franchise. So much of the fun comes with familiarity. Even my 9-year-old, who is still plowing through the books, and hasn't seen all the movies, had some of it go over her head.
Children under age 3 do enter for FREE, but no strollers are allowed. I'd venture to guess that on a busy day, there will be some waiting around for all of the interactive elements and it might be hard to keep little ones entertained and on their feet.
RELATED: Best Broadway Shows for Kids and Families

Cameras—and wands—at the ready for the fun Harry Potter: The Exhibition.
Know Before You Go to the Harry Potter Exhibition
Harry Potter: The Exhibition is now open and runs through Sunday, October 15, 2023.
Timed-entry tickets are required and start at $25 for kids and $29 for adults. If you can't commit to a time, you can purchase a Flex ticket, but it comes at double the price!
There is no food or drink allowed inside the exhibition, so fuel before you visit.
As has become standard at attractions like this, you'll exit through the gift shop. There is plenty of cool Wizarding World apparel, tchotchkes, and more, so it's best to set expectations about souvenirs before you get here. Ditto about the photo-op, which isn't included in your admission price and can tack on an additional $20-50 to your visit depending on what you purchase.
All photos by author
t Click Here to Sign Up!