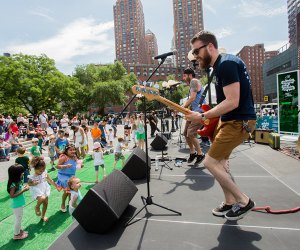 Free Things to Do with NYC Kids All Summer 2019
Free Things to Do Anytime in Summer 2019
See free June & July events | See free August events | See free September events
Many of the events we highlighted for June, July, August, and September occur on multiple dates, but you can enjoy the activities below all summer (although not necessarily every single day).
1. See NYC from an elevated angle as you stroll the High Line.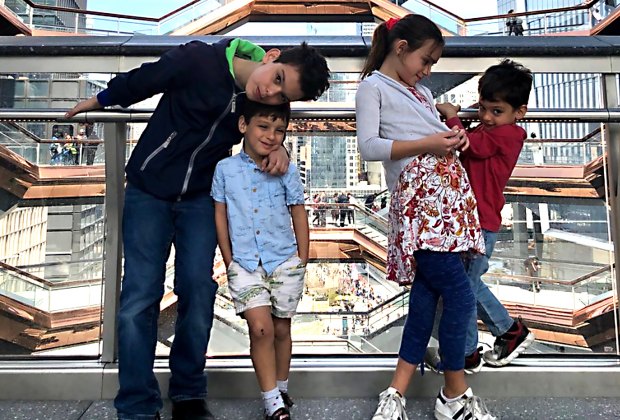 Climb to the top of the Vessel in Hudson Yards. Photo by Sara Marentette
2. Step off at the northern end and climb the steps to the top of The Vessel.
3. Ride the Staten Island Ferry for that great view of the Statue of Liberty, then stay awhile and explore.
4. Visit activity-packed Randall's Island to picnic or play ball.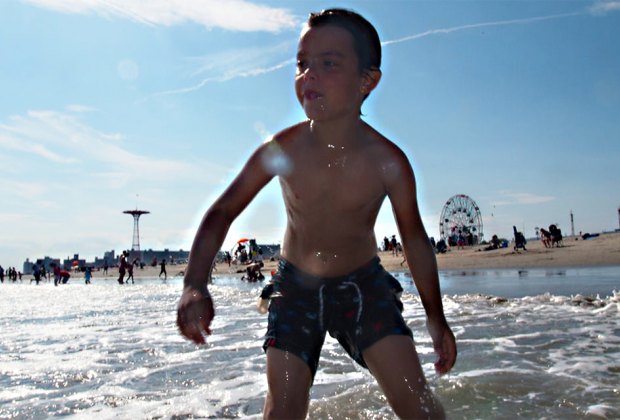 Hit the beach and the rides at Coney Island. Photo by Matt Nighswander
5. Frolic at Coney Island's beach and boardwalk.
6. Enjoy face time with live critters and other eco-fun at Brooklyn Bridge Park's Environmental Education Center.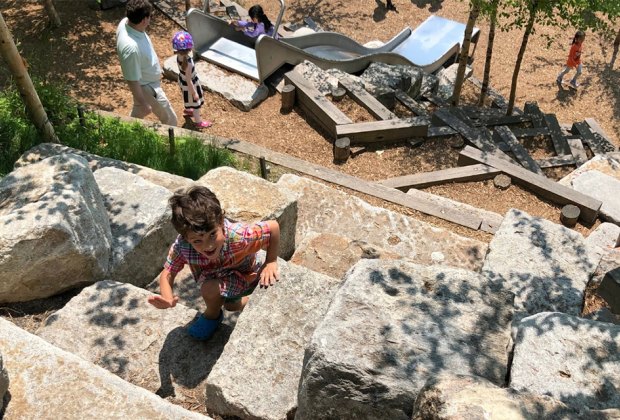 Climb to the top of Slide Hill then zoom down the super high slides. Photo by Matt Nighswander
7. Explore all of the attractions on Governors Island, including Slide Hill, the amazing adventure playground, Hammock Grove, a play lawn, climbing structures, and more. The isle is open daily through October 31.
8. Check out one of NYC's great museums at no cost during free visiting hours.
9. Catch a movie under the stars—there are no-cost outdoor family flicks almost every day of the week throughout the season.
10. Go kayaking, canoeing, or rowing on one of NYC's rivers or ponds.
11. Chill out with books, movies, and games at the New York Public Library's Children's Center at 42nd Street.
12. Enjoy some FREE summer sports, courtesy of the City Parks Foundation.
13. Take advantage of the industrial AC at one of these 20 indoor places for kids (and adults!) to play.
14. Register for learn-to-swim classes at your local pool.
15. Read your way around the boroughs with our roundup of FREE storytime spots, ranging from libraries, to stores, museums, and more.
16. Register for FREE camping in local parks, sponsored by the Urban Park Rangers. Programs include gear, a campfire and s'mores, but check the calendar to ensure you don't miss the lottery registration period.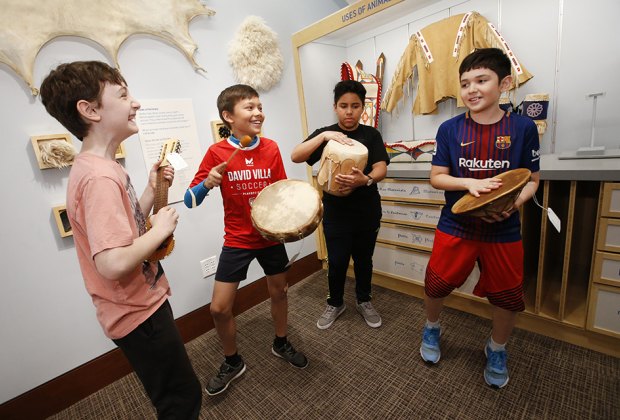 Make music on historical native instruments. AP Images/Jason DeCrow for The National Museum of the American Indian
17. Visit the always-free National Museum of the American Indian.
18. Enjoy free fishing at various Hudson River Park piers and at Central Park's Harlem Meer. FREE
19. Splash around at a cool water playground.
20. Catch free fireworks shows in all five boroughs.
21. Go hiking in the Staten Island Greenbelt.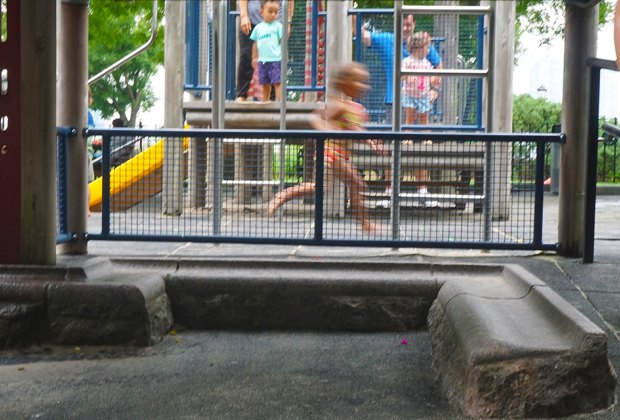 Run free at Rockefeller Playground or any one of NYC's many amazing playgrounds. Photo by Jody Mercier

22. Explore one of our favorite NYC playgrounds.
23. Swim at one of NYC's many fine public pools, which stay open through September 8.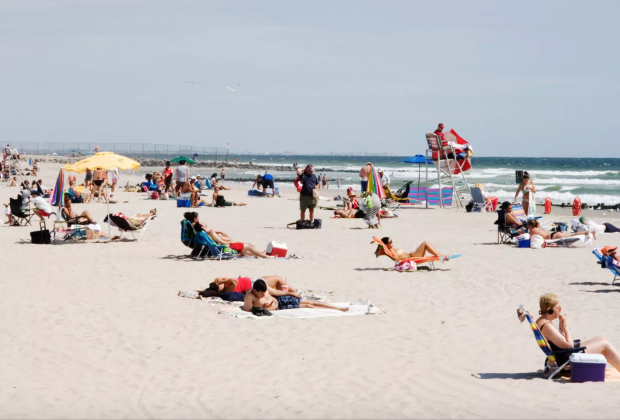 The gorgeous Jacob Riis Beach is accessible by public transportation. Photo by Julienne Schaer for NYCgo

24. Hit a NYC beach. All you need is a MetroCard (and your beach gear, of course).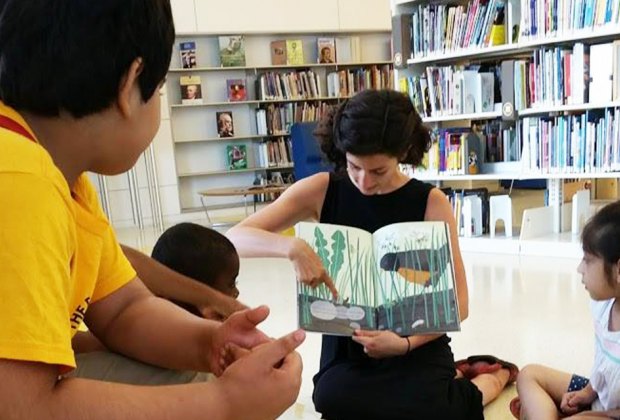 Cool down with story time at the Children's Library Discovery Center. Photo courtesy of the library
25. Explore the Children's Library Discovery Center at the Queens Library's Central Branch in Jamaica.
26. Go bird-watching in Central Park's North Woods. Don't forget to pick up your complimentary Discovery Kit at the Dana Discovery Center.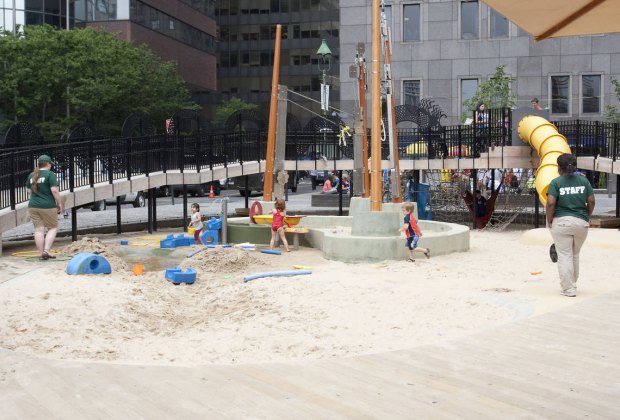 Sand, water and blue building blocks = summer playground perfection. Photo by Jody Mercier

27. Head to South Street Seaport's amazing Imagination Playground or one of the city's other destination playgrounds.
28. Get active with a no-cost field day kit courtesy of Central Park's North Meadow Recreation Center.
29. Explore funky outdoor art at Queens' Socrates Sculpture Park.
30. Play chess or checkers in Central Park.
31. Try one of these 100-plus classic summer play ideas like catching fireflies and telling ghost stories.
32. Visit Castle Clinton or one of the other intriguing attractions in Battery Park.
33. Go on a DIY tour of a new-to-you area with our in-depth Kids Neighborhood Guides. We have lists of the top things to do with kids in many neighborhoods in uptown and downtown Manhattan, Brooklyn, the Bronx, Queens, and Staten Island.

∫34. Play tourist in your hometown with our NYC Kids Visitors Guide.
See free June & July events | See free August events | See free September events
Check out our Summer Fun Guide and Events Calendar for additional suggestions.
A version of this story was published in 2017; it is updated annually.