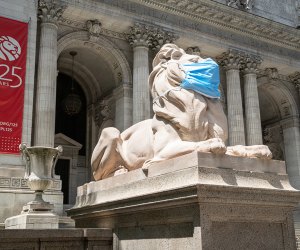 What's Open Now in NYC For Kids: Museums, Zoos, Play Spaces, and More
New York City is on the brink of Phase 4 of the state's reopening plan, and news of reopenings has become commonplace. Sure, there are plenty of rules to the new normal we're all living in, and it's past time to stock up on kid-friendly masks, but we're moving forward, reminded daily of how far we've come in flattening the curve.
City families have rejoiced at the reopening of our favorite playgrounds and been pleasantly surprised to hear swimming pools are reopening (albeit in a limited capacity), and beaches are already welcoming visitors. While everyone awaits a final word on exactly what schools will look like come September, there's plenty to look forward to, as some of our favorite museums, play spaces, tourist attractions, and more are humming back to life, ready to welcome you.
Read on for details on some of our favorite attractions and their reopening plans. Bookmark this page; we'll update it as more spots announce their reopening dates.