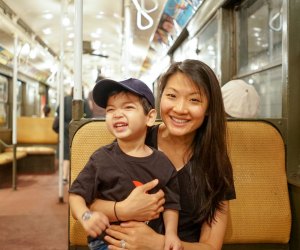 50 Cool Things to Do Indoors With NYC Kids on Hot Summer Days
If you're looking to escape the summer heat, even just for a few hours during an especially steamy afternoon, check out one of these 50 activities to help you and your kiddos chill. We're all for loading up on the SPF and heading outdoors when the sun is shining, but once the humidity and heat start to get the best of everyone, it's time to seek out indoor summer activities with air conditioning. So after you've hit every playground, zoo, and water feature in town, here's where to take the tribe indoors for some cool fun.
1. Catch a film at one of NYC's cool (literally!) dine-in theaters.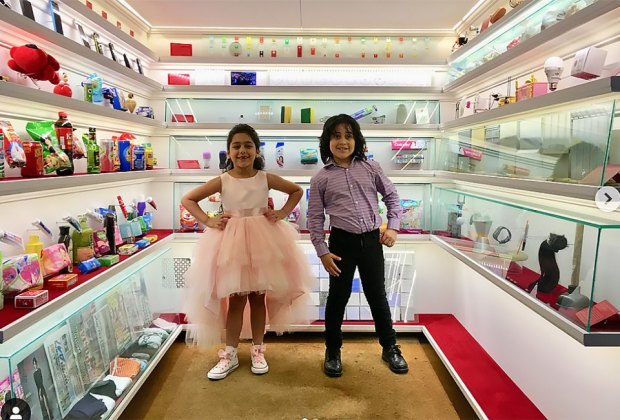 The exhibits are always changing at Mmuseumm, a quirky spot located in an elevator shaft on a narrow Chinatown street. Photo courtesy of the museum
2. Pack in some culture by touring an off-the-beaten-path kid-friendly museum.
3. Enjoy the AC while letting everyone get their energy out at an indoor play space.
RELATED: Playgrounds With Shade: Where to Play It Cool This Summer in NYC

Enjoy some greenery in the AC at the atrium at Brookfield Place. Photo by Janet Bloom
4. Enjoy some greenery without the heat in one of the city's lush indoor gardens.
5. Get a hole in one at a pirate-themed indoor miniature-golf destination.
6. Let the kids go wild in one of these free-play destination stores.
7. Jump around at one of these popular bounce house spots.
8. Bowl a climate-controlled frame or two at a family-friendly bowling alley.
9. Get your old-school game on at one of these retro arcades around the city.
10. Take your little ones for an hour of play while you get your caffeine fix at a play cafe.
11. Splurge on a special treat (or just spend some time browsing) at one of the city's fun and offbeat stores.
RELATED: 50 Fun Things to Do to Cool Off This Summer in NYC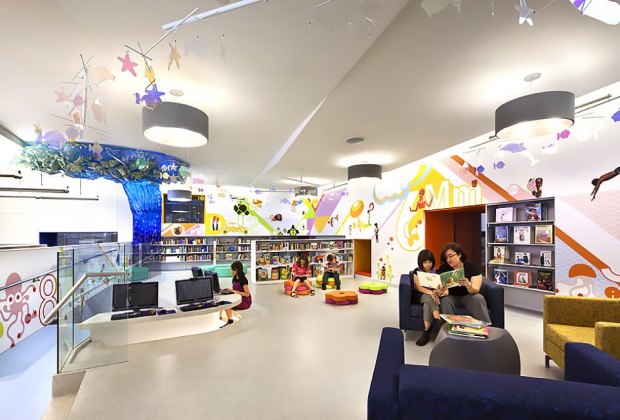 Curl up with a book in the cool (in both senses of the word) Children's Library Discovery Center at the Queens Library. Photo courtesy of the library
12. Cozy up with a good book or catch a storytime at one of these city libraries known for their extra-special children's sections.
13. Catch an always entertaining (and less pricey) off-broadway show for kids.
14. Entertain the kids without screens by taking them to a puppet show.
15. Beat summer brain drain at one of our favorite science, math, and STEM museums for kids in NYC.
16. Sharpen your problem-solving skills at one of these kid-friendly escape rooms.
17. Reach new heights at one of these indoor rock-climbing facilities that are popping up across the five boroughs.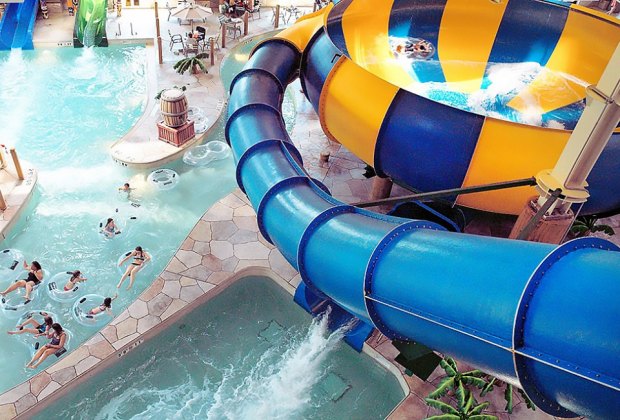 Instead of driving to the beach, drive to an indoor water park for splashing without the sunscreen. Photo courtesy of Great Wolf Lodge Resort
18. If you're willing to go outside the five boroughs, head to one of these indoor water parks that are no more than two hours from NYC.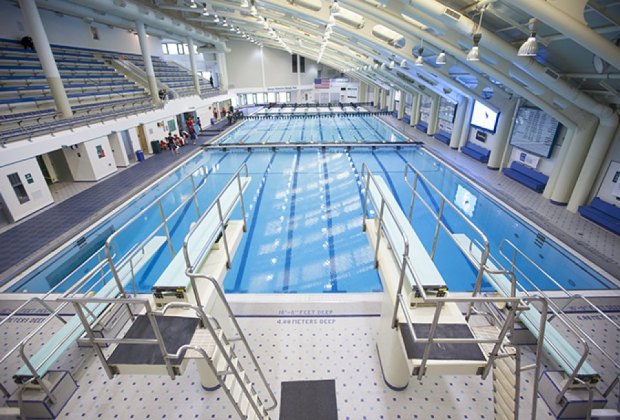 Another way to swim without the sunscreen this summer: NYC's indoor pools. Photo courtesy of Asphalt Green
19. Take a dip without having to slather on gallons of sunscreen at one of NYC's family-friendly indoor pools.
20. Hit one of NYC's best children's museums.
21. While the Vessel may be the big outdoor attraction, most of the kid-friendly things to do at the new Hudson Yards are indoors, including interactive art, tasty food, Dylan's Candy Bar, and the Micro Kickboard Scooter store (complete with scooter track).
22. Share a pot of tea and some tasty treats at one of the two locations of Alice's Tea Cup.
23. Climb aboard at the New York Transit Museum and explore the vintage fleet of subway cars, ride the life-size city bus, and check out one of their interactive workshops (which usually take place on the weekends).
24. Explore Brooklyn Bridge Park's hands-on indoor attractions–the Environmental Education Center and SPARK by the Brooklyn Children's Museum.
25. Get creative as a family at Brooklyn Children's Museum's ColorLab studio where kids can create collages, sculptures, drawings, and loads of other artworks.
26. Introduce kids to the old-school thrill of roller skating rinks.
27. Share a new dining experience. There's no shortage of family-friendly restaurants throughout the city.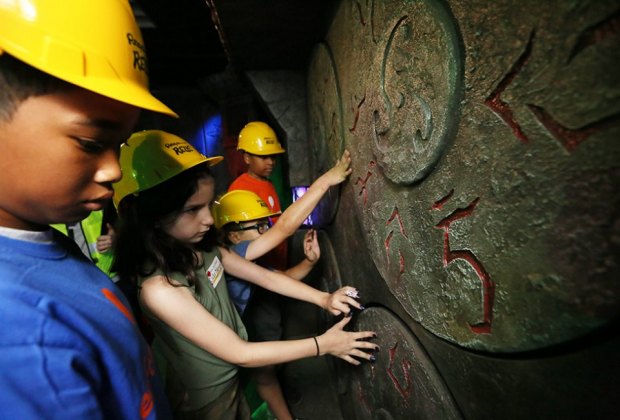 Beat the clock in the escape room puzzle at Ripley's Believe It Or Not. Photo by Stuart Ramson/AP Images
28. Play tourist and head to have your imagination sparked at Ripley's Believe It Or Not in Times Square.
29. Take a cooking class with your little sous-chef.
30. Go undercover and explore the work of intelligence agencies and spies worldwide at the Spyscape Museum in Midtown.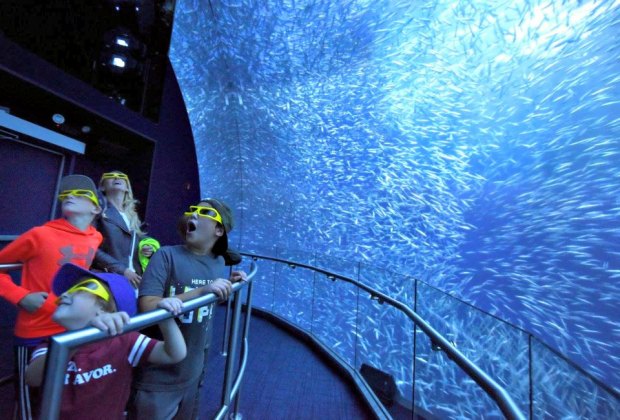 Feel like you've stepped into a cool underwater world at National Geographic Encounter Ocean Odyssey
31. See the stunning National Geographic Encounter Ocean Odyssey, an immersive experience that brings an ocean right into the center of Times Square.
32. Get ready to feel like a giant at Gulliver's Gate, an elaborate miniature world.
33. Take an art class at MoMA.
34. Pose with your favorite wax celebrity at Madame Tussauds.
35. Play vintage video games at the Museum of the Moving Image before getting a Muppets fix at its Jim Henson exhibit.
36. Use your imagination during no-cost storytimes at NYC's best indie bookstores.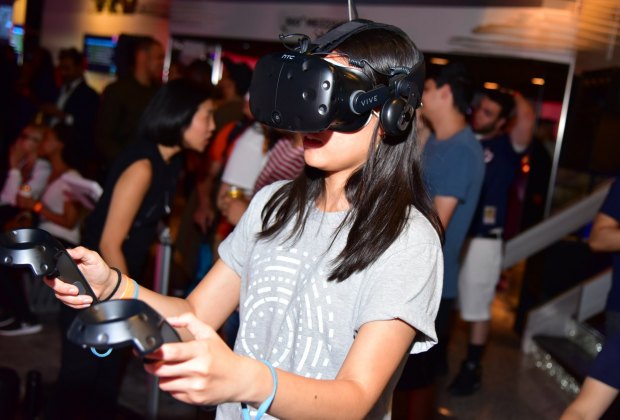 Enter a virtual (air-conditioned) reality at VR World
37. Get your game on at a virtual reality spot, like VR World in Midtown Manhattan.
38. Expand your culinary horizons with a trip to one of NYC's best indoor food courts.
39. Kids who love strategy and board games can easily spend a whole summer afternoon at NYC's best gaming spots for kids.
40. Head to Grand Central sometime when you're not dashing for a train and explore all the family-friendly fun within.
41. Space out this summer at the New York Hall of Science.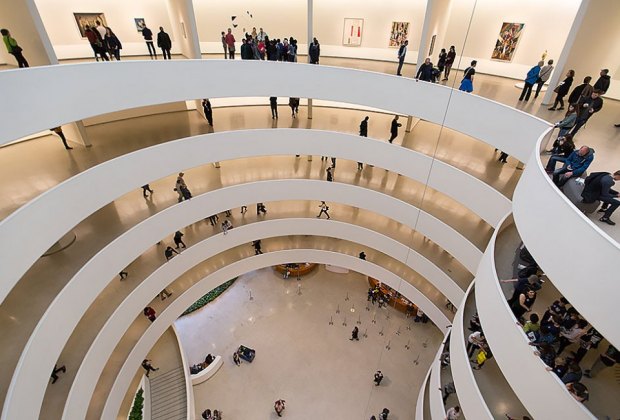 The Guggenheim Museum is one of 47 New York City institutions that participate in the Culture Pass Program. Photo by Moody Man via Flickr
42. Use your library card to get FREE admission to one of 47 NYC museums and galleries, including big-name museums like The Guggenheim and The Whitney as well as several of our favorite kid-friendly spots like the Brooklyn Children's Museum, the Children's Museum of the Arts, and the New York Transit Museum.
43. Enjoy some drop-in maker fun at one of these NYC maker spaces.
44. Pick up a chilly scoop at our favorite ice cream shops.
45. Get up close and personal with prehistoric creatures at the American Museum of Natural History, including the awesome interactive T. Rex exhibit.
46. Catch one of the ultra-cool, kid-friendly theater performances playing this summer before their final curtain calls.
47. Visit Lady Liberty's new museum dedicated to her history.
48. Participate in the story at the immersive kids' theater experience Pip's Island.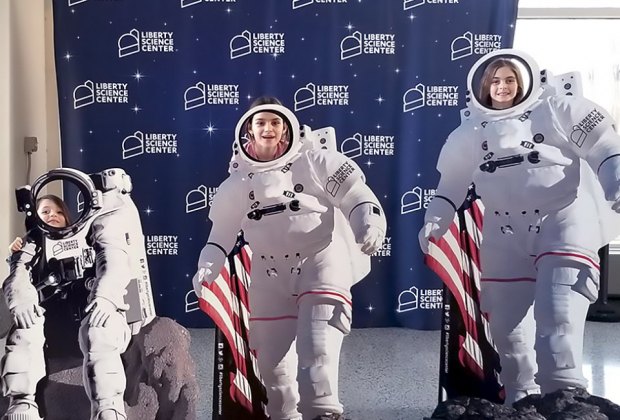 Be an astronaut at the Liberty Science Center. Photo by Karen Turner
49. Plan a visit across the Hudson to the Liberty Science Center and take in the nation's largest Imax Dome Theater.
50. Snuggle with the kittens at NYC's cat cafes.