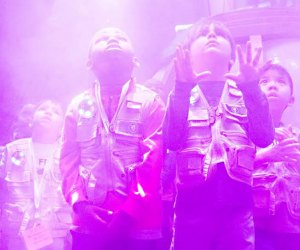 Pip's Island Returns to NYC This Spring With New Immersive Adventure
The holiday season is winding down and many a little one may be wondering, "what next?" Well, parents, fear not. With the return of the engaging, interactive, and empowering Pip's Island, there is plenty for kids to look forward to. My daughters and I experienced this immersive theatrical adventure back in 2016, so I was delighted to learn of its return. Read on for details on the all-new adventure coming to Times Square, with tickets on sale now.
The new Pip's Island experience will feature familiar characters, including Pip and his friends and the villainous Joules Volter, in an all-new adventure. This show is different from other theatrical experiences in that it is fully immersive, meaning no stage and no seats. Instead, guests are guided through a series of rooms, each presenting a different part of the journey through the mystical Pip's Island. Led by Pip and his friends, Finn and Pebble, young explorers and their "assistant explorers"—parents and caregivers—journey to Pip's Island to help defeat Joules Volter and save the island.
New for this incarnation of Pip's Island: a custom-built space all its own in Times Square, with state-of-the-art technology to create interactive moments and animated scenes in whimsical settings that kids will love. Check out our review of Pip's Island for a sense of what's in store.
Performances for Pip's Island begin Monday, March 11, with many time slots already sold out. Each performance lasts about an hour with performances Monday, Wednesday, and Thursday from 2-7pm and Friday-Sunday from 9am-7pm. There are no Tuesday performances. Tickets are $49 per person online and $59 at the box office. Every explorer (adult and child) needs a ticket for entry.

Pip's Island is located at 400 West 42nd Street (at 9th Avenue) in Times Square.