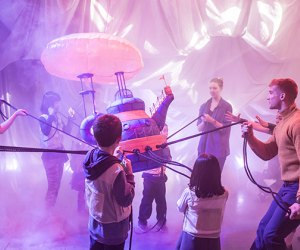 Pip's Island Leads Kids on Captivating Theatrical Adventure
Are the kids ready for an adventure? Or at least an interactive theater experience that doesn't require sitting? Enter Pip's Island—a new live theater production for kids that just opened in NYC. You don't even have to go to Midtown! It's playing in Chelsea all holiday season long.
Although my NYC family has been to (and even acted in) plenty of children's theater, I can easily say that this show was truly unlike any previous performance we've been to.
There is no stage; there are no seats. Instead, the production is crafted as more of a full-scale game of make-believe. Actors lead the kids on an hourlong quest, literally moving through rooms, and encourage them to help solve a mystery by locating and rescuing Amperes Wattson, leader of this magical, faraway world they are now inhabiting (Pip's Island), from an ambitious villain, Joules Volter.
Read on for our full review.
Upon arrival, guests to Pip's Island are ushered through the main floor to a gathering point where kids are given special explorer vests as they wait for the adventure to begin. The audience is given a very brief overview of their mission (kids are invited to the front of the group and "assistant explorers"—parents and caregivers—are asked to gather behind them).
As the journey progresses, kids meet fellow adventurers (read: actors) Pip and his pals Pebble and Finn, as they move through five main rooms, dubbed "ranges," with high-tech, yet whimsical scenery, such as Cloud Island. The whole first room, for example, was set up like a workshop of sorts amid a forest. The kids watched as "rangers" frantically try to fix a monitor set to static. Suddenly the transmission clears and Amperes Wattson appears on screen to explain what has happened to him.
RELATED: Best Children's Theater This Holiday Season in NYC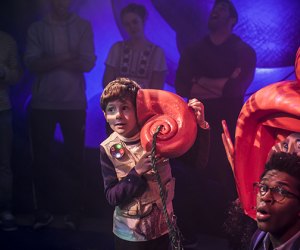 Listening for clues with Shelly's shell phone.
But as we mentioned, the kids don't just watch. They fully participate in the quest, helping to find, make, build, and carry items, as well as tackling puzzles in order to move to the next scene—all to help save Amperes Wattson. I don't want to give away too much, as not knowing what to expect is part of what makes it so special, but I will share a few highlights.
After the initial transmission from Amperes Wattson, audience members move through to the first range. Here kids help find objects from a spark ranger strewn about (a staff, ranger hat, megaphone) and once the spark ranger appears (by surprise), the kids hand him all his objects and gather around on the floor to listen to the instructions for saving Pip's Island. On Cloud Island, the kids helped make Pebble's Cloud Rover fly by grabbing ropes attached to it and pulling at the actors' commands. My 9-year-old also read a note from Finn, and another explorer was entrusted with safekeeping a special handbook needed to complete the expedition. Later, my daughter led a 'train' dance (think conga line) that Finn prompted.
RELATED: 12 Must-Do Holiday Events for NYC Kids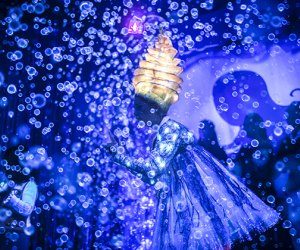 Thought bubbles overtake the Deep Sea Range with very funny princess at the center of it all.
Each room is completely unique, combining props, lighting, sound, live action, puppets, and animation to create the scene, and the show is not entirely scripted. The actors ad lib humorous commentary throughout, tailoring comments to kids' reactions while evoking giggles from parents with witty sidebars (Shelly, princess of the Deep Sea Range was particularly funny). They proved remarkable at encouraging and channeling kids' enthusiasm, while engaging even the shyest children, gently drawing them into the storyline. A simple nod, wave, or compliment reminded them that they were part of the adventure.
It's worth noting that this full sensory experience might be a little overwhelming for some kids. While there were no tears from any kids in our expedition group, I did see some kids pull back and look for parents' reassurance. Often a hug or a hand squeeze with an encouraging word was enough to rejoin the group, but a few did stay with their parents for most of the production. Every child participates in some way, either as part of the group or with individual tasks, all designed to empower kids and invoke confidence, teamwork, and responsibility. The show is aimed at kids aged 4-10; however, the sweet spot is probably ages 5-8.
Pip's Island was conceived by New York-based siblings Rami and Rania Ajami, who were looking to create a new interactive theater experience for kids. And we have to say, well done! My daughters and I agree: it was a fantastic adventure that fully engaged kids' imaginations.
Good to Know
Dress comfortably; prepare to stand and walk.

Take advantage of the coat check. The experience is more enjoyable without coats and bags.

The production runs approximately 60 minutes.

Recording and photography are strictly prohibited.

Pip's Island is showing at Skylight Modern, 537 West 27th Street in Chelsea, with performances through Sunday, January 8, 2017. Tickets are $50 per person and every participant (child and caregiver) needs a ticket for entry. Find slightly discounted tickets on BroadwayBox.com.
Top photo: Kids help launch Pebble's Cloud Rover. All photos of Pip's Island by Thom Kaine/courtesy of the production.