Best Holiday Shows for NYC Kids: Rudolph, Dickens, Charlie Brown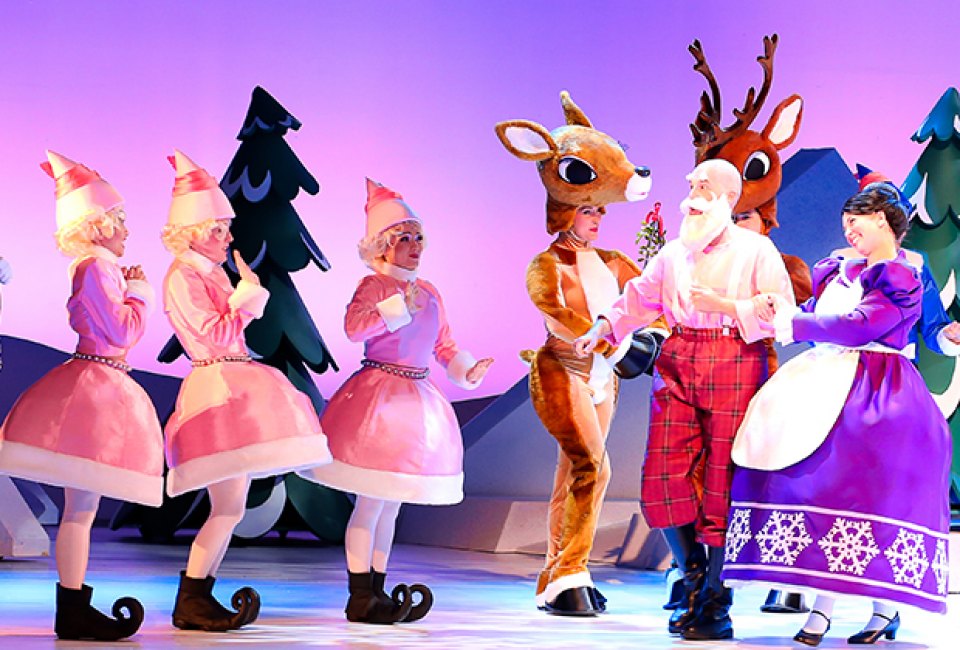 11/15/16
- By
Raven Snook
'Tis the season to get the gang all dressed up to see some holiday shows. While there are plenty of spectacles to splurge on beyond the Radio City Christmas Spectacular and all those Nutcrackers, if you've got young children you may not want to blow all of your bucks on theater tickets.
That's why our roundup includes a range of productions, from inexpensive, low-key offerings perfect for fidgety preschoolers, to extravaganzas that are worth the investment. Bonus: We've got the scoop on how to save money to a few of the higher-priced offerings.
From live stage adaptations of holiday classics such as A Charlie Brown Christmas and Rudolph the Red-Nosed Reindeer to tot-friendly puppet shows and jaw-dropping circus skills, here are our top 14 holiday shows for NYC families.
Click through to our listings for all the details, including addresses and performance schedules.
Ballerina Swan & The Nutcracker — Midtown West
Saturday, November 26-Sunday, December 18
Ages 3-8
A sequel to New York City Children's Theater's hit Ballerina Swan (inspired by NYC Ballet prima ballerina Allegra Kent's children's book of the same name), this show finds the dance-obsessed Sophie the Swan prepping for her debut in The Nutcracker. This 50-minute world premiere fuses ballet and puppetry for a lyrical, fast-paced experience that's perfect for young children. $25-$45
Rudolph the Red-Nosed Reindeer: The Musical — Midtown West
Thursday, December 1-Sunday, December 18
Ages 3 and older
If you're looking for a holiday show to fill you with cheer, try this touring adaptation of the classic Rankin/Bass stop-motion animation TV special about Kris Kringle's most colorful reindeer. Running at the Theater at Madison Square Garden, this live musical spectacle features all of the beloved characters, including Santa and Mrs. Claus, Hermey the Elf, Bumble the Abominable Snow Monster, and, of course, Rudolph himself. Like the source material, it has an anti-bullying message and celebrates individuality. Come early and you can participate in a variety of carnival-style "reindeer games" in the lobby. There are lots of discount codes flying around out there, so make sure you take advantage. $39-$129
A Charlie Brown Christmas — Gowanus, Brooklyn
Friday, December 2-Sunday, December 11
Ages 3 and older
After years of performing this family favorite at various venues, the show moves to ShapeShifter Lab for its eighth annual run. This live stage adaptation of the iconic TV special is extremely faithful to the source material, right down to the 30-minute running time, and features a lively jazz trio playing Vince Guaraldi's memorable music. Watching Charlie, Lucy, Linus, Snoopy, and the rest of the Peanuts gang up close and personal (and not just on TV) is a fantastic holiday treat for kids. $12
Young Charles Dickens — Midtown West
Friday, December 2-Sunday, December 18
Ages 8 and older
Another high-quality tuner from New York City Children's Theater. This bio-musical about the challenging childhood of the famed Victorian author is inspired by Deborah Hopkinson's picture book A Boy Called Dickens. An engaging mix of fact and fiction, the tuner had its world premiere last year, and we really loved it. Now the show's back for an encore run, with some tweaks to the story, a new cast, and a few fresh songs. Find out how this talented young storyteller was forever changed when he was forced to spend a year (including Christmas Eve!) working to support his struggling family. Who knew A Christmas Carol was semiautobiographical? $25-$45
RELATED: 12 Must-Do Holiday Events for NYC Kids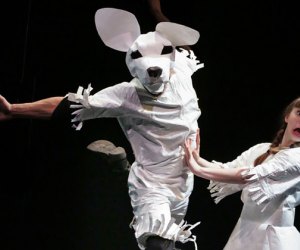 The musical, Hanna and the Moonlit Dress, includes good deeds—and a new frock. Photo courtesy of the production.
Hanna and the Moonlit Dress — East Village
Friday, December 2-Sunday, December 18
Ages 2-8
Head to the 14th Street Y for this musical inspired by the classic Israeli tale Hanna's Sabbath Dress. Thrilled with her new gown, Hanna runs to show it off to her friends, but along the way helps a stranger and ruins the garment. Will she magically be rewarded for her good deed? This interactive experience keeps kids engaged with Hanna's relatable plight. $18, $50 for a family four-pack
Seven In One Blow, or the Brave Little Kid — West Village
Friday, December 2-Tuesday, December 20
Ages 4-10
An offbeat stage variation of a Brothers Grimm fairy tale, this 15th annual Axis Theatre production follows the misadventures of Kid, a young boy who kills seven flies in one shot and gets caught in a tangle of lies surrounding his feat. In the end, he learns about love and caring, with help from the children in the audience. $15 for adults, $5 for children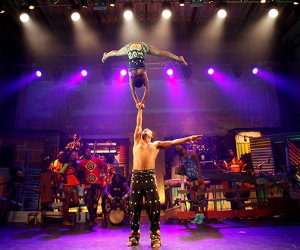 For an exuberant non-holiday option, check out the dancing and acrobatics of Mother Africa: My Home at the New Victory Theater. Photo by Hans-Juergen Herrmann/courtesy of the theater.
Mother Africa: My Home — Midtown West
Friday, December 2-Sunday, January 1, 2017
Ages 5 and older
Every December, instead of mounting a traditional holiday show, the New Vic celebrates by importing a colorful circus spectacle. And we know from experience that Circus der Sinne's Mother Africa delivers a dazzling time. We raved about the last iteration of this exuberant, pan-African pageant featuring incredible live music and dancing, gorgeous tribal-inspired costumes, and acrobats, contortionists, and other athletes who buzz with energy, enthusiasm, pride, and joy. Though this edition is set in Cape Town, South Africa, the performers hail from multiple nations, including Tanzania, Ethiopia, Zimbabwe, and the Ivory Coast. An amazing, multicultural treat that really gets you into the spirit of the season. $20-$55
Note: Find discounted tickets to this show during a special Mommy Poppins Readers' Night! The event will even include extra pre-show activities for the kids. Tickets are very limited for this special showing, so grab 'em before they're gone!
A Season of Miracles — Tribeca
Saturday, December 10
Ages 4-13
A show for our multicultural city! Regardless of what you celebrate, Pushcart Players of New Jersey's production has you covered with a series of celebratory holiday stories, including scenes from The Nutcracker, Gift of the Magi, The Kwanzaa Kite, and The Chanukah Miracle. The revue-style lineup is set to music by Larry Hochman, who scored preschooler TV favorite The Wonder Pets. $30
La MaMa Kids: Winter Wonderland Presentation — East Village
Saturday, December 17
Ages 3 and older
The legendary avant-garde arts center celebrates the season with an offbeat interactive experience created by some of its kookiest resident artists. This immersive performance features site-specific works throughout the multilevel theater, all inspired by the winter wonderland theme. Leave your expectations at the door: This genre-busting installation includes acting, puppetry, storytelling, dance, and music. Free for adults, $10 for children
RELATED: Best Nutcrackers in NYC for Families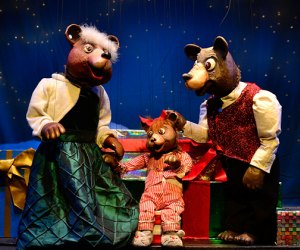 The sweet, seasonal puppet show The Three Bears Holiday Bash returns to Central Park. Photo by Justina Wong/courtesy of City Parks Foundation.
The Three Bears Holiday Bash — Upper West Side
Through Friday, December 30
Ages 3-9
The three bears and all their fairy-tale pals are back at Central Park's Swedish Cottage Marionette Theatre for their annual seasonal variety show. This spirited marionette performance celebrates all the holidays, whether you observe Christmas, Kwanzaa, or Hanukkah. A perfect theatergoing experience for very young audiences. $10 for adults, $7 for children younger than 12
Fancy Nancy Splendiferous Christmas — Upper West Side
Through Saturday, December 31
Ages 2-7
Vital Children's Theatre revives its stupendous musicalization of Jane O'Connor's book of the same name, about the pint-size fashionista's quest to find the most fabulous Christmas arbor ever. Of course, things don't go quite as she plans, but it all turns out all right in the end with her family trimming the tree with help from children in the audience. We really love the show and think it's a must for Fancy Nancy fans. $25-$59.50 but save money on select performances via Goldstar.
The Illusionists – Turn of The Century — Midtown West
Through Sunday, January 1, 2017
Ages 7 and older
OK, so it's not really a holiday show. But isn't the season all about magic? With that reasoning, this eye-popping Broadway spectacle seems like the perfect way to celebrate. My daughter and I saw the first iteration of the show two years ago, but we're planning to go again since it features an entirely new roster of world-class illusionists with a fresh turn-of-the-20th-century style. Expect to see mind-blowing tricks, both physical (sleight of hand, escapes, stunts) and mental (mind reading, clairvoyance). $65 and up, but save money on tickets via Broadwaybox.
Pip's Island — Chelsea
Through Sunday, January 8, 2017
Ages 4-10
Immersive theater for children? Well, why not? Young kids definitely love doing more than just watching. Join Pip and his cohorts on an adventure set on his namesake isle. This interactive experience fuses live theater with technologically aided storytelling as audiences try to help the heroes save their community. This piece lets children step into the story creation process with a Choose Your Own Adventure-style outcome, which means no two performances are the same. $50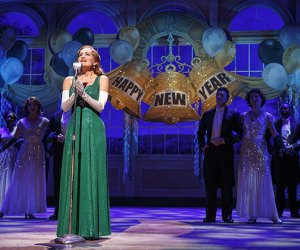 Catch this festive Broadway musical, Holiday Inn, with big kids this season. Photo by Joan Marcus/courtesy of the production.
Holiday Inn — Midtown West
Through Sunday, January 15, 2017
Ages 7 and older
Based on the 1942 movie musical of the same name, this Broadway stage adaptation perks up the old let's-put-on-a-show plot (and does away with some of the film's more antiquated elements) and adds a slew of songs from Irving Berlin's vast catalog. The plot is more or less the same: Jim tries to ditch showbiz for a quiet country life and loses his best pal Ted and girl Lila in the process. But when farming doesn't work out, he and his new love interest, Linda, turn his big house into an entertainment-filled inn that's only open on holidays. That silly story is just an excuse for a cavalcade of classic songs such as "Easter Parade," "Blue Skies," and "White Christmas." The choreography is inventive (there's a number with jump ropes that's exhilarating), the vocals are powerful, and the schmaltz is laid on thick—but that's part of its charm. A wonderful choice for the whole family. $47–$167 but save money on tickets via Broadwaybox.

Top image: Rudolph the Red-Nosed Reindeer: The Musical at the Theater at Madison Square Garden. Photos courtesy of Character Arts.
t Click Here to Sign Up!