'Young Charles Dickens' Offers Gritty Look at Inspiration Behind Popular Holiday Tale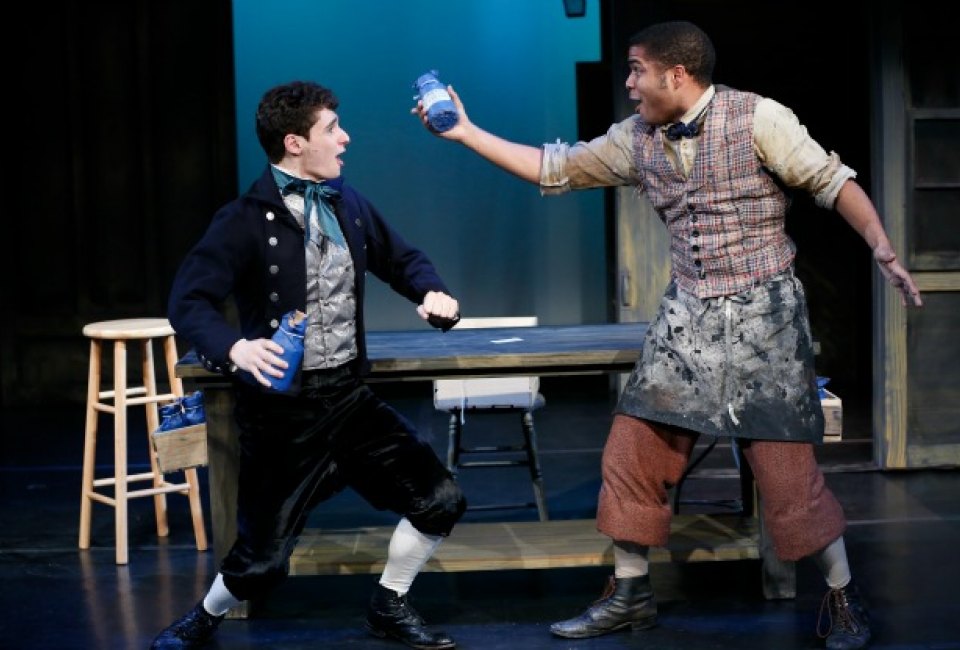 12/10/15
- By
Raven Snook
If one writer is synonymous with the holiday season, it's Charles Dickens. The legendary Victorian author's novella A Christmas Carol and its iconic characters pop up everywhere this time of year, both on stage and on screen.
But rather than do another adaptation of this oft-told tale, New York City Children's Theater cleverly delves into the man behind the story, or rather, the boy.
Based on Deborah Hopkinson's picture book A Boy Called Dickens, Young Charles Dickens is an engaging bio-musical inspired by the 12-year-old Dickens' menial job at a shoe polish factory as he helps his family out of debtors' prison. Readers familiar with his famous books such as Oliver Twist, Great Expectations and, of course, A Christmas Carol will recognize many of the people Dickens meets during this dark period in his young life. However, even school-age kids unfamiliar with his work will pick up a lot from this gritty, but heartwarming tale.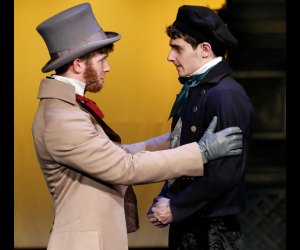 Charles Dickens' father, left, explaining to his disappointed boy that he must quit school in order to work.
When Young Charles Dickens opens, our hero is a precocious and playful boy, not unlike our own kids except for his velvet short pants and exotic British accent. He loves to read and study, but his father's financial woes force him to quit school and get a job—a backbreaking one at that. The tween works long days for little pay packaging shoe polish at the rat-infested Warren's Blacking Warehouse. But he finds solace in the friends he makes—including the smart but illiterate Bob Fagin—and in telling made-up stories about impoverished characters trying to improve their lots in life.
RELATED: Best Holiday Shows for Families
The songs, by Charlie Greenberg and NYC Children's Theater founder Barbara Zinn Krieger, are simple and sweet. There's plenty of welcome humor as the boys make the best of their circumstances, even putting on a show of sorts for passersby as they work.
However, the subject matter is dark and complex, which is why the show is recommended for ages 8 and older. Ten and above might be more appropriate, because the show is a bit complicated to follow (reading the book and glossary in the program in advance are helpful). After all, how many contemporary kids understand concepts like debtors' prison, or that until not too long ago some children weren't fortunate enough to go to school?
These are important lessons to learn. In addition to celebrating the power of imagination, Young Charles Dickens encourages kids to be socially conscious and treat everyone regardless of class, race or other differences with respect and empathy. The historically inaccurate but smart colorblind casting drives that message home.
After the show, kids can meet and pose for pictures with the five cast members, who all are wonderful, especially Ryan Borses as the title character and Bryson Bruce as his chum oss class barriers and help each other become better people.
RELATED: NYC Guide to the Best Kid Holiday Activities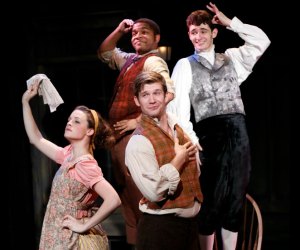 The young cast of Young Charles Dickens are impressive.
Want to enhance your Charles Dickens experience? Two family-friendly productions of A Christmas Carol currently are playing in NYC, one at the Players Theatre and the other at the historic Merchants House Museum. You also can head over to the Morgan Library & Museum to check out the author's original 1843 manuscript of A Christmas Carol, which is on display as a salute to the holiday season, or even opt for a day trip via NJ Transit to visit a mini Dickens Village in Maplewood, New Jersey.
After Young Charles Dickens, there's no need to flee Times Square. Grab a meal at one of these family-friendly, non-chain restaurants and then explore nearby kids attractions such as Bryant Park, where you can ice-skate for FREE (if you bring your own skates) and browse the holiday market.
Young Charles Dickens is playing through Sunday, January 3, 2016 at Theater 3, 311 West 43rd Street between Eighth and Ninth Avenues on the third floor. Tickets are $25, $95 for a family four-pack.
Photos by Carol Rosegg/courtesy of NYC Children's Theater.
Places featured in this article:
Click Here to Sign Up!
i