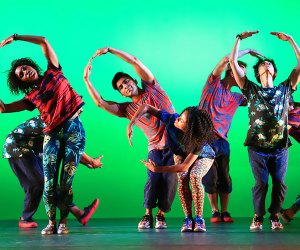 Kids' Summer Theater Guide 2019: The Best Shows for NYC Families This Summer
Think the dog days of summer are a cultural wasteland? That's not the case when it comes to the stage—New York City's family theater scene is hotter than an unshaded sandbox during the summer months, and this year is no exception.
There are shows for all ages, interests, and budgets throughout the summer season, including FREE options such as high-quality Shakespeare, a stage adaptation of Disney's beloved animated movie Hercules, and a puppet show touring to parks throughout the five boroughs. Best of all, most tickets cost less than $25 per seat. Read on for our complete guide to the best summer shows in NYC for kids and families.
New Plays for Young Audiences — West Village
Check out staged readings of new shows for young audiences, all written by graduate students in NYU Steinhardt's Program in Educational Theatre. While these aren't fully mounted productions, the shows let families see (and support) works in progress by young dramatists. All the readings are FREE and who knows? You may see the next big thing in family theater. FREE tickets are distributed starting an hour before each performance.
Itzel: The Pirate Queen — Saturday, June 15-Sunday, June 16: Ages 10 and up
A swashbuckling herstoric adventure about a Mayan girl named Itzel, who embarks on a quest to save her kidnapped little brother Dacey from Spanish marauders. As she sails across the ocean, Itzel is captured by a pirate, and the siblings grow up on opposite sides as he becomes a defender of Spain, she a privateer. Dacey eventually defeats Itzel, but will he put her to death or can she convince him she's his long-lost sister?
Return to Sender — Saturday, June 22-Sunday, June 23: Ages 11 and up
Based on Julia Alvarez's young adult novel of the same name, this play chronicles the relationship between Tyler, an American boy, and the family of Mexican migrants who come to work on his dad's farm. At first Tyler is suspicious of these outsiders, but soon he's drawn to the kids, especially Mari, who's both proud of her heritage and increasingly Americanized. This sensitive examination of the challenges illegal aliens endure to have a better life puts a relatable human face on the immigration crisis.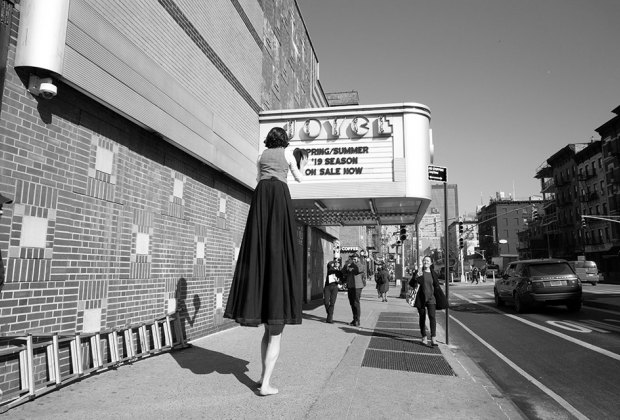 The dance company Pilobolus is presenting a special family matinee as part of its run at the Joyce Theater.​ Photo by Kevin Lau
Pilobolus Family Matinee — Chelsea
Saturday, June 22
Ages 5 and up
Venerable dance-theater troupe Pilobolus is known for its stunning and surreal visuals created by nimble—and sometimes nude—bodies. If you want to expose your kids to the company's artistry without the nakedness, Pilobolus is presenting a special G-rated family matinee in the middle of its three-week run at the Joyce Theater. In addition to seeing vintage favorites from the five-decade-old troupe, kids can enjoy a pre-performance dance class, which is free for ticket holders who register in advance.

Expect songs, slapstick, and funny fighting in Amina Henry's Sleeping Beauty at the Women in Theatre Festival. Photo courtesy of Natalie Nankervis
Sleeping Beauty — Midtown West
Saturday, June 22-Sunday, June 30
Ages 6 to 13
Part of Project Y Theatre Company's annual Women in Theatre Festival, this is a feminist and gender-nonconforming reinvention of the familiar fairy tale as two royals—a prince who loves to bake and a sword-fighting princess—set out to save the sleeping lady. Expect songs, slapstick, and funny fighting along the way.
Much Ado About Nothing — Central Park
Through Sunday, June 23
Ages 8 and up
FREE
One of the Bard's most effervescent romantic comedies comes to the Delacorte Theater courtesy of the Public Theater's Shakespeare in the Park. Directed by Tony winner Kenny Leon and featuring an all-African-American cast, Much Ado stars Orange Is the New Black's Danielle Brooks and Grantham Coleman as bickering frenemies Beatrice and Benedick, who end up in each others arms thanks to their meddling pals. At two and a half hours with many complicated subplots, the show is best for older elementary schoolers and up. But it's funny and totally FREE, so it's a great first Shakespeare show for tweens. New this year: In order to snag no-cost same-day seats, you must register for a Public Theater patron ID online. Then you'll be eligible to pick up ticket vouchers in Central Park, at the Public Theater, or at designated outer borough distribution sites. Alternatively, you can enter the online lottery. With kids, the digital lottery is probably the best way to try to get in unless you're willing to make a hefty donation to guarantee seats.
Elgin Park — Chinatown
Thursday, June 27-Sunday, July 14
Ages 10 and up
Inspired by Elgin Park, the miniature, mid-20th-century town created by late artist Michael Paul Smith, this interactive show uses theatrical storytelling, magic tricks, puppetry and immersive design to take families on a mysterious adventure. When a world-renowned illusionist disappears, his reclusive model-maker brother must leave the comfort of his home to piece together what happened to his famous sibling. As he snoops around his small town, secrets are revealed about the nature of Elgin Park, and magic itself. Performed at Wildrence, a cutting-edge experiential venue, it's like a PG-rated Sleep No More aimed at the adolescent set.
Dog Man the Musical — West Village
Saturday, June 29-Sunday, August 4
Ages 6 to 10
Based on Dav Pilkey's bestselling picture book series of the same name, this TheaterWorksUSA musical follows BFFs George and Harold as they try to transform their crime-fighting comic book canine into a stage star. Half human, half dog, and all goofy hero, Dog Man wants to save the city he loves from a cavalcade of kooky villains. But he'll only win if his creators can find a way to finish the show. Written by the team behind the stage adaptation of Click, Clack, Moo and the Emmy-winning PBS series Peg + Cat, Dog Man the Musical should be catnip for fans. Use code DMMP39 to snag $39 tickets to preview performances through July 7.
The Importance of Being Earnest (Two Ways) — Central Park, Brooklyn Bridge Park, and Carl Schurz Park
Through Sunday, June 30
Ages 8 and up
FREE
New York Classical Theatre presents a fast-paced alfresco production of Oscar Wilde's classic comedy of mistaken identity in Central Park, Brooklyn Bridge Park and Carl Schurz Park. Subtitled "A Trivial Comedy for Serious People," this send-up of Victorian-era mores is still a hoot in the 21st century, and easy to grasp for tweens and up as the characters pretend to be people they're not in order to succeed in life and love. For an extra bit of comical confusion, on Wednesdays, Fridays, and Sundays the entire cast switches genders and roles! Note that the show is done promenade style, with the audience following the cast to different locations and then sitting on the grass. Even though it's FREE, it's worth making a reservation so they can email you in case the show gets rained out.
New York Musical Festival — Midtown West
Since 2004, the annual NYMF has showcased more than 400 musicals, a few of which have even made it to Broadway, including Next to Normal, which snagged a Pulitzer Prize. While the main focus of the festival is on grown-up entertainment, a handful of family-friendly musicals are featured each year. Catch these five at various theaters on West 42nd Street before they move on to bigger and better things (and higher ticket prices). All shows are $29.75 per person.
Queen E - The Reluctant Royal — Tuesday, July 9-Friday, July 12: Ages 7 and up
A clever reinvention of the biblical story of Esther, this musical finds King Xerxes of Persia overseeing a reality competition to find a new, submissive wife. Little does he know that the winner's got an ulterior motive: to save her Jewish people from genocide. You've never seen a Purim spiel like this! Note: This is a reading, not a full-fledged production.
Black Hole Wedding — Monday, July 15-Saturday, Jul 20: Ages 10 and up
It's capitalists versus environmentalists in this kooky sci-fi satire of energy politics as oil baron Dean and green geek Raymond battle for the future of our planet. Who will win the fight and true love?
Underground: An Urban Tale — Tuesday, July 16-Saturday, July 20: Ages 7 and up
Going underground has never felt so uplifting. Two teen siblings trek into NYC's subway tunnels looking for interviewees for their documentary. The folks they meet and stories they hear paint a portrait of love, light, and hope. Note: This is a reading, not a full-fledged production.
Flying Lessons — Monday, July 22-Sunday, July 28: Ages 7 and up
When a Latina eighth grader is assigned to pick a historical figure and write a paper about what made the person great, she's not sure where to start. Luckily, Amelia Earhart and Frederick Douglass are happy to help her figure it out. An inspiring musical about one young woman's journey to learn about history and herself.
Overture - The Musical — Wednesday, July 24-Sunday, July 28: Ages 7 and up
Attention classical music lovers: This musical chronicles the true-life survival story of the Kansas City Philharmonic, which was almost scrapped during its 1953-1954 season, as seen through the eyes of two fictional music-loving kids.
Game Changers — Chelsea
Wednesday, July 10–Thursday, August 1
Ages 5 and up
The coolest kid company in town premieres a brand-new original musical about a bunch of teens competing on a wacky game show in the '90s. Watch Gen Zers play Xennials in this song-filled romp about how teamwork is the only way to win in this world. Grown-ups will enjoy reliving their youth while children should get a kick out of seeing their peers onstage: the show stars members of TADA!'s Resident Youth Ensemble, talented local tykes ages 8 to 18. Plus it only runs an hour, which is great for short attention spans. Tip: If your child is little, be sure to ask for a front-row bench seat for an unobstructed view.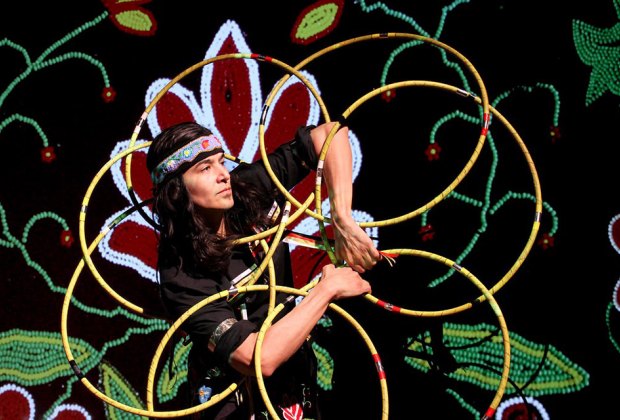 Victory Dance at the New Victory Theater presents Native American hoop dancer Ty Defoe. Photo by Katherine Freer
Victory Dance — Midtown West
Thursdays, July 11, 18, 25
Ages 8 and up
On three consecutive Thursdays, the New Victory Theater presents dance performances aimed at young audiences. Each program features a mix of classical, contemporary, and cultural companies, and post-performance artist talks. Performances run 90 minutes and are a fabulous way to introduce school-age kids to the magic of dance on the cheap: tickets are only $10! On July 11, catch American Ballet Theatre doing a duet from Swan Lake, BalletNext, Preeti Vasudevan's Thresh, and Caleb Teicher & Company's tap dancers. On July 18, see Elisa Monte Dance, the Brian Brooks Moving Company, Native American hoop dancer Ty Defoe, and The Chase Brock Experience, whose namesake choreographed the teen sensation Be More Chill on Broadway. Finally, on July 25, experience Wendy Whelan and Brian Brooks, the postmodern Trisha Brown Dance Company, the Passion Fruit Dance Company, and A.I.M.

A cow dreams of becoming a circus star in Bessie's Big Shot by PuppetMobile. Photo courtesy of CityParks Foundation.
Bessie's Big Shot — Citywide
Through Saturday, August 31
Ages 1 and up
FREE
The same folks behind Central Park's Swedish Cottage Marionette Theatre run CityParks' PuppetMobile, which tours charming productions to green spaces throughout the five boroughs all summer long. In Bessie's Big Shot, the title cow dreams of becoming a circus star, but the brave bovine has yet to find her career-defining act. Watch as she searches for her special talent in this colorful and short (just 45 minutes) tale, a perfect first show for very young theatergoers.
Hercules — Central Park
Saturday, August 31-Sunday, September 8
Ages 5 and up
FREE
Disney's beloved animated movie is reinvented for the stage as part of the Public Theater's Public Works initiative. Don't expect this musical to be a copy of the film. It's got a brand-new script, fresh songs in addition to the old favorites from the flick, and a diverse cast featuring professional actors performing alongside everyday New Yorkers picked from community groups from across the city. Last year's Public Works production was a highlight of my family's summer, and we're especially excited to see this one. Note: Ticket distribution for Hercules is different from Shakespeare in the Park. To vie for FREE tickets, enter the TodayTix advance digital lottery anytime from Monday, August 12 at noon to Wednesday, August 28 at noon. You may enter once for any or all of the seven performances. Separate advance digital lotteries will be held for ADA and senior accessible seats. TodayTix will notify you if you won in the afternoon on Wednesday, August 28. If you're not one of the lucky lottery winners, you can enter the daily in-person standby lottery from 5 to 7pm before each performance at the Delacorte Theater in Central Park. Tickets are not guaranteed and are subject to availability.
But wait, there's more! On Thursdays at lunchtime from July 11 through August 15, you can catch FREE performances by Broadway musicals in Bryant Park, including many family favorites such as Be More Chill, Stomp, and Wicked on July 11; Beetlejuice and Come From Away on July 18; Aladdin, Frozen, and The Lion King on July 25; The Prom on August 1; and Mean Girls on August 15. Also, on select Friday evenings, there will be FREE Broadway in the Boros performances: June 14 at Brooklyn's Restoration Plaza; Friday, June 28 in Jackson Heights, Queens; Friday, July 12 at Co-op City in the Bronx and July 26 at Staten Island's St. George Ferry Station.