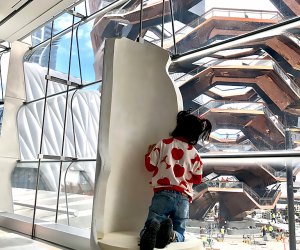 Please Touch the Art at the New Snark Park Exhibit at Hudson Yards
With all the immersive, kid-friendly art experiences that come through town (like the Color Factory, or last year's Dream Machine), New York City kids could be excused for expecting every must-see art exhibit to be interactive and kid-friendly. NYC's latest immersive exhibit, designed for kids to touch, explore, and interact with the art, is the inaugural installation at Snark Park, entitled "Lost and Found."
Located inside 20 Hudson Yards, the newly opened and highly anticipated seven-story retail center in Midtown West, Snark Park is a permanent retail and art installation space located on the second floor of the mall. Read on for a preview of "Lost and Found," plus photos of the engaging and beautiful new space.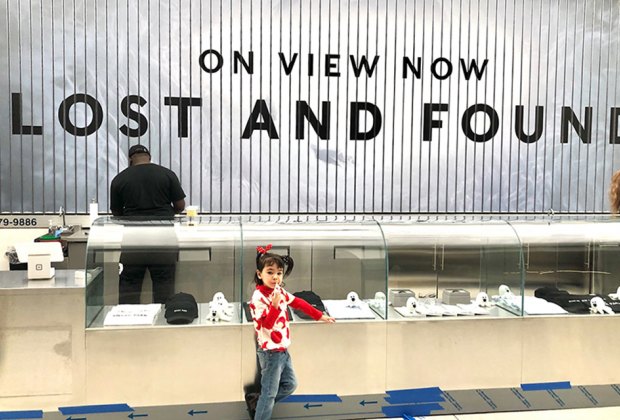 "Lost and Found" is the inaugural immersive art installation at Snark Park at Hudson Yards.
Brought to you by New York-based design team Snarkitecture, Lost and Found at Snark Park was conceived as an "enchanted forest" comprised of 90 monochromatic columns, some filled with a mix of sights and textures that invite visitors to enter and explore. During our visit, my daughter viewed the space as a blank canvas for her imagination, and immediately occupied an open column lined in white fuzzy fabric. She dubbed this her "Yeti home."
RELATED: 10 Must-See Offbeat Museums NYC Kids Will Love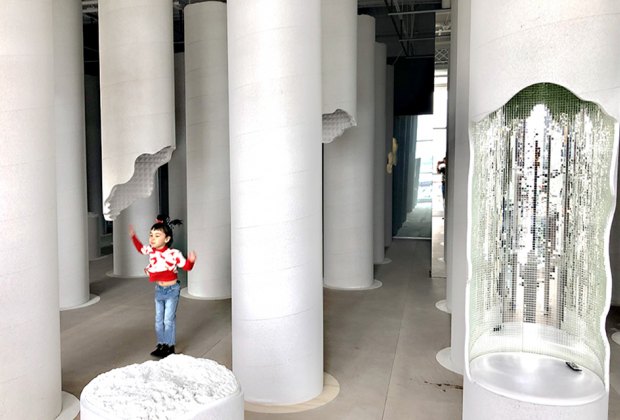 The space is filled with monochromatic pillars that contain surprising textures, materials, and sounds.
While my little Yeti played house, I did a quick spin through the space, weaving in and out of the columns. Some were lined with foam prisms while some others were adorned with peek-a-boo cut-outs and white ping pong balls. Strings of white beads hung from some of the openings in the columns, shielding the entryways. The mirrored walls in the room created an interesting infinity effect—as well as infinite opportunities for selfie-taking.
I settled into a column lined with disco sequins and snapped a few photos, then moved on to the massive floor-to-ceiling window in the back of the room. This window not only invites tons of sunlight to highlight the stark whiteness and pops of silver in the space, it also frames an amazing view of the Vessel, the spiral centerpiece of the Hudson Yards Public Square and Gardens, with 2,500 steps for visitors to climb while taking in views of the city.
RELATED: 50 Things to Do With Kids in Midtown Manhattan

Try your luck at catching a "Snarkie" with the arcade-style claw machine.
A soundtrack produced by the Polish electroacoustic musician Jacaszek plays throughout the Snark Park installation space. While the art installation is housed in one room, there is also a secret room, located behind a two-way mirror, that looks out into a giant claw machine filled with little white plush toys dubbed "snarkies." Visitors can try their luck at claw-grabbing a snarky to bring home.

Don't miss the best part of the exhibit for kids: The "snark bite" ice cream treat.
A stop in the retail portion of Snark Park on the way out let us browse some limited-edition Snarkitecture merchandise. But best of all was the signature "snark bite" ice cream by Kith Treats. Filled with rice crispy treats, mini marshmallows, marshmallow charms, and blue sprinkles, it was a dream come true for my daughter.
"Lost and Found" will be open at Snark Park through August, and a new exhibit will debut in September. Timed-entry tickets can be purchased on the Snark Park website. Tickets are $28 for adults and $22 for kids under 12. There is no stroller parking, but strollers are permitted inside the installation.
A visit to Snark Park can be woven into a day of shopping and dining in the rest of the mall, where you will find over 100 retailers and world-class restaurants. Large-scale murals, 3-D interactive displays, and installations by 13 contemporary artists are also featured throughout the mall. Since warmer temps are making their way into the city, you can also spend time exploring the 14 acres of open space throughout Hudson Yards before or after your visit to Snark Park.
Photos by the author