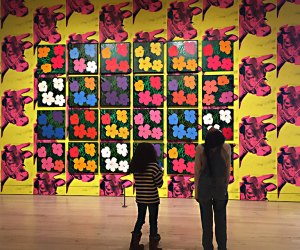 4 Must-See Art Exhibits for NYC Kids
Have you ever seen an ad or a notice for an excellent art exhibition and thought, "I would really like to take my kids to go see that!" and before you knew it, it was gone? With so many world-class museums and cultural institutions in New York City, it can be a challenge to narrow down your options.
The Brooklyn Museum just unveiled an exciting new Frida Kahlo exhibition this month, and the Whitney, the Guggenheim and the Sugar Hill Children's Museum of Art and Storytelling also have great shows on display that will be closing this spring. Read on for your kid-friendly guide to four museum exhibitions currently in NYC that are too good to miss.
While it's always fun to introduce kids to the work of a major artist, my children and I like to prepare for museum visits by reading a book about the artist beforehand. When my children know what we are going to see and they know a little about the artist's life, techniques, and style, it makes our experience so much better. We take advantage of the New York Public Library to request books online about each artist before seeing their work at the museum. (Plus, you can use your library card to request free admission to these cultural institutions through the Culture Pass program, and if you have an IDNYC card, you are eligible for a FREE one-year membership to participating institutions.)
This winter our family paired great picture books with an opportunity to see artwork up close and personal—just one of the advantages of living in a city with so many remarkable museums. Here are a few family friendly exhibitions and book recommendations available at your NYPL to help make your visit even more fun, creative and educational.

Working on the Whitney Kids Andy Warhol Activity Guide, Self Portrait, 1986.
Andy Warhol at the Whitney Museum of American Art — West Village
Through March 31, 2019
99 Gansevoort Street
After reading Andy Warhol: pop art painter by Susan Goldman Rubin and Andy Warhol by Mike Venezia, our family ventured to the Whitney Museum to experience Andy Warhol–From A to B and Back Again, currently on view until March 31, 2019. The multimedia exhibition has examples of all of the artist's work, from his humble beginnings as an illustrator to his filmmaking, and of course, a vibrant selection of Warhol's pop art. Because my children were so familiar with his work from the books we read together, they took the lead and guided me through the galleries. They really got a kick out of reading all of the different types of soup labels. Of course, it was music to my ears to hear my 9-year-old daughter identify a painting by Warhol and Basquiat that she recognized from another book called Life Doesn't Frighten Me based on a poem by Maya Angelou and paintings by Basquiat.
The Whitney offers family programs specifically for this exhibit, but if you have missed the opportunity to attend one they have a great children's guide to accompany the exhibition. You can also check out their full list of Family Programs available on weekends for children of all ages.
RELATED: Free Times for Kids at NYC's Museums, Zoos, and Gardens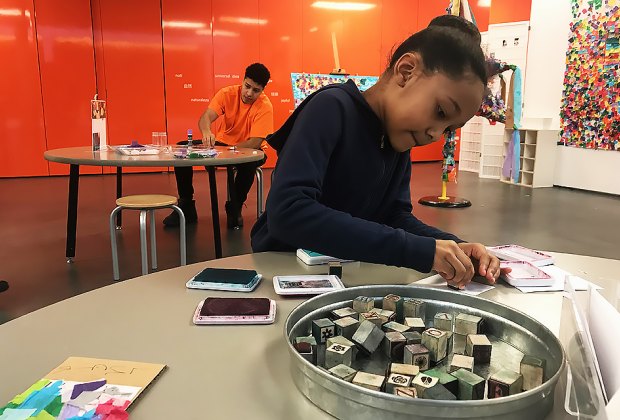 Creating symbols using stamps inspired by the art of Faith Ringgold.
Faith Ringgold at the Sugar Hill Children's Museum of Art & Storytelling — Harlem
Through March 31, 2019
898 St. Nicholas Avenue at 155th Street
At The Sugar Hill Museum of Art & Storytelling, a longtime NYC parent's favorite for its storytimes and kids' art workshops, the exhibit Sugar Hill Songbook: Select Work By Faith Ringgold displays a collection of work on paper, quilts, illustrations, and soft sculptures. While the books Tar Beach, We Came To America and Harlem Renaissance Party by Faith Ringgold are on display at the museum, I highly recommend grabbing copies to read with your child before you head there to see her work in person. "That is a painting from the book, wait...That's a quilt!" my 7-year-old said. She was surprised to see how large one of Faith Ringgold's actual paintings was in person. The fact that it was painted on a quilted fabric was even more mind-blowing for her and different than how the art was portrayed in the picture book.
Other not-to-be-overlooked exhibitions at the museum are Yukon Teruya: Cutting Trees, featuring dioramas of trees made from recycled shopping and fast food bags, as well as Justin Favela: Recuérdame, an exploration of Mexican history and landscape using cut tissue paper.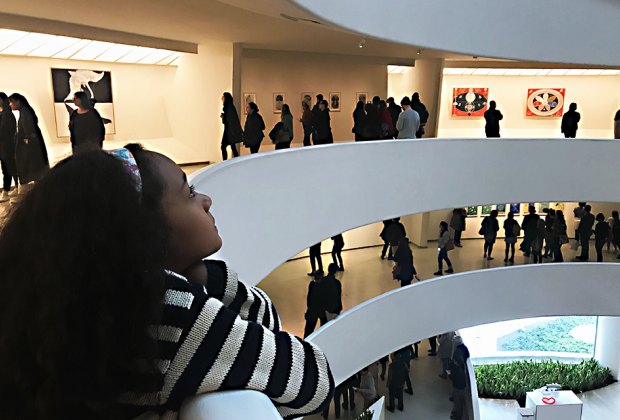 Look for geometric shapes at the Guggenheim Museum.
Hilma af Klint at the Solomon R. Guggenheim Museum — Upper East Side
Through April 23, 2019
1071 Fifth Avenue

The Guggenheim always impresses with its ability to collect a lifetime of work from a single artist, and the Hilma af Klint: Paintings for the Future exhibition is no exception, highlighting the work of a Scandinavian artist who was way ahead of her time. While I was not able to find books at the library about her, the museum website offers a brief video introduction to the artist and her life and work, as well as a teaching guide. You can also download a Family Guide for the exhibition before your visit. Free with museum admission is the Family Activity Kiosk (weekends only) where you can receive a family pack filled with games, sketchbooks, and pencils, but supplies are limited. On Sundays, there is a drop-in open studio for families at 1pm. During our visit, we worked on designing symbols while other children worked on painting gradients, both motifs found in the work of Hilma af Klint.
RELATED: Frida Kahlo at the Brooklyn Museum of Art, Plus 9 More Exciting Kid-Friendly Openings Coming to NYC in 2019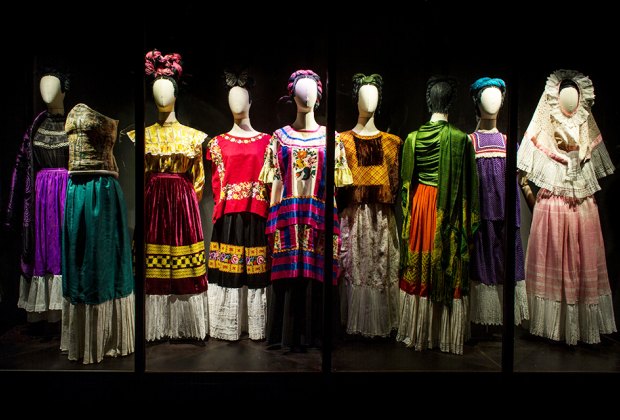 Frida Kahlo: Appearances Can Be Deceiving is a compilation of the artist's paintings, clothing, and other personal effects. Photo courtesy of the museum
Frida Kahlo at the Brooklyn Museum — Prospect Heights, Brooklyn
Through May 12, 2019
200 Eastern Parkway, Brooklyn

The new exhibit Frida Kahlo: Appearances Can Be Deceiving is a compilation of the artist's paintings, clothing, and other personal effects. Photographs, artifacts from Casa Azul (Kahlo's home in Mexico City), and work from the museum's private collection of Mesoamerican art complement the exhibition. Books that help introduce children to Kahlo's life and impressive career include Viva Frida! by Yuyi Morales, Me, Frida: Frida Kahlo in San Francisco by Amy Novesky, and Frida Kahlo written and illustrated by Mike Venezia. Visit Family Programs at the Brooklyn Museum for information about programming for kids and families such as F.A.M. (Family Art Magic), Creativity Lab, and Brooklyn Symphony Orchestra: Friends of Frida, a concert celebrating musical compositions beloved by Frida Kahlo herself.
Unless noted, photos by the author