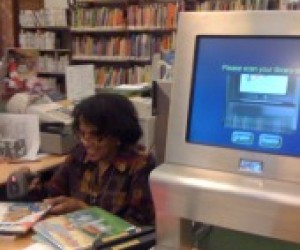 Got Books? 10 Things This Mom Learned About The NYPL
I admit, before becoming a stay at home mom, I bought all of my books from the local bookstore or online. Who had time for the library? Now, I take my toddler to the library on a weekly basis, if not more. And I learned that its definitely more economical, and space saving, to keep a rotating collection of library books for both him and myself in our apartment. But the New York Public Library offers a lot more than just books, including ways to make borrowing a lot more easy than I remember it being. Here are 10 things this mom has learned about the NYPL that may be useful to you.
1. YOU CAN RESERVE BOOKS ONLINE, EVEN FOR YOUNG CHILDREN
You may have used the online book hold feature to secure a popular title for yourself, but you can reserve children's books this way too. Just log onto the NYPL website and place a hold on up to 15 items in the online catalog to be delivered to the library location of your choice. When the books are in, you'll get an email notifying you that you have 7 days to pick them up from the hold shelf. Cool huh? This came in handy when my son was addicted to the I SPY books which were hard to find at our library. Thanks to online holds, we've cycled through the whole collection at our house.

2. YOU CAN BORROW CDS AND DVDS, BUT BEWARE HEFTY FINES
We have been taking out some kids CDs from our local library recently since I discovered a few boxes of them on the stacks. And the DVDs seem to be quite popular, especially for kids. Why bump up your Netflix account? HOWEVER, beware--items like DVDs and Video Games carry larger overdue fines than books. I have a friend who racked up a big bill over some late Elmo videos. Overdue childrens' books are $.10 a day. Overdue DVDs are $3.00 a day. It can add up quickly!

3. YOU LOSE IT OR DESTROY IT, YOU PAY FOR IT
I learned this last month when my son barfed all over a library book. I asked my librarian if I could donate another book in its place, but was told I'd have to pay full price for the unreturned book. Fair enough. While I can't plan for surprise sick, since then I am more aware of not losing library books. New rule, they don't leave our house. However, if you rip a page, I say carefully tape it up and return it. (How can kids NOT rip some of those "lift the flap" books anyway?) But if your kid pukes on a book like mine did, be ready to pay up.

4. STORY TIMES ARE SOME OF THE HOTTEST TICKETS IN TOWN
You may have flashbacks of impossible nightclub velvet ropes when trying to get you and your child into some very popular and overcrowded story times in the city. I turned up one day last summer to find a line of strollers around the block for story time in my library's teeny tiny reading room. I knew my chances weren't good so aborted the plan. Some libraries have resorted to handing out a limited number of tickets to the first in line 30 minutes before the event. So if you are a first-timer, turn up early. Story times for your local NYPL branch are listed online.

5. THERE ARE LOTS OF OTHER FREE NYPL EVENTS
Hey, if you can't get into story time, there are lots of other free events for all ages offered by the NYPL. There are special holiday lessons, craft projects and even video gaming sessions. Check out the event calendar for your local library online. But again, sign up early (some have pre-registration) because free events in NYC fill up fast.

6. NYPL IS HOME TO THE REAL WINNIE THE POOH
You can see the real, ratty tatty Winnie the Pooh stuffed bear, along with his friends, at the main 42nd Street library in the Stephen A Schwarzman Building. The toys which belonged to and inspired author Christopher Robin Milne were donated to the NYPL and are now there on view in the Children's Center.
7. ON-LION WEBSITE, COOL RESOURCE FOR KIDS AND PARENTS
The NYPL has a website specifically for young readers and parents called On-Lion For Kids. It's got lots of great information including staff book recommendations, family events, tips for parents and more.

8. NYPL'S KIDS-LIT BLOG AND HOMEWORK APPS
The library has even more cool stuff going on online for teens, children, parents and educators. The Children's Literature Blog has great ideas for reading with young ones. And the library is behind HomeworkNYC apps which aims to provide research and homework support to local students.

9. ACCESS TALKING PICTURE BOOKS RIGHT AT HOME
With your NYPL library card number, you can access a huge collection of online story books, read-alongs, games and puzzles on your home computer through programs like Tumble Books and Bookflix. You can set up a playlist with your favorites. Check the programs out via the On-Lion website.
10. GET A LIBRARY CARD AT ANY AGE
Finally, you need a library card to enjoy many of these great services - and you can get your child started with their very own card at any age! Adult and teen users can apply online or at a local branch with valid ID. Applications for children 11 and under must be done in person and require the signature of a parent or guardian. Get an application at the library or download it online.