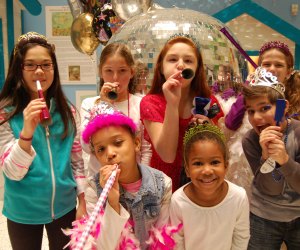 Winter Bucket List: 37 Things to Do With Houston Kids This Winter
Houston has no shortage of fun activities for kids this winter. From the best holiday events to kid-friendly stage shows, we've rounded up a list of the top Houston happenings this winter. Keeping in mind that cooler temperatures have finally arrived, we've also included some of our favorite indoor activities to do with kids at home and around town. But because it's typically not too cold in Houston, taking advantage of milder days to get some fresh air allows for even more options for family fun. Read on for our list of the best of what Houston has to offer this winter season.
1. Attend a live drone flight demonstration for Drone Demo Day at the Lone Star Flight Museum on Saturdays Dec. 29, 2018 through Jan. 5, 2019.
2. Take part in pre-game kids activities during STEM Day at the Rice University basketball game on Jan. 3, 2019.
3. Create crafts for free on Saturdays this winter at Lakeshore Learning.
4. Watch the classic tale of Beauty and the Beast at TUTS through Dec. 23, 2018.
RELATED: Guide to Holiday and Christmas Events for Houston Families
5. Gear up and explore one of the Houston area's kid-friendly hiking trails.
6. Burn off some energy on cold days by playing indoor exercise games.
7. Play games like broom ball and hockey at Game On at The ICE at Discovery Green, Tuesdays through Jan. 22, 2019.
8. Visit one of Houston's many public light displays like Magical Winter Lights, Zoo Lights, or Sugar Land Holiday Lights. Many are open throughout December and into early January and are just as magical even after the holidays are through!
9. Experience high octane fun at Monster Jam at NRG Stadium on Jan. 26, 2019.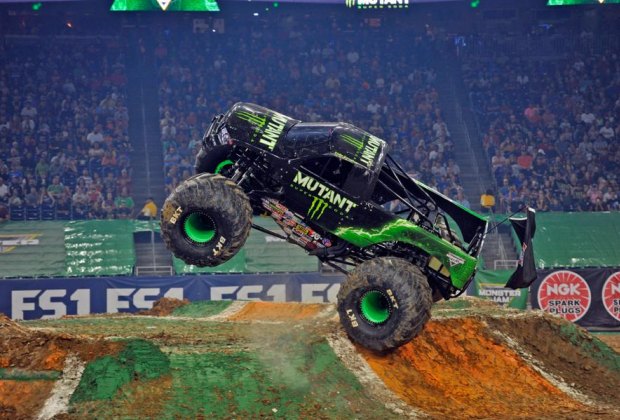 Racing thrills delight all ages at Monster Jam./ Photo courtesy Monster Jam
10. Spend a day volunteering in your community.
11. Celebrate your favorite four-legged friend with a trip to PetFest at Old Town Spring Feb. 9-10, 2019.
12. Explore the railroad museums in Rosenberg and Galveston this winter.
13. Play a rousing game of laser tag.
14. Attend the MLK Youth Parade in Midtown on Jan. 19, 2019.
15. Eat at local Galveston eateries at reduced prices during Galveston Restaurant Week Jan. 26-Feb. 10, 2019.
RELATED: Holiday Volunteering Opportunities for Houston Families
16. Take the whole family skating at ice rinks around Houston.
17. Alternatively, try roller skating at Houston area roller rinks.
18. See a family-friendly movie for free at Screen on the Green at Discovery Green, Thursdays in December and January.
19. Play glow-in-the-dark mini golf.
20. Keep kids stimulated indoors this winter with sensory activities.
21. Take advantage of FREE admission at Houston museums on select days.
RELATED: 100 Things to Do in Houston With Kids Before They Grow Up
22. Explore the Fort Bend Children's Discovery Center during Rockin' New Year WonderWeek.
23. Check out one of Houston's many cooking classes for kids.
24. Bundle up and play at a park. We love these free spots around Houston.
25. Escape the cold and burn off some energy at an indoor trampoline park.
26. Bake cookies and enjoy them fresh and warm out of the oven on a cold day.
27. Paint rocks and hide them at a local park for others to find.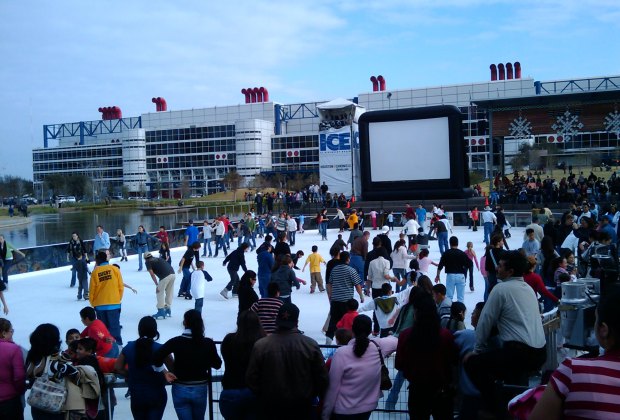 Ice skating at Discovery Green/ Photo by Kaleb Fulgham via Flickr
28. Spend the day indoor rock climbing.
29. Make hot chocolate on a stick and sip on it on a cold winter night.
30. Experience the PBS Kids Live! interactive and stage show Feb. 15, 2019 at Revention Music Center.
RELATED: Free Things to Do Indoors With Kids in Houston
31. Visit the Armand Bayou Nature Center for FREE during Sundays in Nature on the first and third Sunday of each month this winter.
32. Have budding scientists create easy science experiments using things you probably already have at home.
33. Go bowling at one of these 5 places in Houston to bowl with kids.
34. Beat the cold by spending the day at an indoor play area.
35. Build an indoor obstacle course.
36. Go see one of the latest flicks at these kid-friendly movie theaters.
Want even more ideas for family fun in Houston? Check out our ultimate bucket list of 100 things to do with kids in Houston.
Top photo: Rockin' New Years WonderWeek/ Photo courtesy Fort Bend Children's Discovery Center
This post originally published in 2017.