8 Educational Day Trips to Take With Houston Kids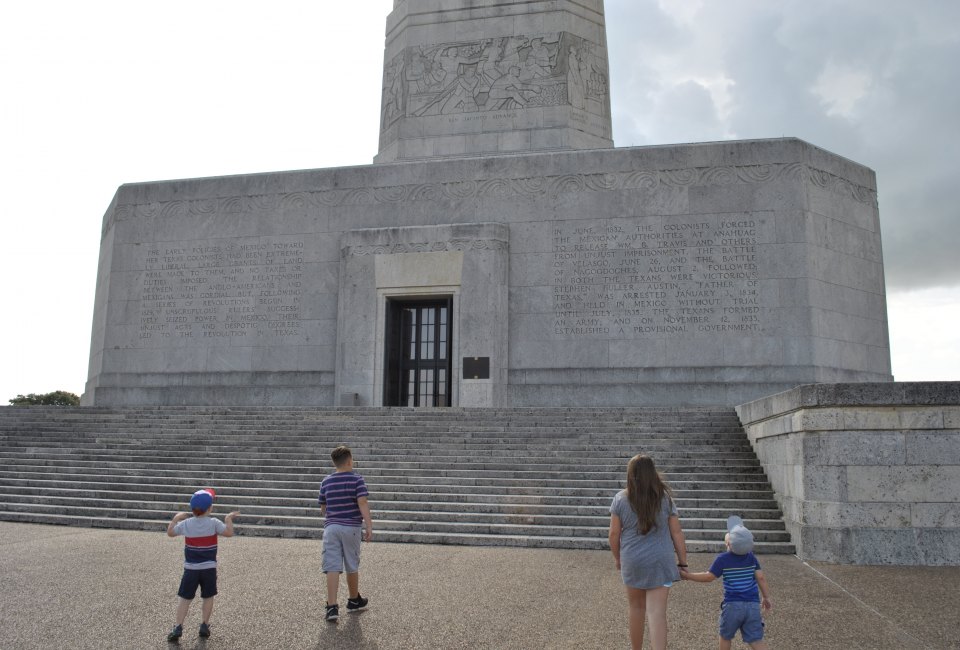 8/10/18
- By
Ashley Jones
As a parent, finding just the right balance of learning and play feels like the ultimate win. Kids love to explore new places and learn new things, and the added benefit of gaining some educational insight during a family outing is truly awesome. That's why we've rounded up some of our favorite spots for learning where families can spend the day discovering new ideas and concepts with little learners or explore subjects like history and science with older kids. These destinations are not only fun, but can provide children of all ages with tons of knowledge.
1. San Jacinto Battleground State Historic Site
One Monument Circle, La Porte
281-479-2421
No other historic site near Houston provides such a rich wealth of knowledge about Texas history. It's the perfect choice for a day trip because there is just so much to see and do. While the monument itself is a sight to behold, the museum within provides tons of historical artifacts, gorgeous paintings, as well as a historical movie depicting the battle for Texas' independence from Mexico. A trip up to the observation floor of the monument gives sweeping views of the Houston Ship Channel. Also on the grounds, the Battleship Texas is filled with tons of historical plaques and artifacts to explore and learn from. When you're finished exploring the monument and ship, Juan Seguin Historic Park is located directly across from the historical site and is perfect for picnicking.
2. Space Center Houston
1601 NASA Road 1, Houston
281-244-2100
Blast off with a wealth of knowledge when you take a trip to Space Center Houston. It's the only place in Houston where kids can see real rocket ships and spacecrafts. Kids can explore exhibits, watch educational films, and get hands-on with STEM activities to learn about how spaceflight works, how astronaut live in space, space exploration history, and so much more. You can even sign up to have lunch with a real astronaut on Fridays and Saturdays to hear all about space exploration first-hand. There is more than enough to see and do to keep the entire family learning all day long.
3. Houston Museum of Natural Science
5555 Hermann Park Drive, Houston
713-639-4629
With 16 permanent exhibits and several traveling exhibits rotating throughout the year, the Houston Museum of Natural Science offers plenty of room for exploration and a ton of learning opportunities. The newly renovated Weiss Energy Hall gives kids and adults a place to immerse themselves in interactive displays of the world of energy, oil, and gas. while the timeless displays of dinosaur bones towering over visitors in the Morian Hall of Paleontology delight every jurassic lover. And let's not forget about the kid-favorite Cockrell Butterfly Center where kids can roam about exploring a simulated rainforest and of course, butterflies! Nature and science truly converge here to provide a wealth of knowledge that families can spend hours absorbing.
4. Houston Zoo
6200 Hermann Park Drive, Houston
713-533-6500
It's no secret that the Houston Zoo is one of the best places in town to spend the day with kids. Not only do kids love seeing so many animals, but the educational value of learning about the animals, their habitats, what they eat, and how they interact is invaluable. Each animal enclosure features informational plaques and zookeepers are on hand throughout the day to help teach patrons more about specific animals. The Houston Zoo often offers special programs and exhibits with a specific educational slant to help add even more enrichment to the overall zoo experience. Be sure to check their calendar for more information about special programs.
5. Armand Bayou Nature Center
8500 Bay Area Blvd., Pasadena
281-474-2551​
Enjoy the beauty of nature and get a hands-on look at our area's ecosystem at Armand Bayou Nature Center. Not only is it possible to spot alligators, turtles, and snakes in the marshes around Armand Bayou, the center also features an exhibit where kids can get up close and personal to reptiles inside of indoor habitats as well. An 1800s farmhouse on site gives kids the ability to step back in time and learn from tour guides about how people lived during a different time in history. The center is also one of the only places in the city where kids can learn about bison as they roam freely around a prairie field. There are miles worth of trails to explore and nearby Bay Area Park is a great spot to play and picnic after your trip.
6. Museum of Fine Arts, Houston
1001 Bissonnet Street, Houston
713-639-7300​
Paintings and sculptures abound at the Museum of Fine Arts to provide an outlet for learning about culture and beautiful works of art. The museum's website provides a amazing printouts for parents to print out at home and bring to the museum to help enrich the experience. Seek and find, sketching activities, and suggestions for new ways of looking at art help get kids involved in the artistic experience. The museum also offers family days with curated activities for the entire family. While you're there, grab lunch at the MFA Cafe, play in the Cullen Sculpture Garden, walk through the Wilson Tunnel, and explore the Kinder Foundation Education Center to learn more about all that the MFAH has to offer.
7. The Health Museum
1515 Hermann Drive, Houston
713-521-1515
Science lovers will relish in all there is to see and do at The Health Museum. Permanent exhibits such as the Amazing Body Gallery and DeBakey Cell Lab give visitors the opportunity to learn all about the human body in a fun and exciting way. The McGovern theater inside the museum features a 43-minute film exploring the science of sound and it's role in groundbreaking medical research. As one of the premiere museums in Houston, The Health Museum offers many ways to get kids involved in learning about the processes of the human body. It's also conveniently located within walking distance of The Children's Museum of Houston, so planning a trip to visit both museums in one day is a breeze.
8. Houston Arboretum and Nature Center
4501 Woodway Drive, Houston
713-681-8433
Located on Memorial Park's west side, this 155-acre nature sanctuary offers five miles worth of walking trails allows families to explore and interact with nature. The center's Discovery Room features exhibits designed to help kids and adults get up close and personal with urban wildlife, learn about natural habitats, and plants through the use of microscopes, puzzles, games, and more. Guided walking tours through the trails are offered for all ages to scout and learn about plant life, birds, ecosystems, and more. With so many areas to discover, it is easy to spend several hours exploring the grounds. While no food is allowed on the property as a courtesy to the wildlife, Memorial Park is located right next door for picnics and play.
Top Photo: Exploring the San Jacinto Monument/ Photo by the author