Online Robotics Camp
Young Gates - Kids Online Personalized Classes

Artificial Intelligence with Scratch Online Camp
Young Gates - Kids Online Personalized Classes

Spark Math: Free Trial Class
Virtual
Sign up for our free newsletters.
Cruising Down the Houston Ship Channel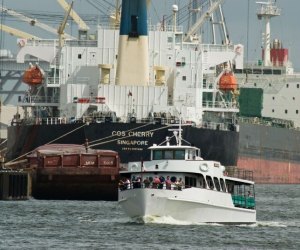 4/13/17
- By
Rachael Cherry
If there's one thing that I've come to appreciate as a native Houstonian, it's that there is no shortage of rich and varied cultural experiences waiting around every corner. One solid example of this is the Sam Houston Boat Tour, which takes passengers on a FREE 90-minute guided tour of the Houston Ship Channel. I took this tour several years ago with my husband and parents and was eager to take my transportation-obsessed son when the opportunity arose.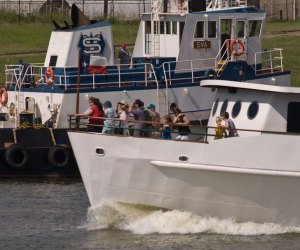 Photo courtesy Port Houston
A little background on the Houston Boat Tour: according to Port Houston, the Houston Ship Channel has been a means for growth in the greater Houston region since the first journey of a steamship up Buffalo Bayou in 1837, and over 1.5 million people have toured the Houston Ship Channel on the M/V Sam Houston since it's first trip on July 30, 1958. The tour is open to the public Wednesday through Sunday, however, advance registration is required to board the ship - and it's easy to see why!
We trekked down to Port Houston on a Wednesday morning and the boat, which holds 100 passengers, was at capacity. The tour is regularly frequented by a wide array of people; on the day we went there were teenagers on a school field trip, senior citizens taking a group tour, and myself and the boat's two youngest passengers - my toddler son and baby girl. The fact that the tour appeals to such a large age range is one of the reasons it should be on everyone's Houston bucket list; it truly offers a little something for everyone.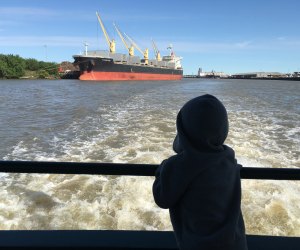 Photo by Rachael Cherry
The day we went on the tour was a beautiful day - the kind of day that's perfect for being out on the water. When you first board the yacht, everyone is ushered inside where there's bench seating from front to back. Once the boat gets going, however, passengers are welcomed on deck to enjoy the experience outdoors. Throughout the duration of the tour, the captain gives interesting facts about the Ship Channel's history, which I found enthralling. For instance, on November 10, 1914, President Woodrow Wilson pushed a button in his Washington D.C. office from 1,400 miles away that ignited a cannon at the Houston Ship Channel Turning Basin. This effectively opened the channel for operation. We also passed by the historical marker that indicates where Santa Anna was captured and Texas gained its independence from Mexico. Facts like this make the tour a fascinating find for those interested in learning a little more about the history of Houston.
My toddler, however, could not care less about that kind of stuff. What he did care about was getting to hang out on the back of the boat as we cruised up and down the Ship Channel and seeing all of the massive cargo ships, tugboats and construction equipment that littered the shoreline and floated in the water. The majority of his trip was spent squealing, "MOM! ANOTHER HUGE SHIP!" His obvious excitement was easily infectious, and seeing the Ship Channel through his eyes made it a priceless experience.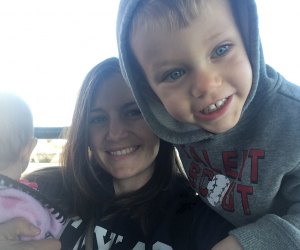 Photo by Rachael Cherry
Lisa Ashley, director of Media Relations, explained to us during our trip how each ride unearths new information, even for the employees of Port Houston, and it was a treat getting to talk with someone who is so passionate about her job.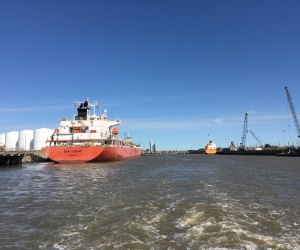 Photo by Rachael Cherry
So what do you need to know if you're taking a tour for the first time?
Reservations for tours can be booked online at any time or can be done over the phone Monday through Friday from 8a.m.-5 p.m. by calling 713-670-2416. The tour schedule is as follows:

Monday: CLOSED
Tuesday: CLOSED
Wednesday: 10 a.m. & 2:30 p.m.
Thursday: 10 a.m.
Friday: 10 a.m. & 2:30 p.m.
Saturday: 10 a.m. & 2:30 p.m.
Sunday: 10 a.m.

There are also limited tours available on Fridays and Saturdays at 6 p.m. for those interested in a twilight tour of the Ship Channel. Don't be surprised, however, if it takes a little bit of work to find an available day - the tours book up fast! I couldn't believe how many days were already booked to capacity when I first went about trying to make a reservation, which is just a testament to how popular it is.

Free parking is available for passengers at the Sam Houston Landing.
Anyone over 18 years of age must present a valid, government-issued photo ID before boarding.
No backpacks or large bags are allowed.
It's advised that passengers arrive 15-30 minutes prior to boarding for check-in.
No outside food or drinks are allowed on the ship; a complimentary beverage is provided for all passengers.
The tour is FREE!
This truly is a unique experience and one that is perfect for individuals and families alike. So if you're looking for something different, fun and free to do in Houston, make sure you keep this trip in mind!
Top image courtesy of Port Houston